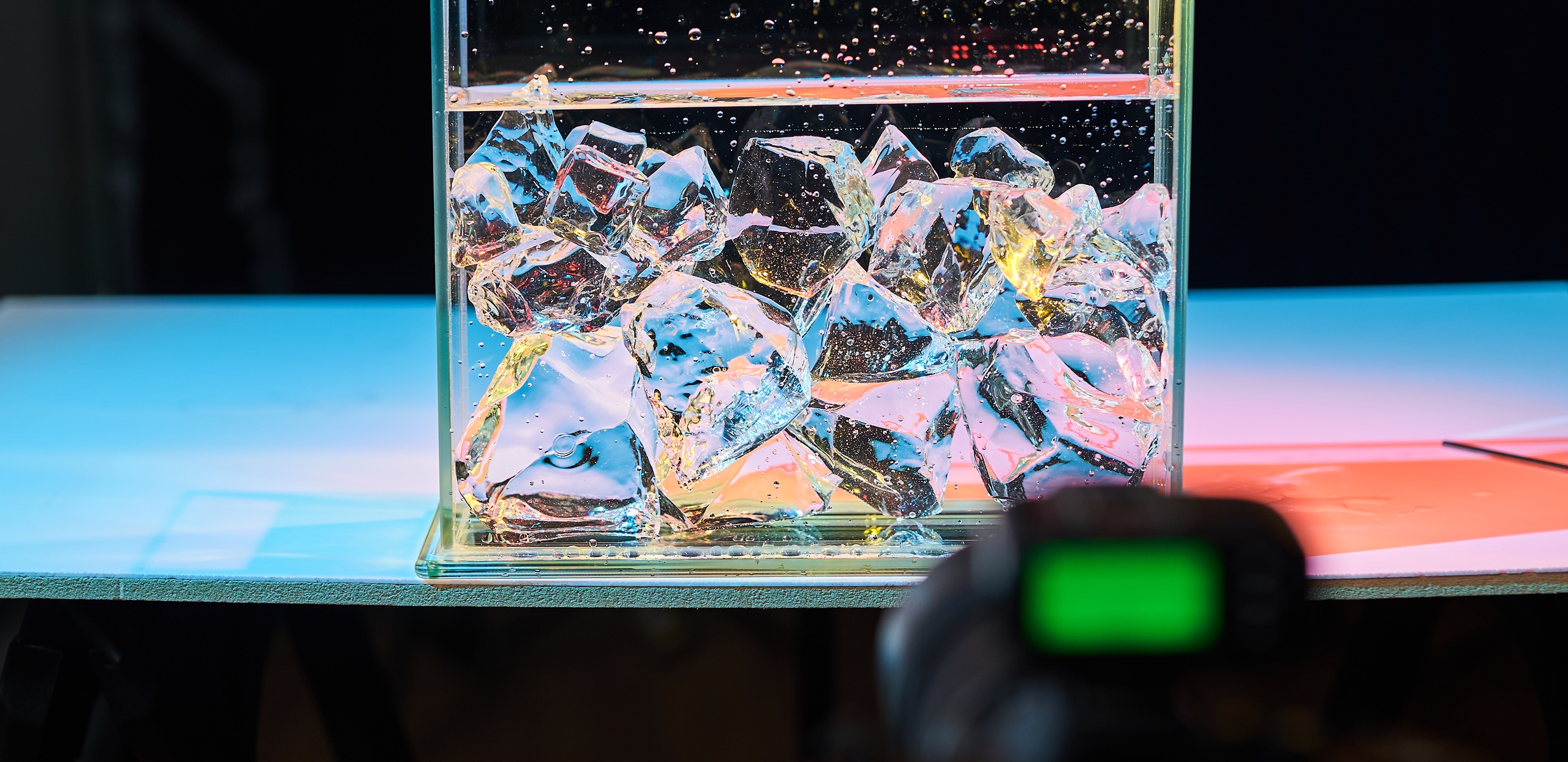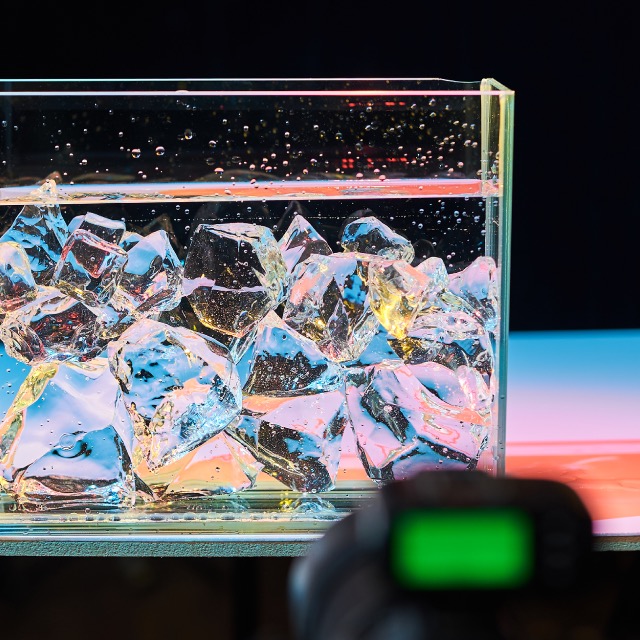 Photographer Mitsuru Sakurai×TORAY Development Team × PRIXIA™
Direct and impactful photographic works to explore
a new potential for can printing
Photographer Mitsuru Sakurai×TORAY Development Team × PRIXIA™
Direct and impactful photographic works to explore a new potential for can printing
PRIXIA™ Story 2Design
"TORAY PRINTING PLATES Lab." is an experimental initiative to explore the possibilities of expression through TORAY's printing plates and lead to new creations. This series of articles will tell the story of how leading creators and partner companies met through TORAY's printing plates, stimulated each other, and worked as one team to reach their goals.
Participating creator:

Mitsuru Sakurai

Born in Tokyo. After graduating from Tokyo Zokei University, joined Amana Inc. Studied photography and retouching techniques in the world of advertising photography, and became an independent photographer in 2011, setting up his own studio. He has been focusing on the theme of steel for many years and won the 2019 IPA (International Photography Award) 1st Place. He has exhibited in New York and other countries around the world. A rare photographer who works in both commercial photography and the art world.

Production partner:

TORAY Development Team

The PRIXIA™ project team, an ultra-high-definition printing plate for dry offset printing systems, belongs to the Printing Systems Division of Toray Industries, Inc. Based at Toray's Okazaki Plant in Aichi Prefecture, the team is working to enhance printing plates and printing systems in order to create new value for society through ultra-high-definition printing.

Printing plates:

PRIXIA™

Printing plates that enable revolutionary ultra-high definition printing on beverage cans and cosmetic tube containers. They offer the same printing speed as conventional resin letterpress printing, and are overwhelmingly faster than the digital printers that have been introduced in recent years, achieving both quality and productivity at a high level.
Using a design approach to show the gradation more effectively
― We arrive at a studio located in a half-century-old condominium near Yushima Tenmangu Shrine and Shinobazu Pond in Ueno Park. The equipment and shooting gear lined up in the studio give it the appearance of a secret lab. The owner, Mr. Sakurai, stops setting up the equipment and welcomes us. ―
―How did you proceed with the production after your research last time?
Photographer, Mr. Sakurai (hereinafter Sakurai): Actually, after our previous research, I asked for additional explanations on a separate day, and was able to learn more about the strengths of PRIXIA™. I learned that resin letterpress can printing has big half tone dots that cannot be interlaced, causing tone jumps when trying to reproduce shades and gradations. But I was also very surprised to hear that PRIXIA™ can do such work beautifully. I was also told that the printer excels at reproducing gradations both toward bright and dark tones, as well as gradations within a narrow area, such as water droplets, so I decided to create a photographic work that would showcase these three strengths in the best possible way.
―So you're saying that reproducing gradations is important in can printing.
Sakurai: Some designs for cans show images of fruits, but since they are simplified and expressed with halftone dots, you cannot always tell whether they are illustrations or photographs. I think it is because the gradation is in two or three steps that it is so clunky. Another new discovery for me was the fact that can printing is not a CMYK 4-color scheme combination, but rather a combination of special colors. When considering what to put on the can based on these facts, I realized that it would be meaningless if I did not include design in the process, since I had gone to all this trouble.
―I sense an element of design in all of your photographs, Mr. Sakurai. How did you cultivate it?
Sakurai: I studied design at Tokyo Zokei University because I initially wanted to become a designer. In the second year of the design course, we had to choose from three options: graphic design, photography, and video. I had taken pictures in class during my freshman year, and I was hooked. So, I chose the photography major to learn more about photography. However, I was also able to take graphics classes at the same time, so I was studying photography and graphics in parallel.
―When you graduated from college, did you decide to pursue a career as a photographer?
Sakurai: At the time, I had no intention of making a living from photography, although I did study it. When I started job hunting, however, it was in the middle of the so-called "ice age" of job hunting. I wanted to work in the design field, but I wasn't getting anywhere. I switched gears and started looking for photography jobs, and then I got a job offer. When I asked my interviewer at the time why I got offered the job, he said, "Your work was the biggest." My work for the interview was a set of 10 B1-sized panels or something like that. Other works were mostly A4 size, so I think it caught their attention.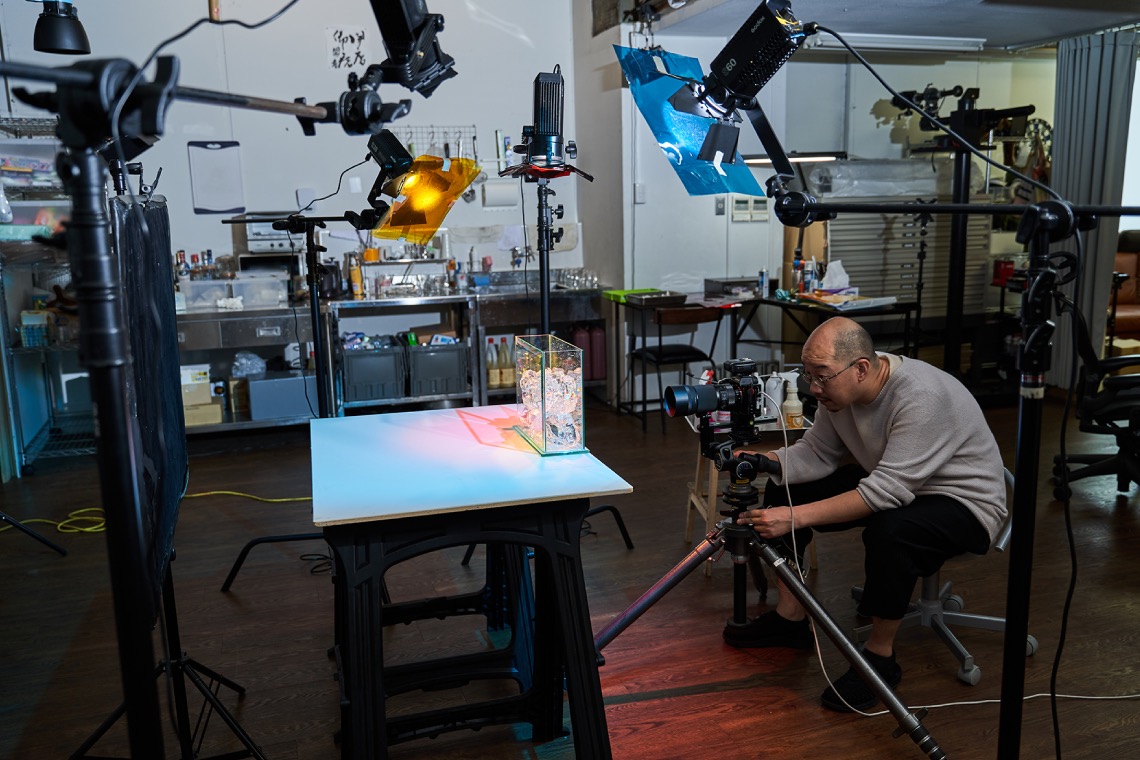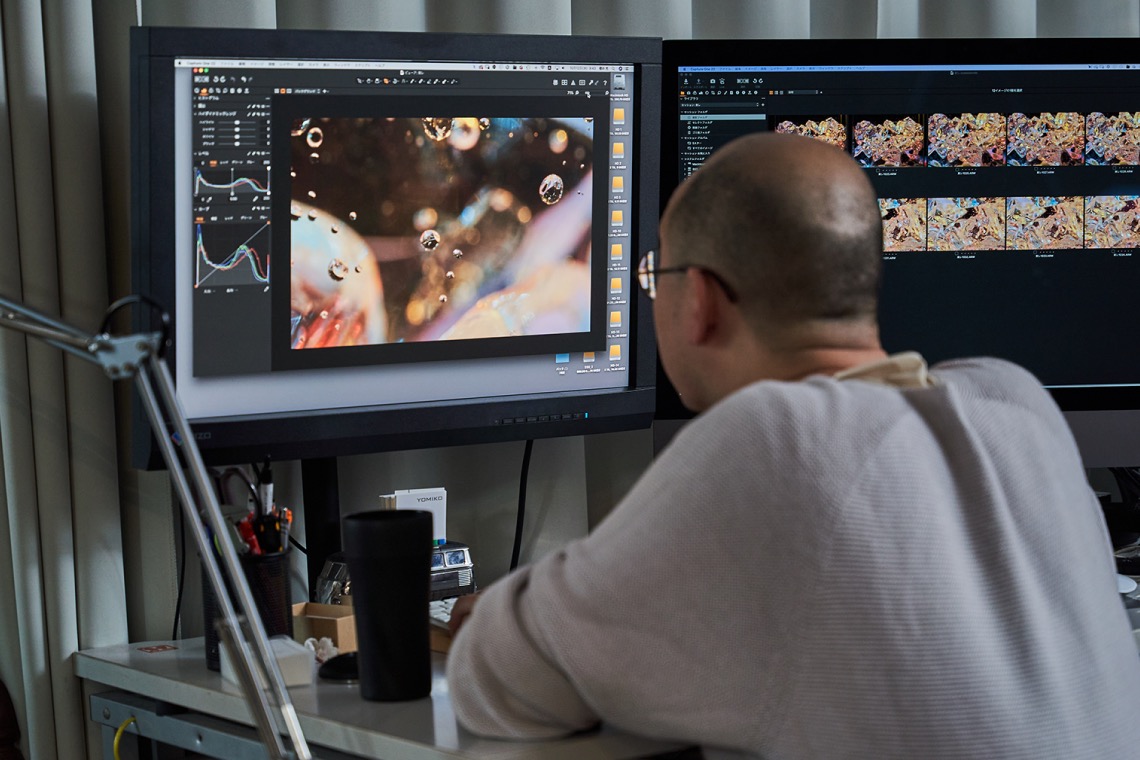 −That sense of scale comes from graphic design, right?
Sakurai: Exactly. In graphic design, that much is normal, so I guess that my learning paid off. After I started working, I had a very rough time as an assistant. I was not good at adjusting myself to other people, and my seniors would often get angry with me. Later, when I was struggling with my career path after failing the exam to be promoted from assistant to photographer, my boss asked me if I wanted to try retouching. I figured that if I was going to quit anyway, I might as well learn the art of retouching first. I think being a retoucher suited me better than being an assistant. I was good at working on my own initiative rather than following others. As a retoucher, I felt like I was working together with the photographer to create the image, which was fun in its own way, and I ended up working there for five years.
―Throughout your career path, every skill you have acquired has led you to your current job.
Sakurai: That sounds about right. Then the 2011 earthquake happened, and I felt that you never know when you are going to die, and I didn't want to die with any regrets. I decided that I wanted to try my hand at being a photographer again. At the company I was working for, assistants were allowed to use the company studio on weekends. Even after becoming a retoucher, I had asked my boss to allow me to continue taking photographs, and had continued to do so, but I decided to give it another shot as a career.
―What were some of the challenges you faced when venturing out again as a photographer?
Sakurai: I first tried to find a way to start over as an assistant within the company, but I was told I was not needed, so I decided to start my own business. I was 32 years old at the time, and although I had built a career in retouching, I had almost zero experience as a photographer. I was finding work right after I became independent, but six months later, it all stopped. I was determined not to do any more retouching work when I started my own business, but I had to go to my seniors and ask them for help. While I was managing to make ends meet, I began to receive jobs in photography.
―Was your signature work, the " Transmission Tower" series, created after you became independent?
Sakurai: The photos in the "Transmission Tower" series were taken during my time as a retoucher. It all started when I was working on a wristwatch project and was asked to create a triangular object by collaging photos of the city. As I wandered around the city taking pictures, I realized that I could create an interesting picture just by cutting out steel towers and other buildings, so I came up with the idea of creating this series. The series received unexpectedly positive reviews, and I remember that even people who normally didn't offer compliments at all were complimenting me on my work.
Printing can designs that are interesting and novel in a whole new way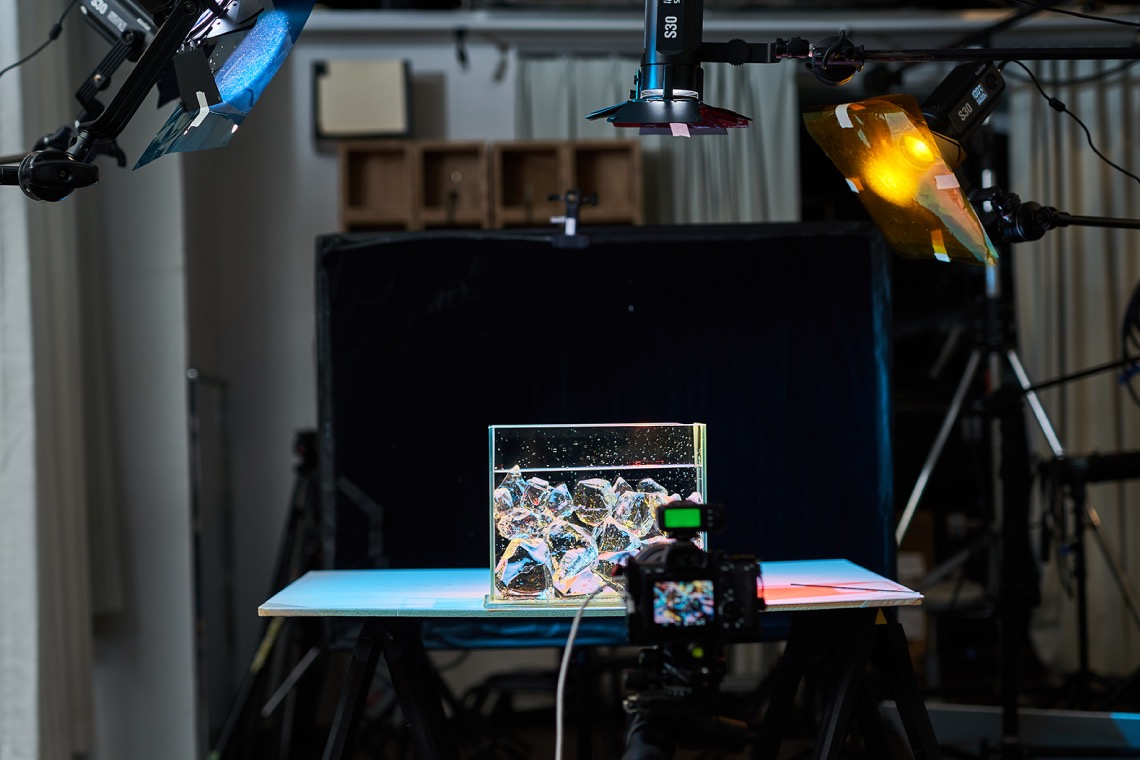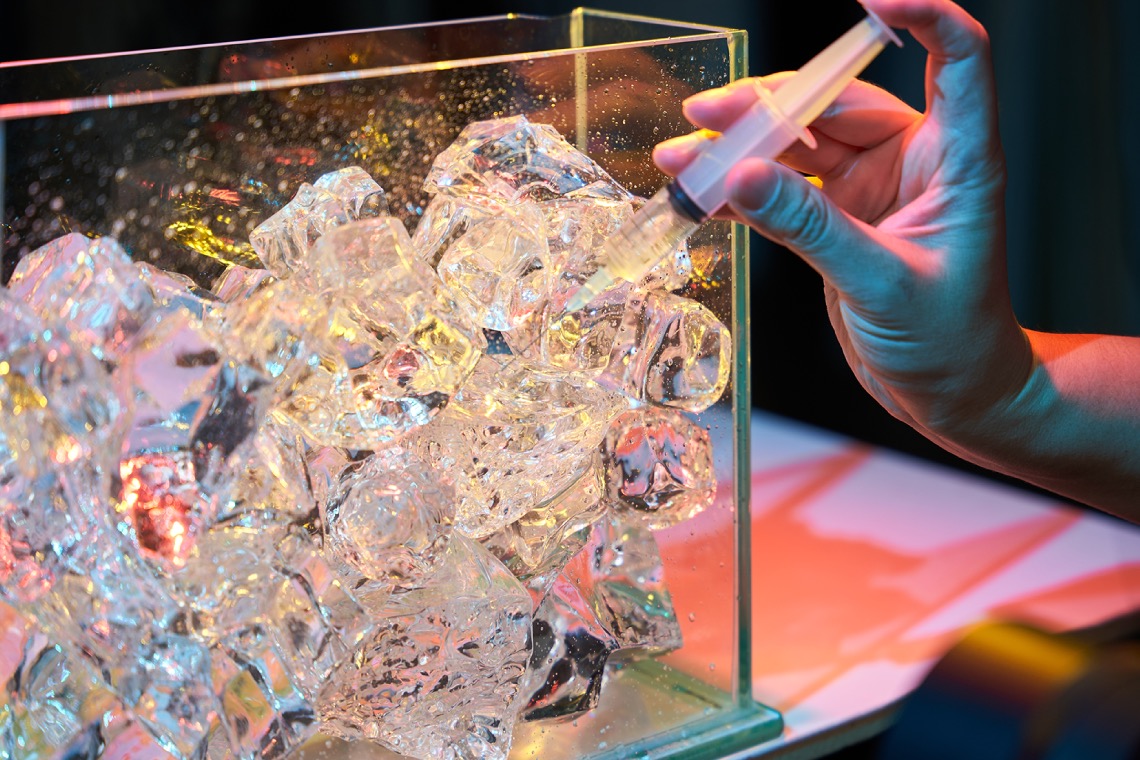 −Could you give us some details about this photo shoot?
Sakurai: Inspired by the keyword "water droplets" that came up in my research, I decided to take a picture of a glass filled with ice reflected in a can. You can place an ice motif made of acrylic in a water tank and illuminate it from various directions with lights with color filters, called cocktail lights, to take pictures of refracted light. I also changed the background to black or white to add variety. The shooting itself was not so difficult. Coming up with the idea was the hardest part.
―I have never seen a photographic work like this before.
Sakurai: Probably not. I was able to create these mysterious worlds on both the black and white background. The fact that this type of can printing had never been done before gave it a sense of novelty.
―What were some of the innovations you made during the photo shoot?
Sakurai: It was also asked to give it a sizzling effect since it is printed on a can, so I put water droplets on the surface of the tank.
Also, since real ice has almost the same transparency as water and does not stand out when photographed, I used acrylic ice objects to create contrast. This is where my experience taking photos of objects every day came into play. I selected yellow, red, and blue for the colors of the lights without any particular significance; I just went with my intuition.
―Do you retouch colors and other aspects of the image after shooting?
Sakurai: Of course, I fine-tune. However, I try to keep adjustments to a minimum, because if I tweak everything, I lose sight of the best solution. The beauty of a photograph is that it can be taken in a snap, so I want to make the most of that as a baseline, and then add or subtract as necessary. I don't put together ten photos each worth one to get a really great picture. I make something that is worth eight and then add two to get to ten. That's how I create my works.
―Do you have a particular work that you would like to highlight from the images you took this time?
Sakurai: When I was doing the photo shoot, I thought I preferred the black background. But in the end, I feel that the white background made the photo look a lot more novel, and something I had never seen before. Can't wait to see this actually printed on a can!
Summary: Promoting gradient printing technology as design unlocks new potential for PRIXIA™
― A printed sample of Mr. Sakurai's work was later delivered to the TORAY development team ―
TORAY team: Looking at Mr. Sakurai's work, we felt that he had brought forth a straightforward and impactful work that illustrates our printing technology. Reproducing gradation of light and ice is quite challenging, but the key point here is how much we can achieve with PRIXIA™.
We would not have been able to convey gradation as design on our own, so we are excited to be able to take on this challenge with this project. We feel that he has unlocked new potential for PRIXIA™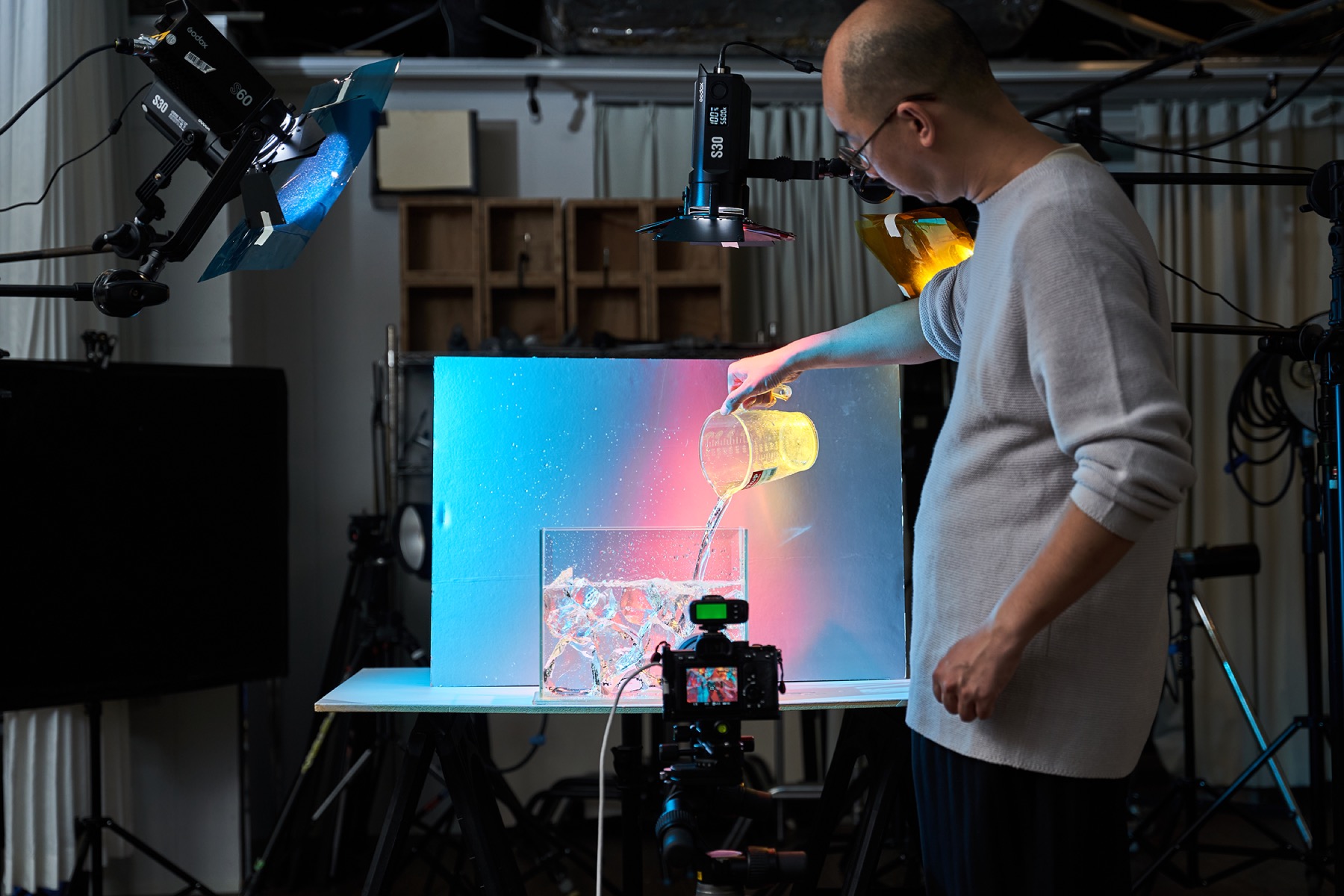 Versions with different background colors.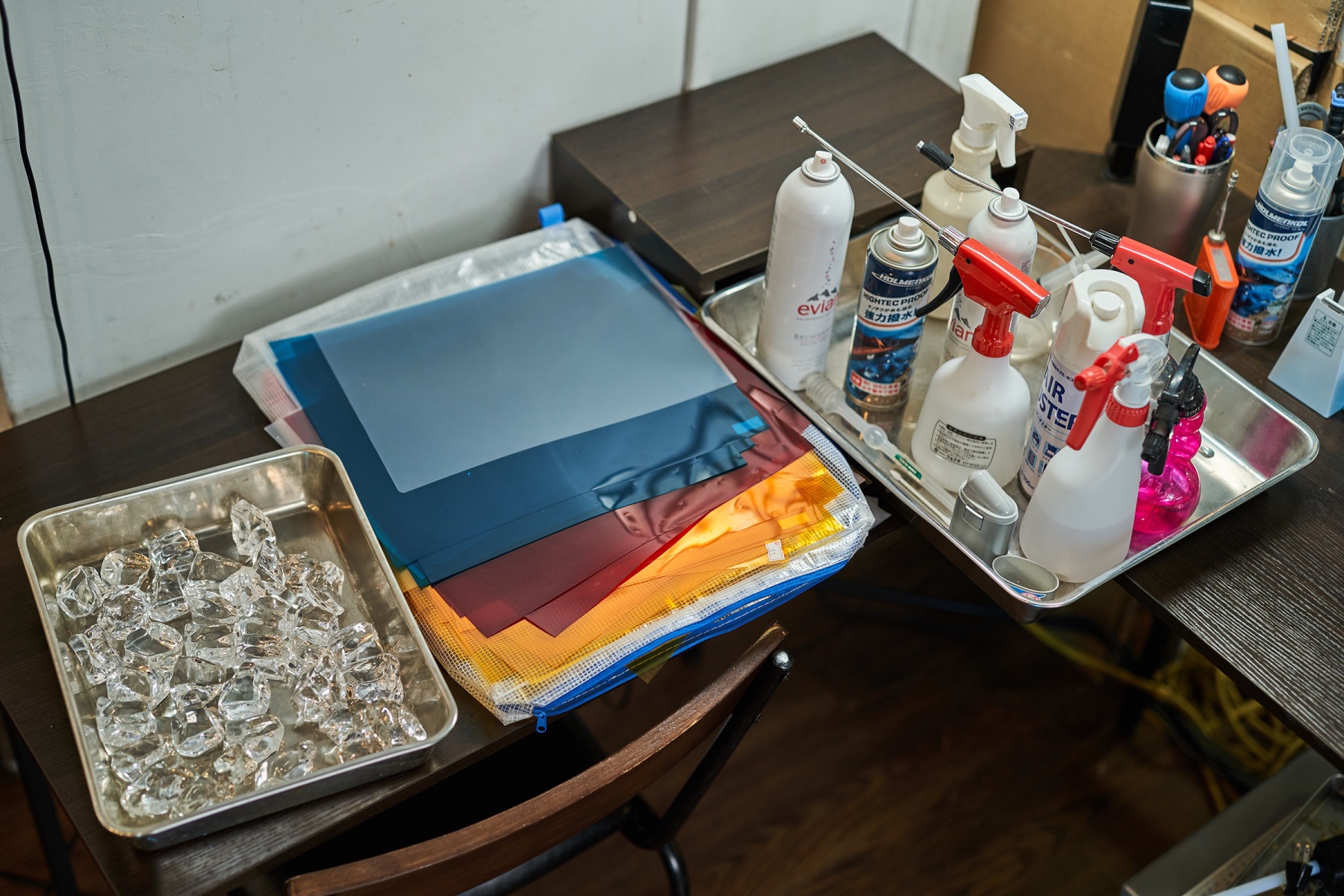 Materials and tools used for this shoot.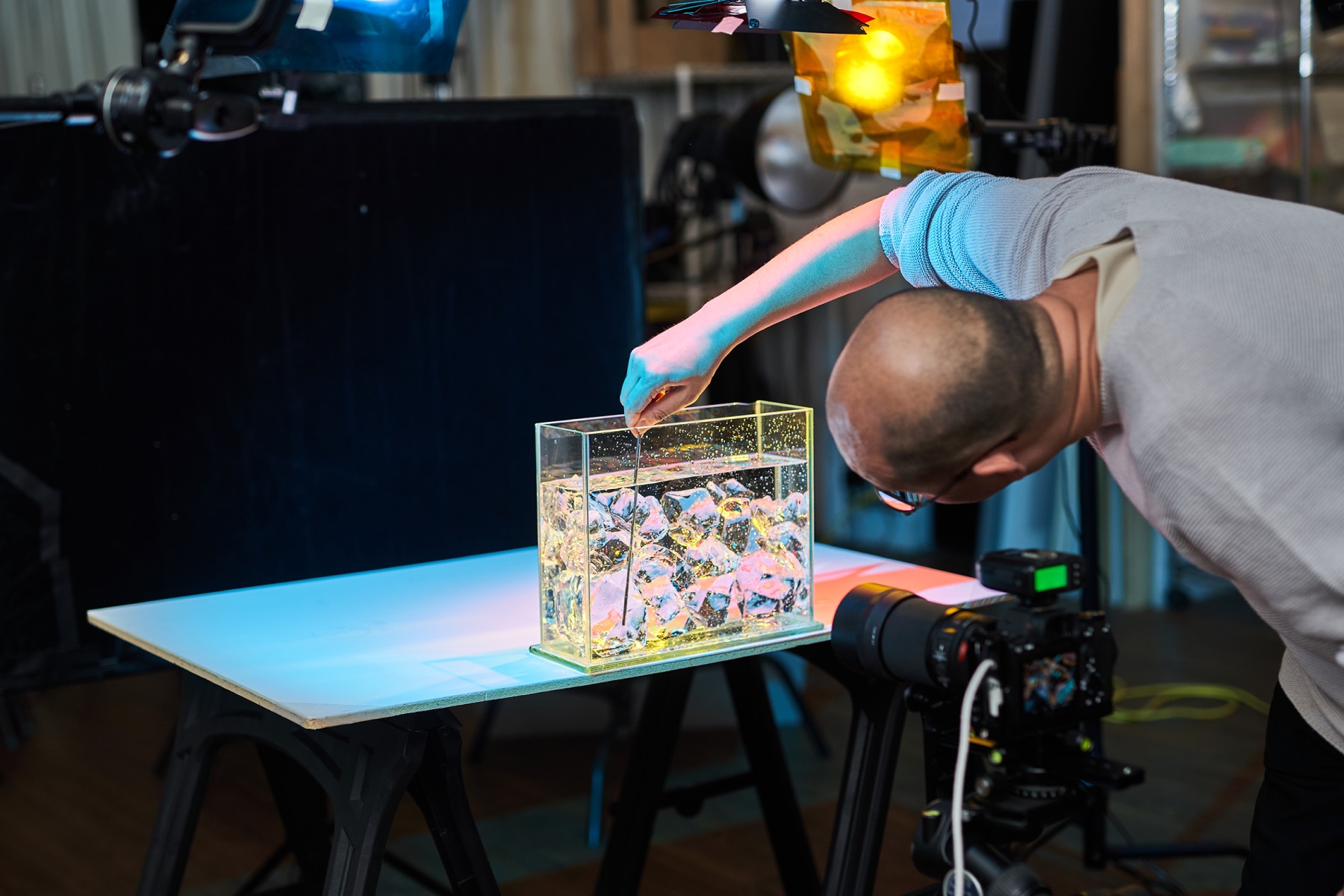 In studio photography, most of the time is spent setting up and preparing for the shoot.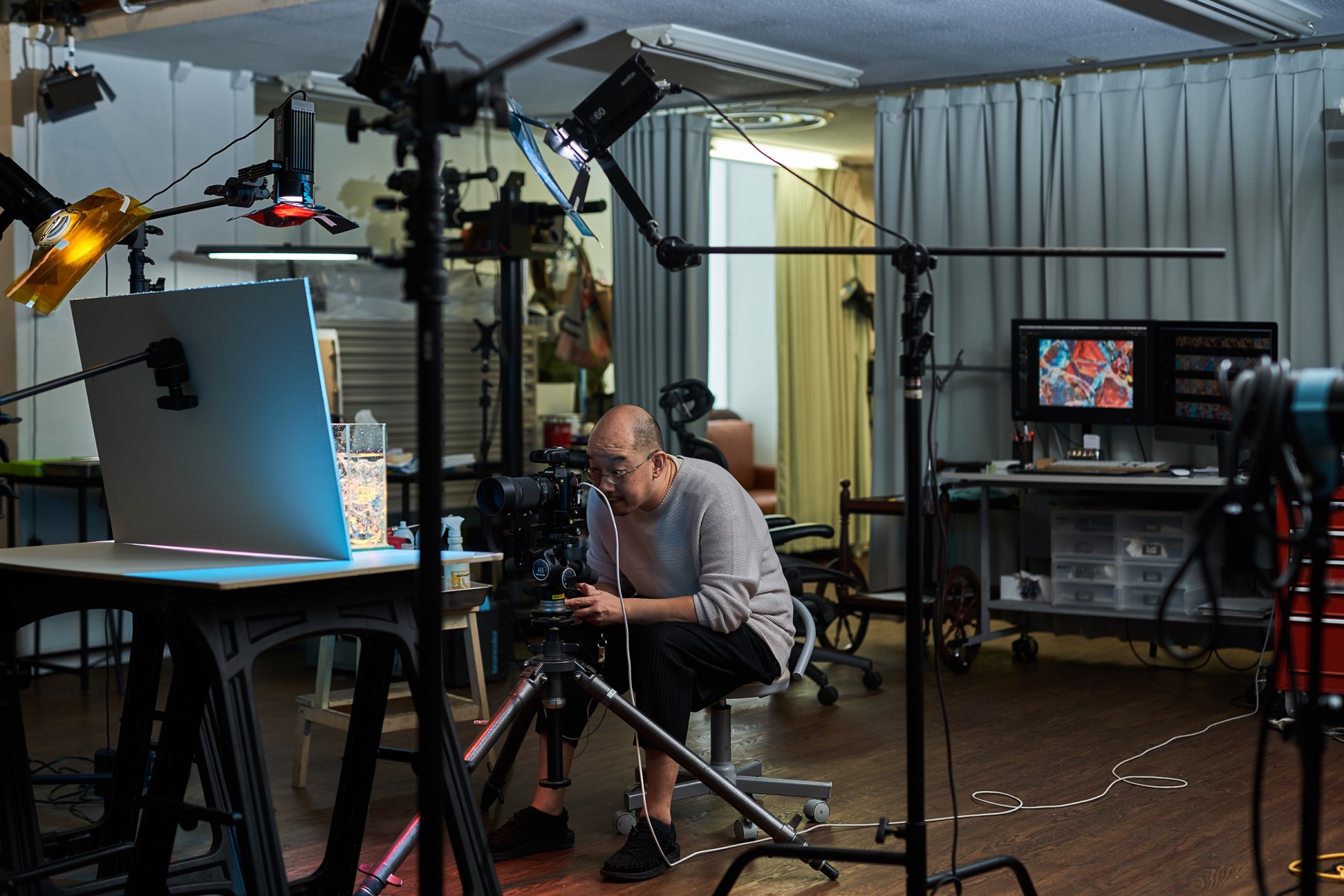 A fully functional studio. The photos are immediately transferred to the computer at the back right of the screen.