Way of Future Flexography
RESOLUCIA™

RESOLUCIA™, flexographic plate creating your brilliant future, achieves high-quality prepress and printing, much more superior to conventional flexographic plate.
Technological innovation by TORAY made it possible to produce 200 lpi, which results in improved reproducibility. Since RESOLUCIA™ can be purely washed out by water, plate-making time is significantly shortened compared to conventional solvent wash plate and thus high production efficiency is realized.
Furthermore, it is not necessary to invest in a processor if you already have one for letterpress plate.
Incredibly higher definition makes RESOLUCIA™ remarkable
In flexographic plate market, where solvent-developed plates are the majority worldwide, we achieve high-definition plate-making and printing with full water development.
Thanks to Toray's technology innovations, it is now possible to reproduce halftone dots clearly, which often used to become connected, and to achieve 200 lpi high definition.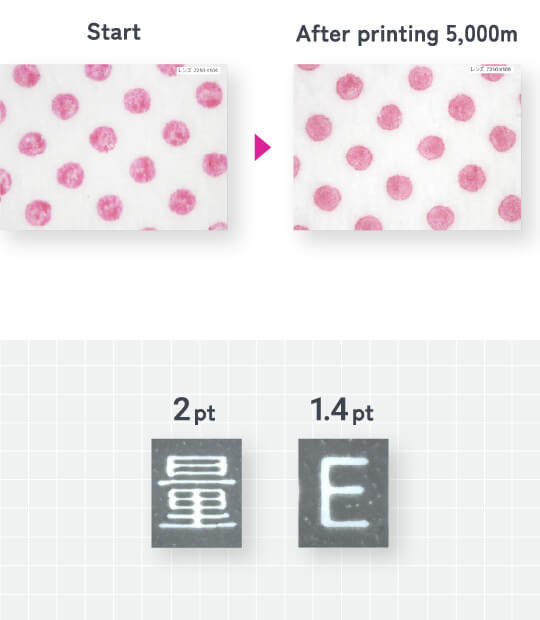 Full water development increases production efficiency
Compared to conventional solvent development, full water development can improve plate-making environment and increase productivity by greatly reducing plate-making time.
Going forward, Toray will expand product portfolio to meet various application needs and thus contribute to global flexographic printing market with water-wash technology.
RESOLUCIA™ Processing Time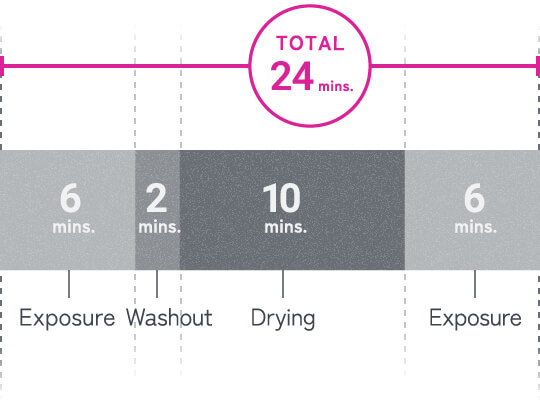 ※

Processing time is just for reference and depends on actual equipment.

※

It does not include ablation time.
Low installation costs
TORELIEF™ customers who already have processors (for exposure, developing, drying, and post-exposure) can benefit using RESOLUCIA™ without making an investment for a new processor. In principle, the same benefits can be enjoyed even when shifting from another supplier's photopolymer letterpress plate.