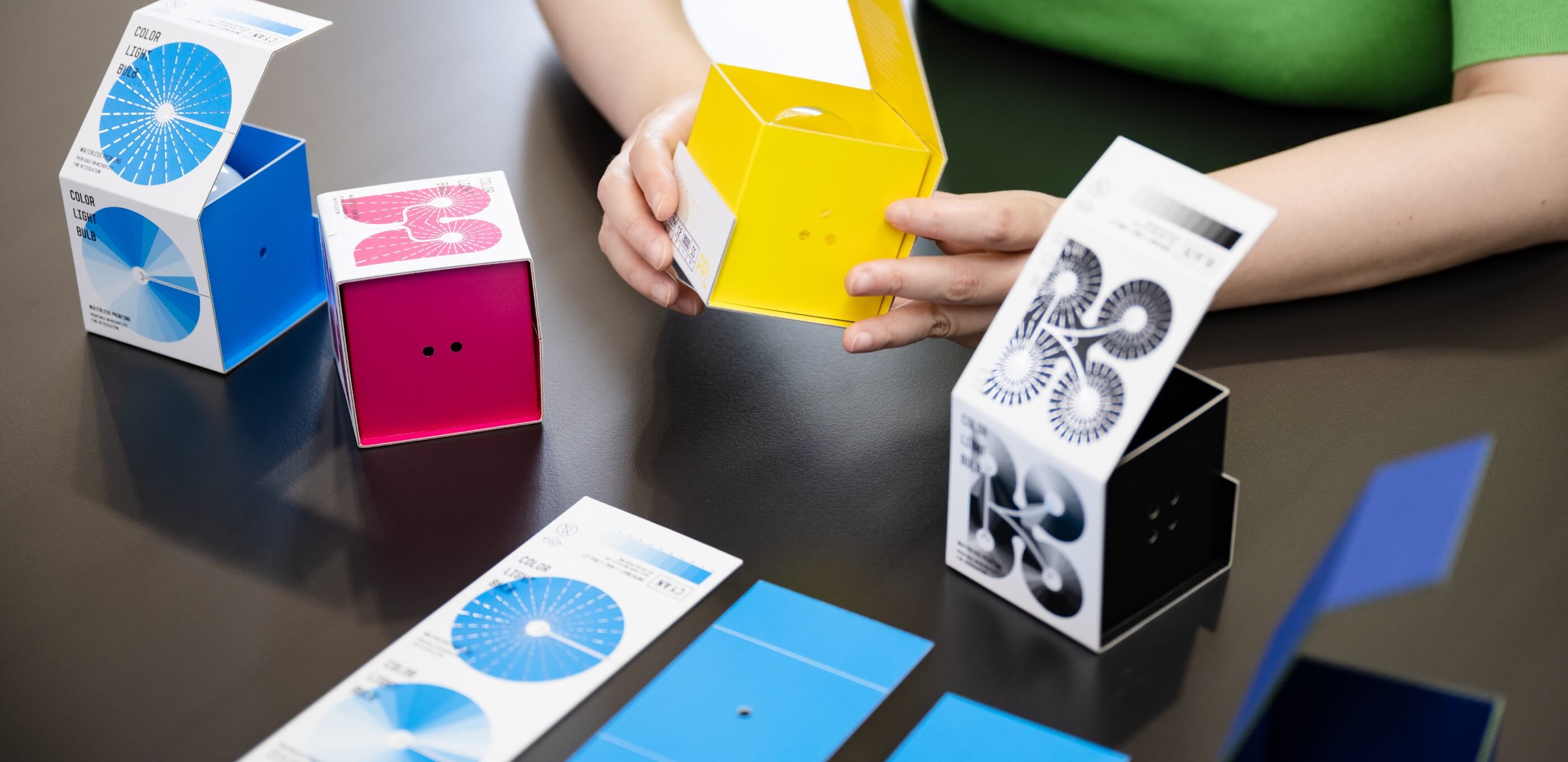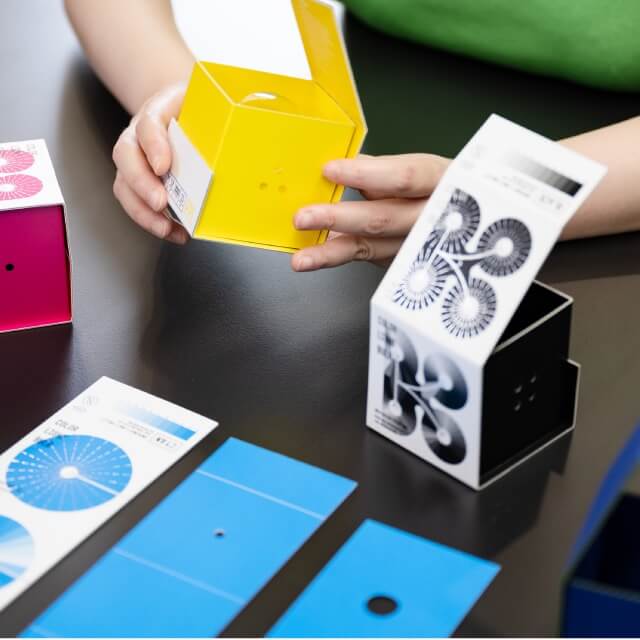 Designer Aya Kodama × NAC Co., Ltd. × IMPRIMA™
Designers and printing companies collaborate to pursue waterless printing as a "printing method that brightly illuminates the future"
Designer Aya Kodama × NAC Co., Ltd. × IMPRIMA™
Designers and printing companies collaborate to pursue waterless printing as a "printing method that brightly illuminates the future"
IMPRIMA™ Story 2Design
"TORAY PRINTING PLATES Lab." is an experimental initiative to explore the possibilities of expression through TORAY's printing plates and lead to new creations. This series of articles will tell the story of how leading creators and partner companies met through TORAY's printing plates, stimulated each other, and worked as one team to reach their goals.
Participating Creator:

Aya Kodama

Established BULLET Co., Ltd. in 2013. She designs a wide range of products including packages. A world-renowned award-winning designer whose intricate and daring paper container shapes are unrivaled in the industry. She is an assistant professor at Tokyo Zokei University.
Awards received include the Good Design Award, Japan Package Design Grand Prize (Gold), One Show (gold), Pentawards (platinum), Cannes Lions, D&AD (graphite), and Red Dot, iF Design Award.

Partner Company:

NAC Co., Ltd.

Paper packaging printing company based in Mishima City, Shizuoka Prefecture. Uses environmentally friendly waterless printing to print specially processed high quality paper packages in the city where Mt. Fuji provides abundant groundwater as a water source.

Printing plate:

IMPRIMA™ (waterless offset printing system)

Printing plates with high quality, easy control of printing quality and high-density stability of patterns by high-definition dot reproduction. In terms of environmental performance, CO2 emissions are reduced, contributing to the realization of carbon neutrality. VOC emissions can be also dramatically reduced, serving as a countermeasure for air pollution while improving the cleanliness of manufacturing sites and the health of those involved in the work.
Because of the many characteristics and strengths of waterless printing, I want to make an appeal for it thoroughly through the power of design
― Several days before the design presentation, the coverage team went to BULLET Inc in Higashinakano for photography. Many sophisticated designs have been created in the solid space where the taste of Kodama, who was looking for concrete-beaten properties, is appearing. It was the IMPRIMA ™ work that had already been prepared at a high-level of completeness, but it seemed that a new idea was born from the conversation with the interview team, and it was evolving even further when we visited NACs Co.,Ltd. afterwards. ―
Designer Kodama (hereinafter Kodama): Incorporating the features and strengths of waterless printing we heard last time, we devised a package of slightly different LED bulbs with micro-flutes! There are four types available.
Mr. Noguchi, Representative Director (hereinafter Noguchi): Ooo. It's amazing, isn't it?
Kodama: I thought that technology that can print directly on microflute is the point at which the design expands, so I made a package that was duplex printed on a white microflute. It is a structure that takes advantage of the thickness of the microflute, which is designed to hold the outer, inner, and light bulbs with three parts at the bottom.
Employees at the Creative Division and Production Division (hereinafter Employees): Oh! Perhaps, this design selection is…
Kodama: That's right! I think the printing company will soon notice, but the graphics were designed with the four letters CMYK and colors as motifs. The sides have been drilled a few holes in the order of CMYK.
Employees: I thought that the number of holes was different for each box, but that's what you mean.
Kodama: I thought it would also be a sample of machining to drill small holes in cardboard. It is also a point to use a delicate gradation representation in the graphics to show the precision of the halftone dots. Also, we laid out a scale that requires very advanced printing technology, with points! 100% to 10% normal scale, plus 10% to 1% increments.
Employees: Because damping water is not used in waterless printing, it can reproduce dots clearly, so I would definitely like to take on the challenge.
Kodama: On this scale, I thought that we could show off that waterless printing can produce very delicate prints on microflutes...
How about the idea of distributing a sheet of microflutes that includes an explanation of waterless printing and a development drawing of this box in a single sheet at an exhibition in the future?
Noguchi: Ah, a sheet. I see.
Kodama: This time, we have been quick to prepare five sheets of "C," "M," "Y," "K," and "C+M+Y+K." The part of the photo prints only the separations of the respective colors, and the "C+M+Y+K" sheet has color printing.
Also, printing on a solid surface may be an attractive point for waterless printing. Flexographic printing on conventional cardboard boxes results in unevenness or accumulation of ink. If this is reduced by waterless printing, we would like to choose waterless printing due to the level of completeness.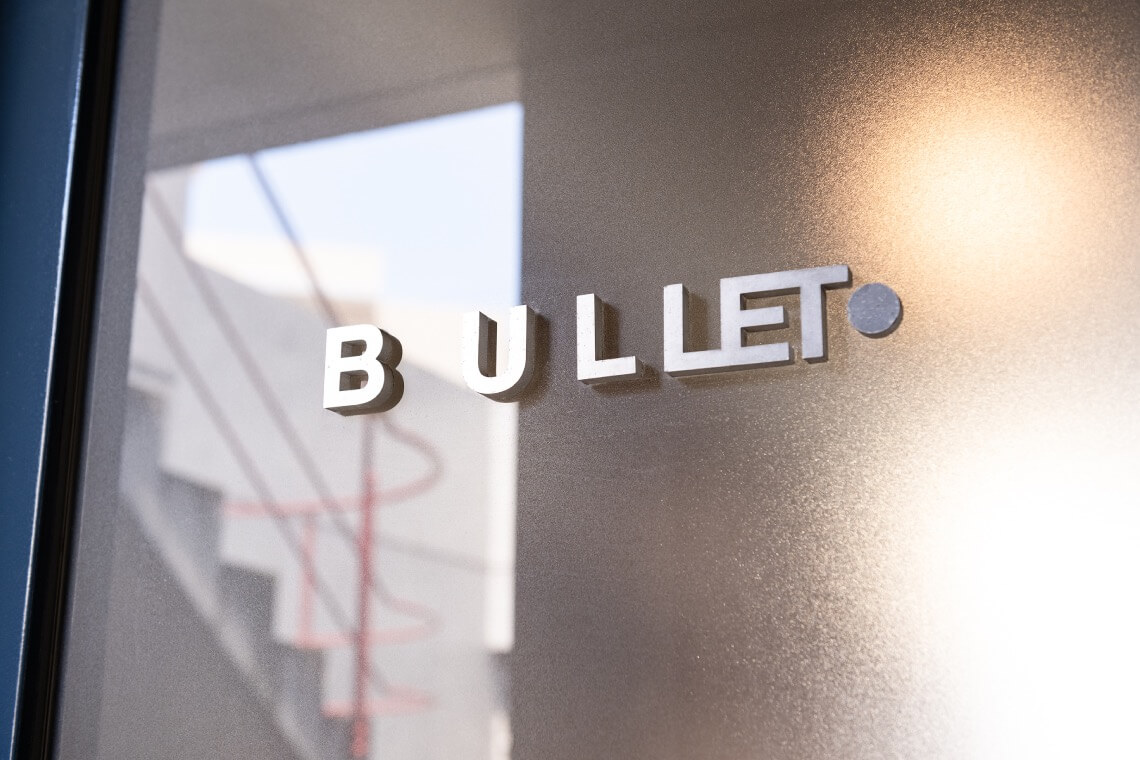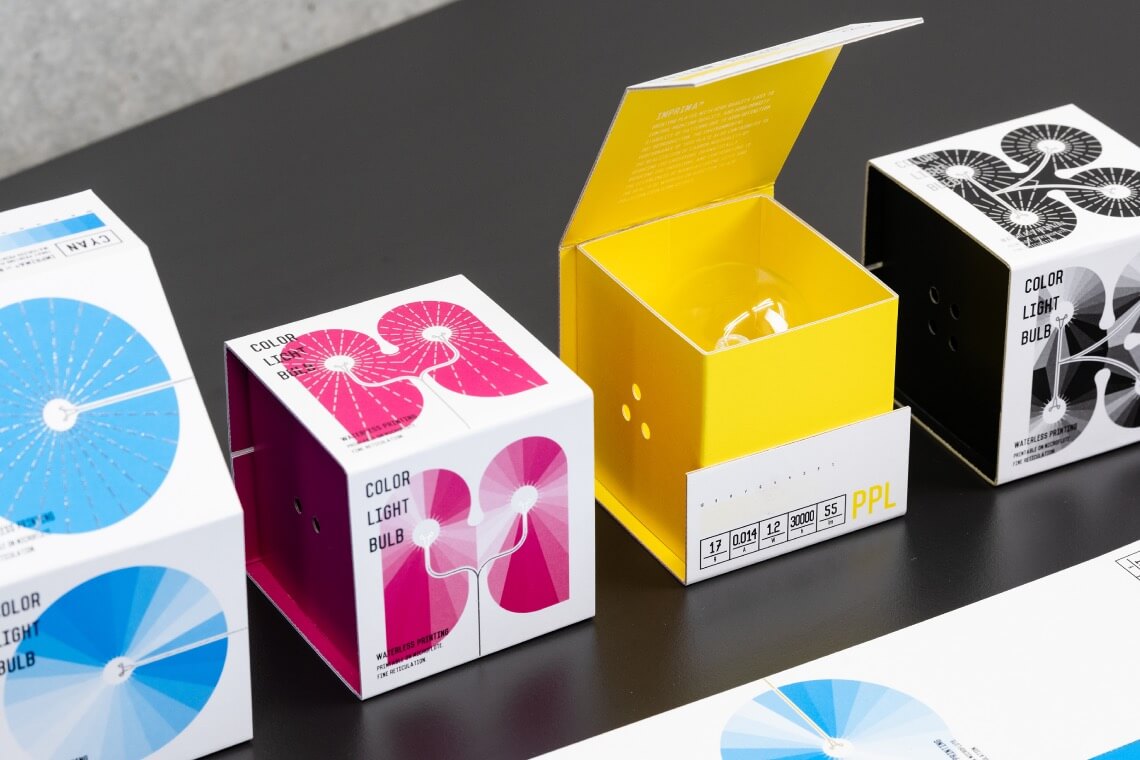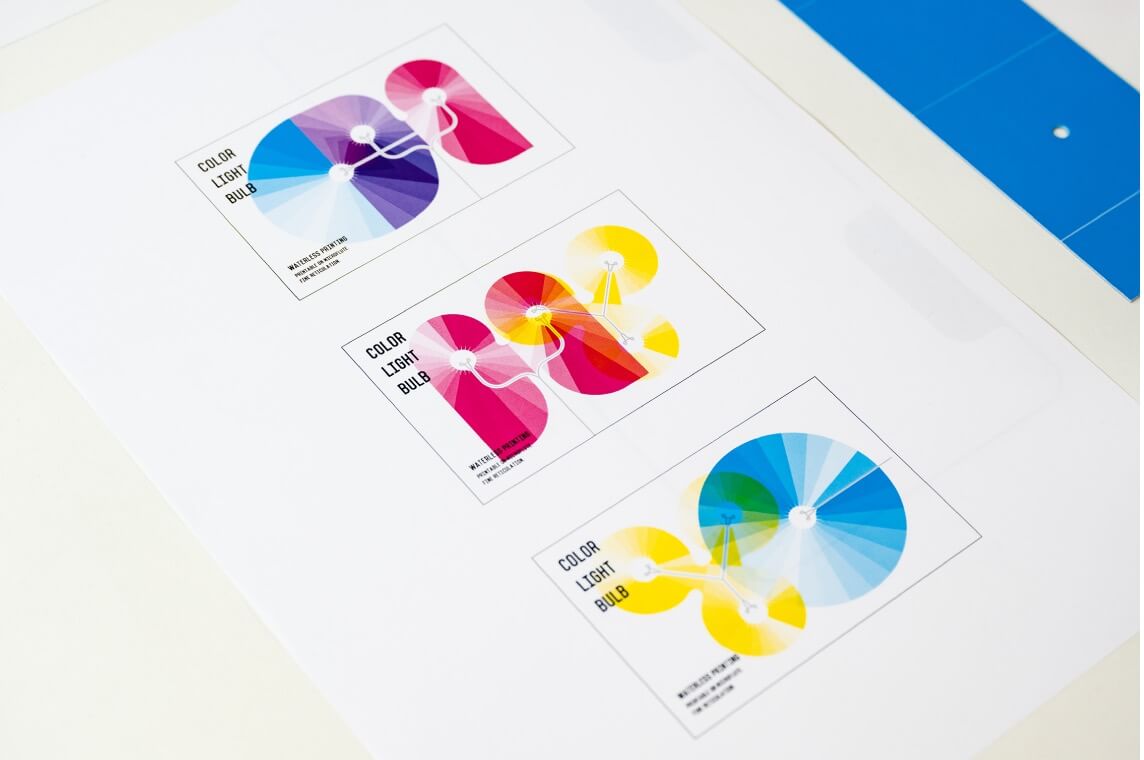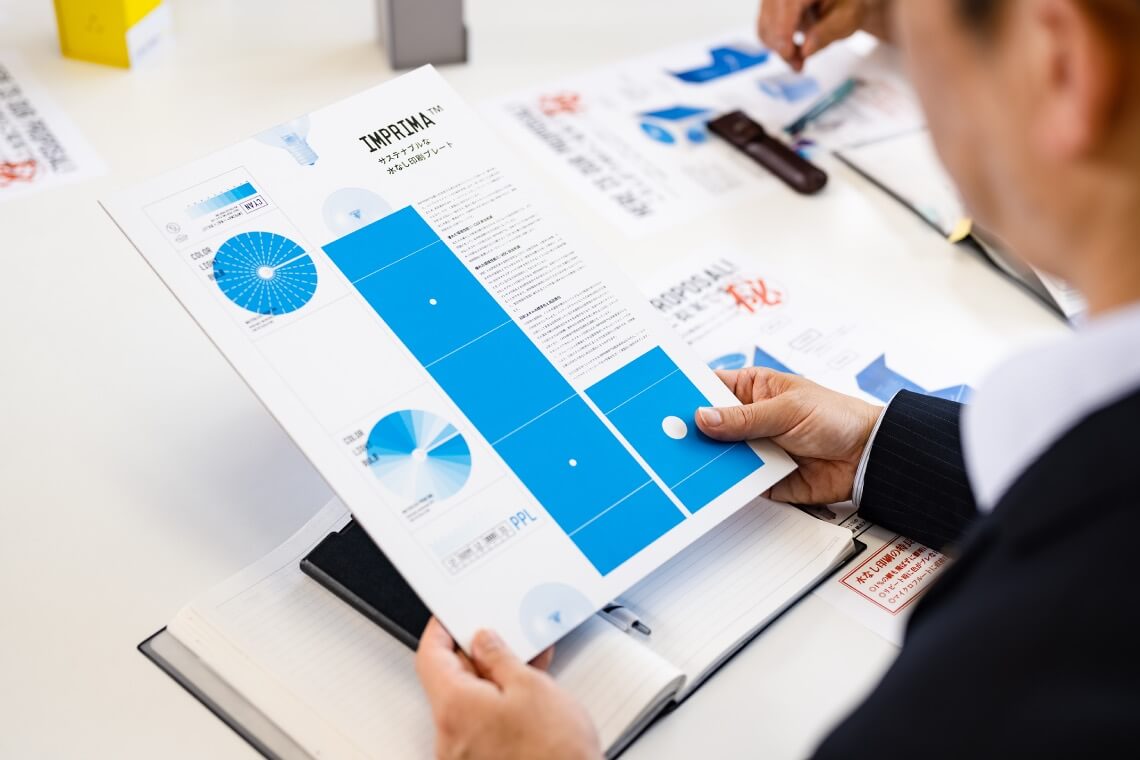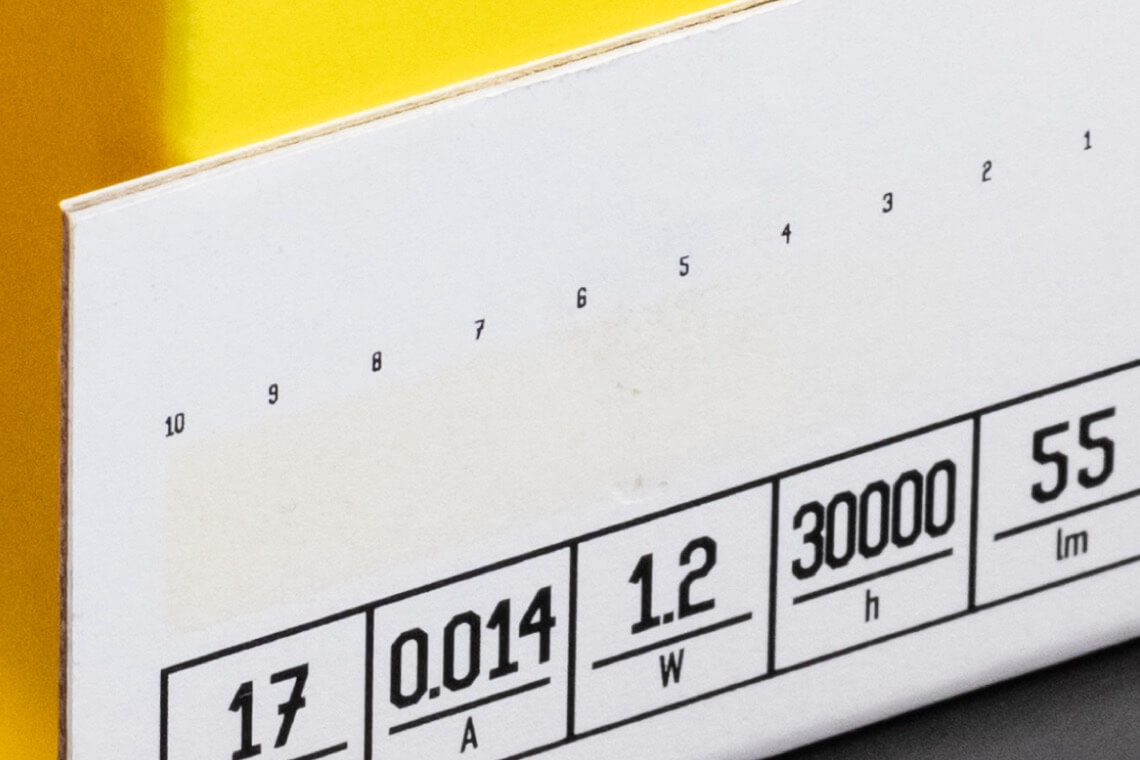 Employees: I would be very happy if that happened.
Kodama: Printing of very small characters is also a point I'd like you to try. If the white characters designed inside the box can be printed delicately, the design possibilities will expand.
Microflute, a material that can be recycled as is, is sustainable and has great potential. We aimed to create a design that combines "practical attractiveness" with "exciting design."
Employees: The manufacturer of the light bulbs visited the factory the other day, saying that the package of the light bulb was delayed in design, so he would like to improve it. I felt that Ms. Kodama's design, which can be differentiated from others, would also lead to the acquisition of new purchasing groups.
Kodama: If you actually put out a light bulb and sell it, it may be better to see the product in the contents. I devised this design with the intent of keeping in mind the concerns when actually placing them in the store and showing customers the technology of NAC. We believe that it would be a good print sample that would enable people in various industries to feel that it could be used in their products.
Employees: There doesn't seem to behave any technical problems. The solid surface can also be offset-printed, and the ability to neatly print small characters seems to be well conveyed.
Kodama: Regarding the development diagram of the box, if your company were to design it, I would like to reflect the design there. Since gluing is required with the current structure, it may be better if this is eliminated... We would love to have your help.
Employees: Yes, that's right. If you paste it, it will be hard to fold it, right?
Noguchi: Many customers focus on the ease of folding and easy disassembly, often considering the practicality.
Kodama: In order to appeal to the ease of recycling, it is better to be able to crush it with one touch, isn't it?
Employees: I understand, I have a person in charge of paper container design, so I would like to propose various shapes to them.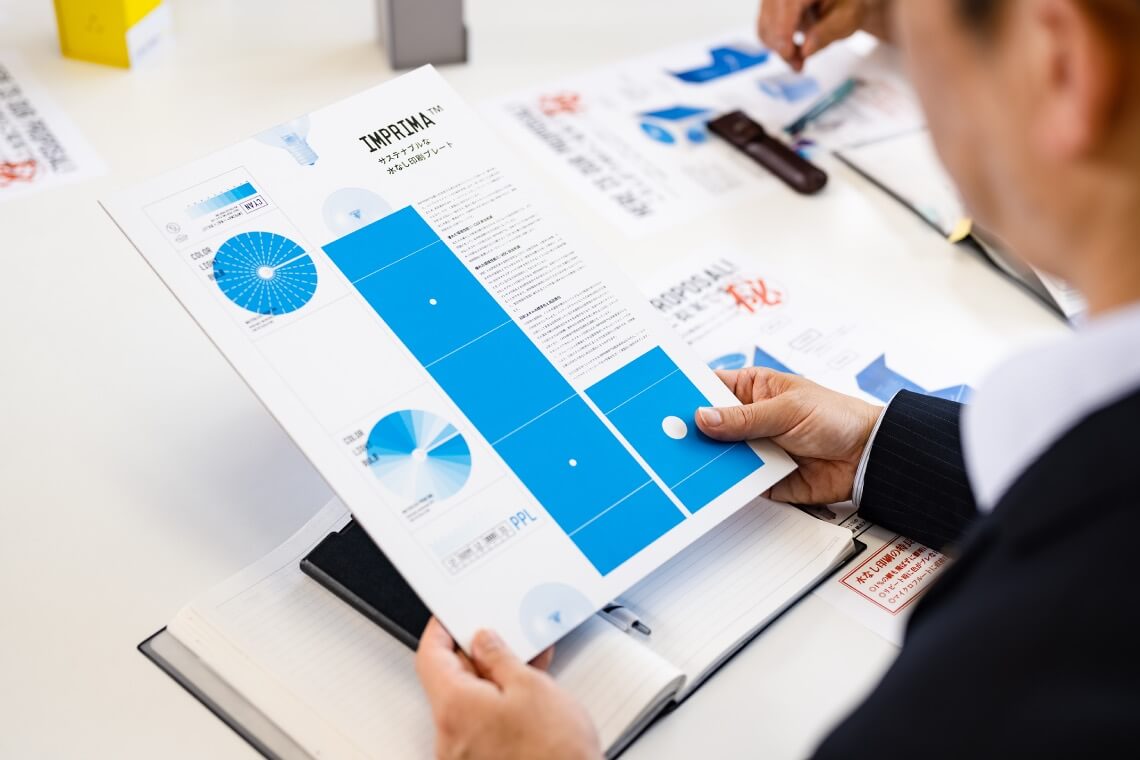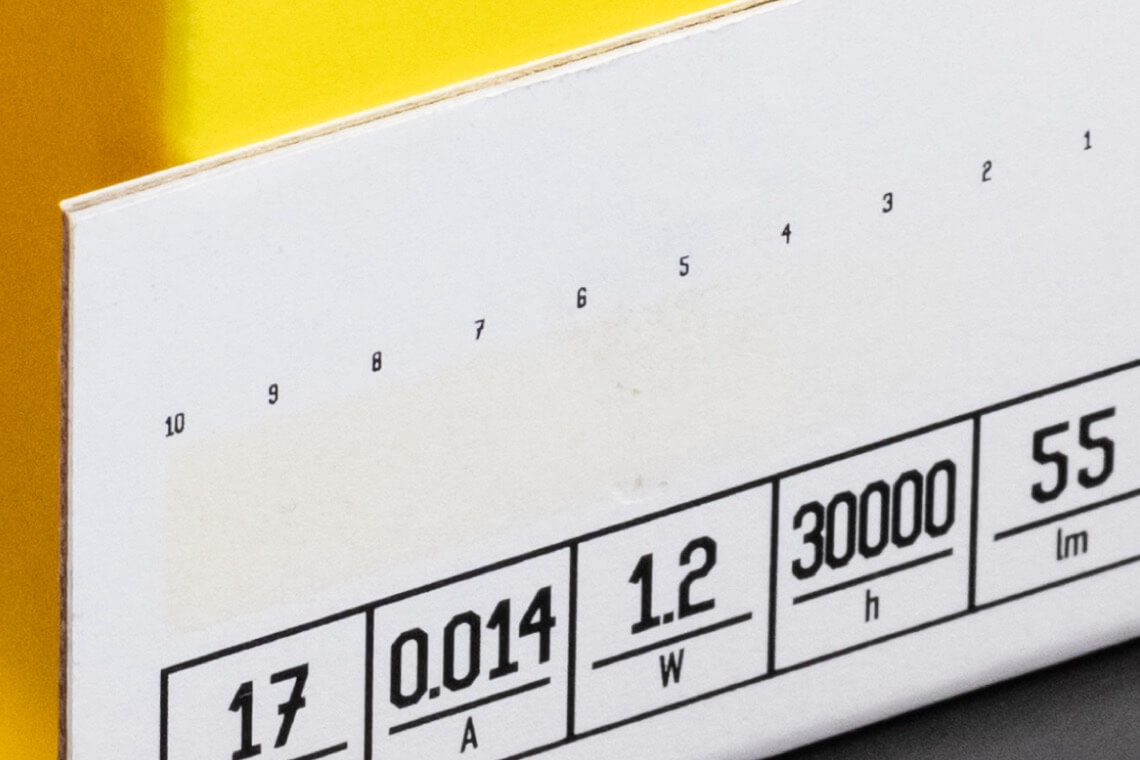 By proposing attractiveness not only in terms of cushioning and environmental aspects but also in terms of design, We want to increase the number of companies choosing microflute.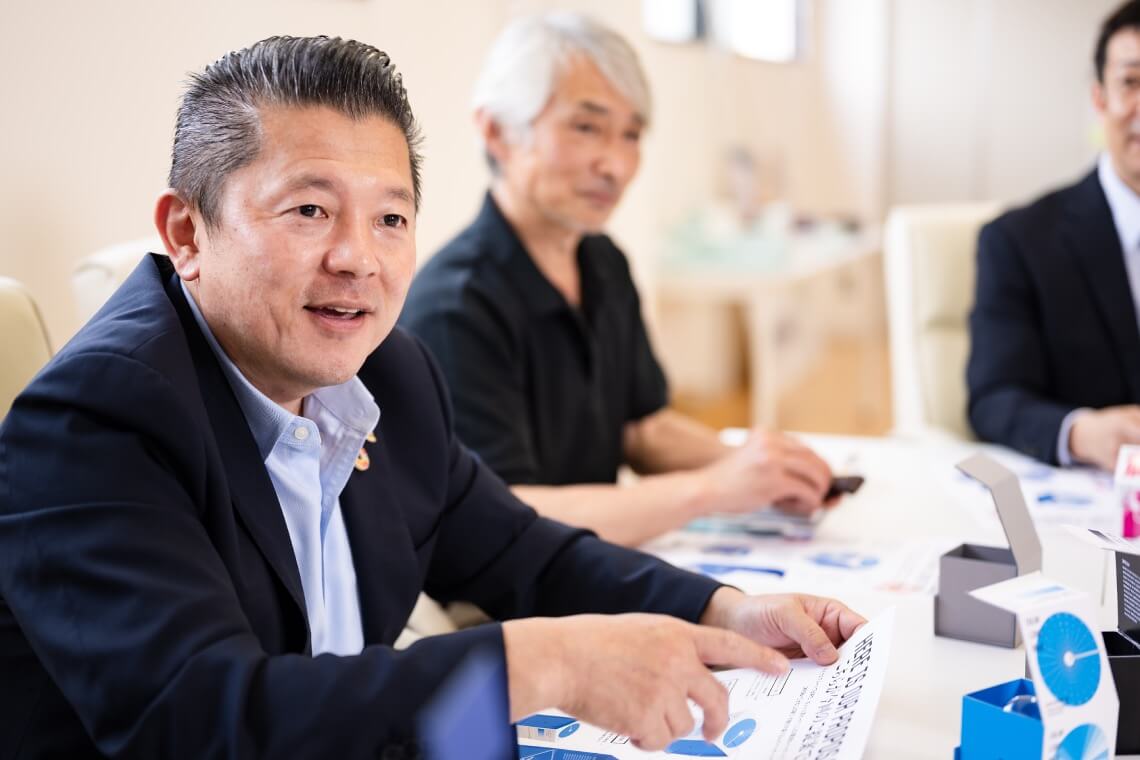 Kodama: As a designer, I feel a different charm from that of paperboard for the texture of cardboard and the wave of flute. Since we wanted to see the cross-section in this package, we would be happy if we could even think of the structure in the way of designing the paper container.
Employees: When making boxes with paperboard, the cross section becomes invisible.
Kodama: The cuteness of the cross section is one of the attractive parts of microflutes, so I would definitely like to show it proactively! This flute becomes cushioned and sturdy as a box. In addition to cushioning and environmental aspects, there will be an increasing number of companies that select products that feel "nice" in terms of design.
Noguchi: If I were to say something greedy, I think it would be better if the shape would not be tape-fastened.
Kodama: I see. I am very pleased to be able to propose a simple inserting paper container design.
Employees: If inserted, it will stick out due to the thickness, so for example, it may be possible to put it in like a jigsaw puzzle, or make the glued parts into an S-shape so that they get caught.
Kodama: That's great! I think it's a solution unique to microflutes. Have you ever created anything with such a structure?
Employees: We don't have any experience. I don't know if it works, but I will consider it as one of my proposals.
Kodama: By the way, how will printing such as gold ink and silver ink finish with waterless printing?
Employees: Gold is brass and silver is mixed with aluminum powder, so it is difficult to peel off on the rollers when printing with water. In that sense, it would be easier to print gold and silver without mercury.
Noguchi: It's nice that the design this time utilizes information not only for the boxes but also as sheets.
Kodama: Actually, there is a hidden theme behind the description of the package design as a "light bulb". "Waterless printing will become the light of the printing industry in the future." And that light is made of the four letters CMYK...
In fact, when I heard about the features of waterless printing at the last meeting, I felt that mainstream printing could transition to "waterless printing" in a not-so-distant future because of its merits and many attractive aspects. Environmentally friendly and high printing accuracy. A very attractive printing method indeed.
Noguchi: I'm so grateful to hear you say that.
Employees: I would like to share the design I received within the company and propose a paper container design. Thank you for your continued support!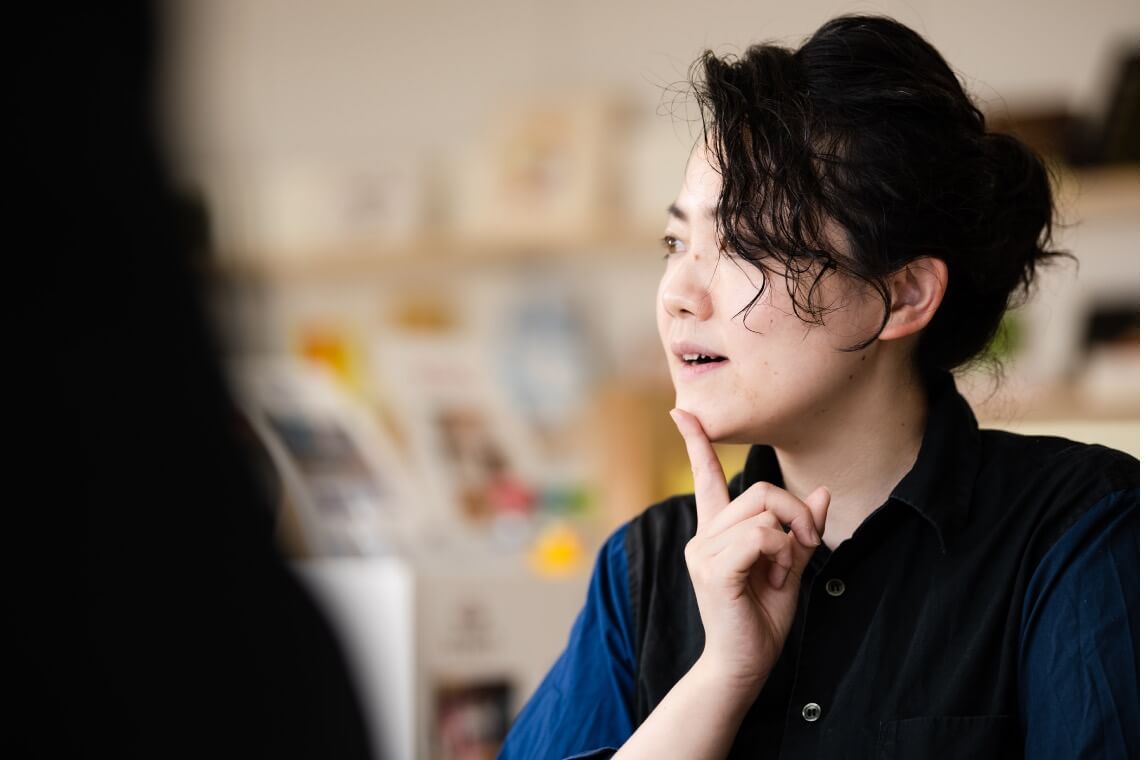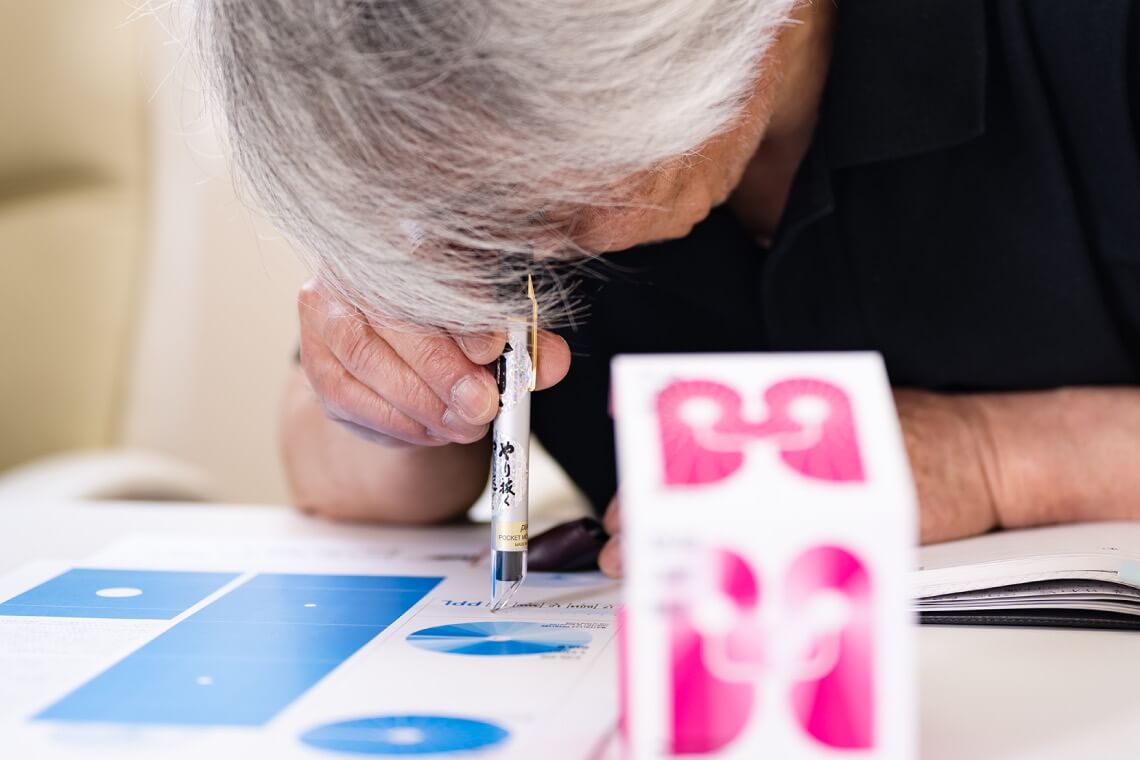 Summary: I want to create works that contribute to a sustainable future
Noguchi: The design seemed to have been completely unexpected, so I thought it was simply awesome. I think it's thoughtful to focus on the details. I also feel that it is important to see how good we, who are responsible for printing, can be. Ms. Kodama talked about lighting up the printing industry using light bulbs as a motif. Now that SDGs and carbon neutral approaches are becoming more and more ideal, I think the fastest way for us to make a change is to change from water-based printing to water-free printing. We would like to increase the number of waterless printing projects by utilizing this proposal.
Kodama: I was happy to hear that you perceived the design proposal favorably and gave us many positive opinions such as "If that's the case, it can be realized like this" and "How about this method?" I hope that the work we designed this time will serve as a tool for sharing the appeal of the technology of waterless printing globally.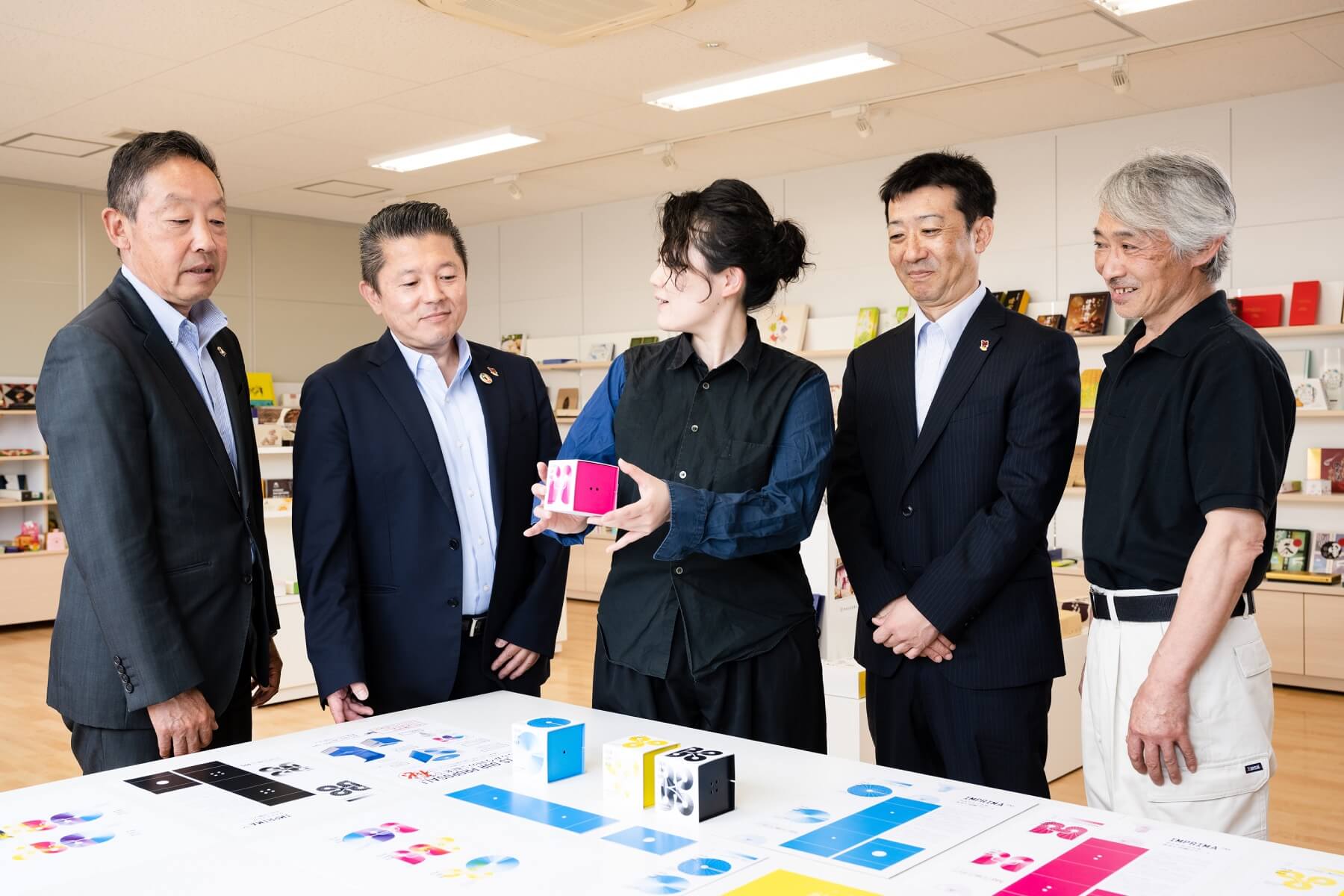 Mr. Kodama and everyone at NAC Co., Ltd.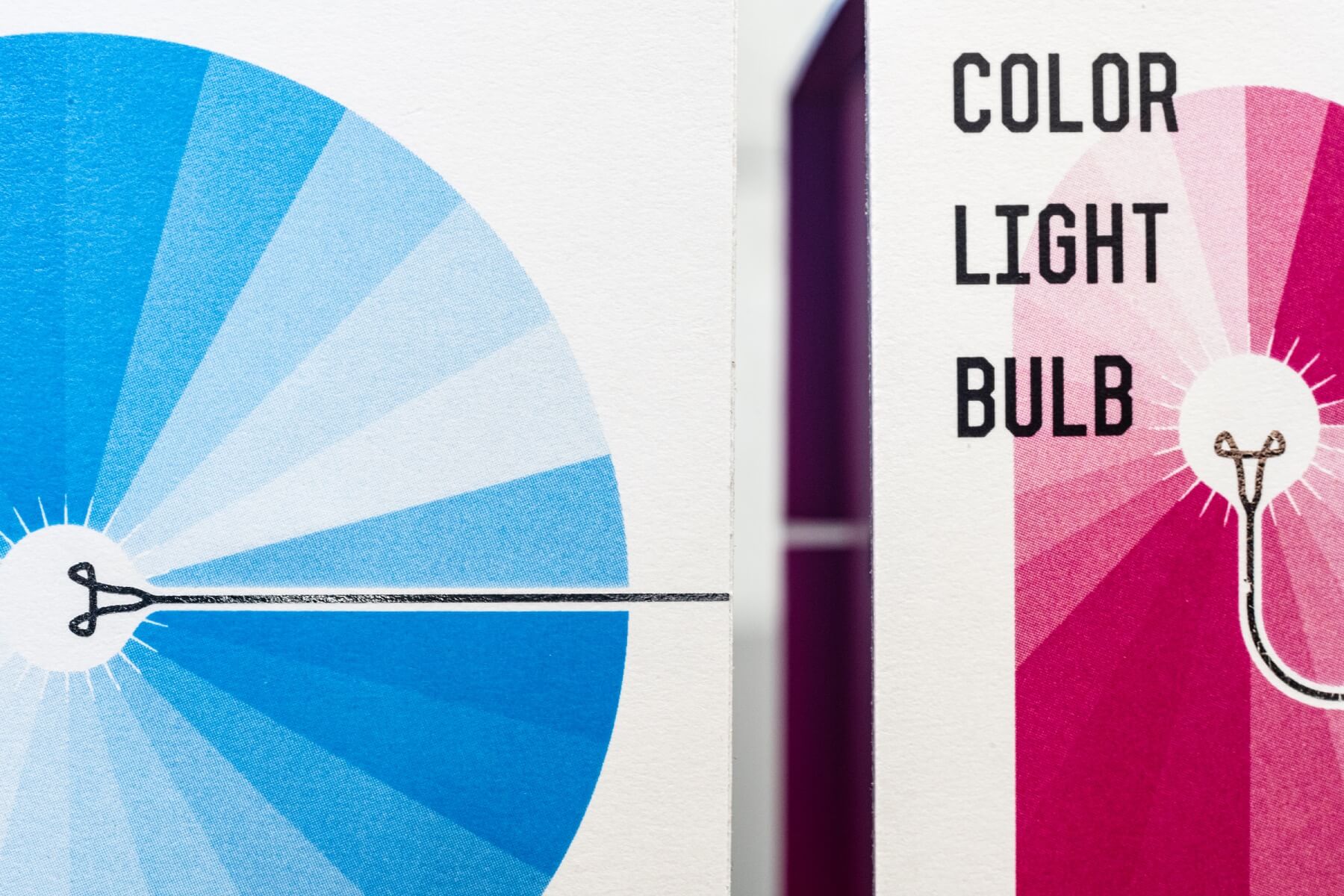 Different graphics for each CMYK color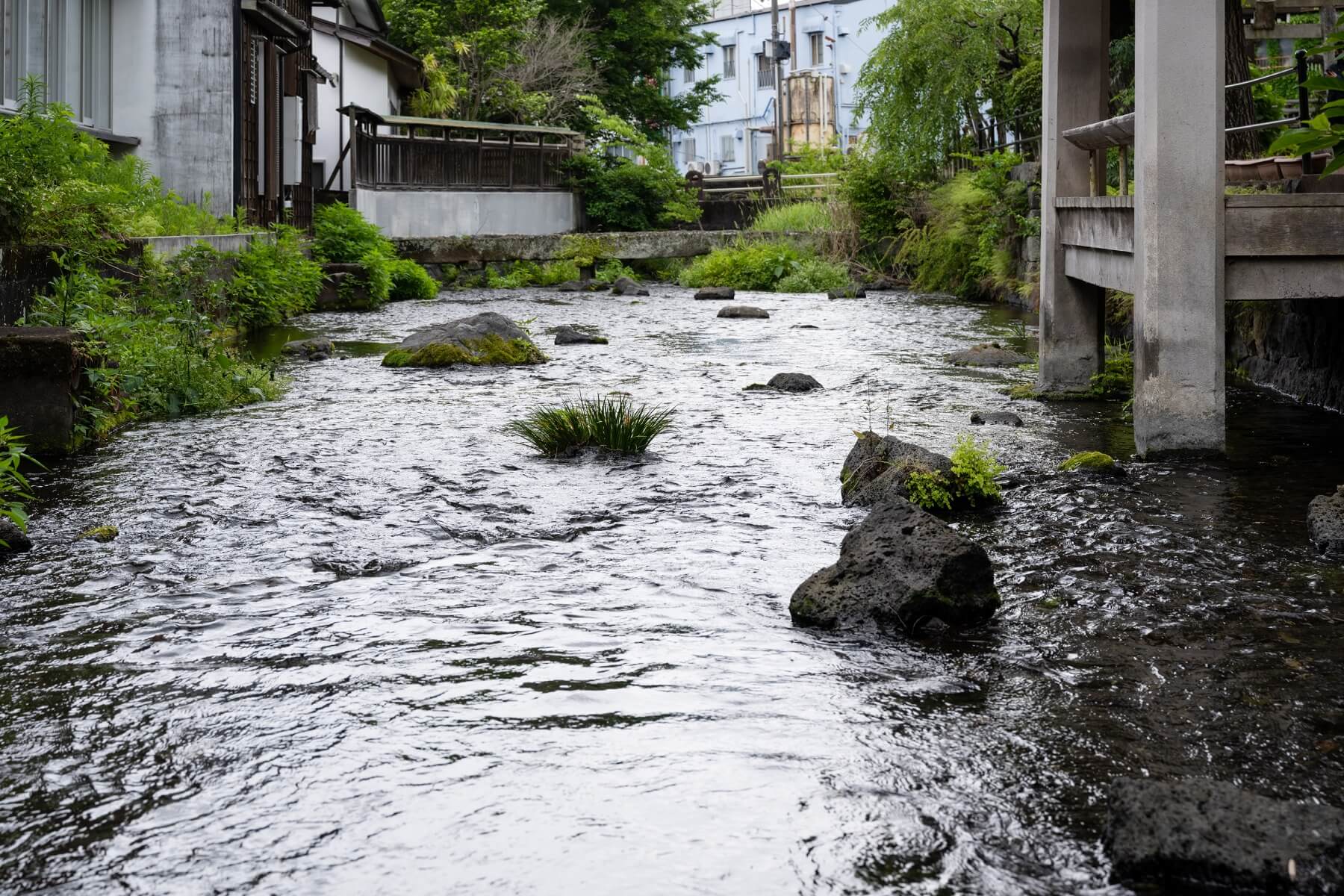 NAC Co., Ltd. is based in Mishima City, Shizuoka Prefecture, which has abundant water coming from Mt. Fuji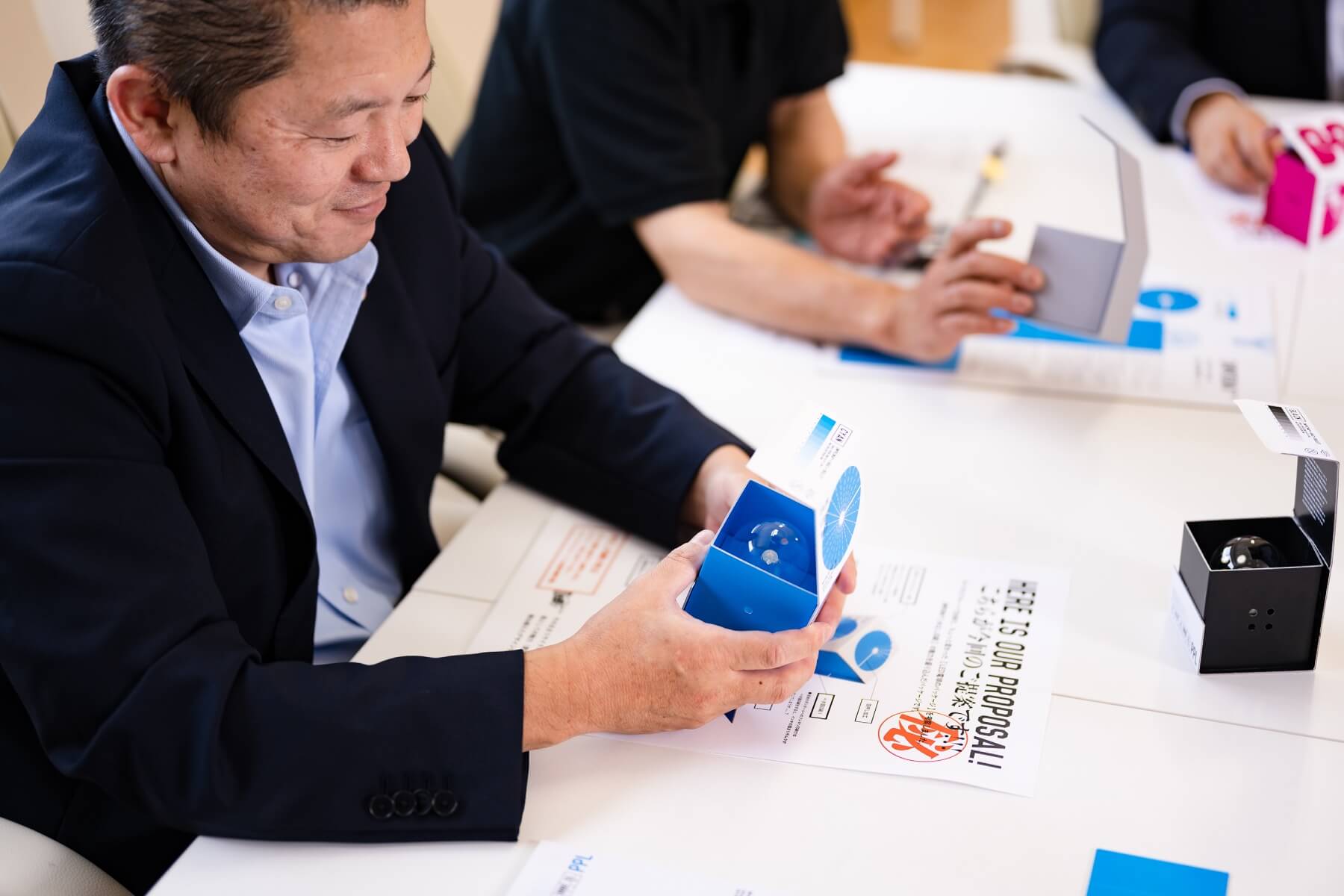 "It's a completely unexpected design," Mr. Noguchi said with a smile as he picked it up.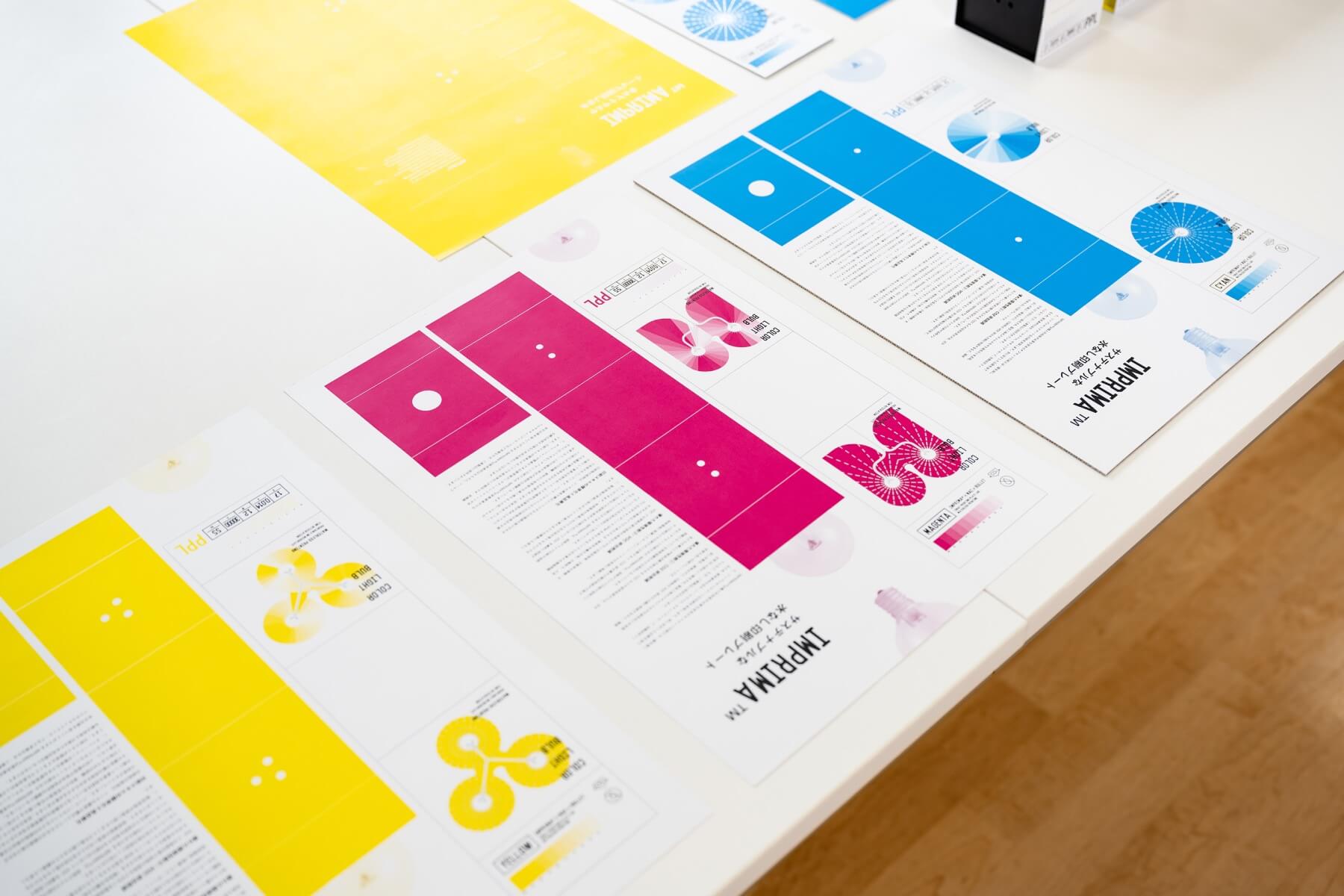 A microflute sheet with explanations of waterless printing and a development view of the box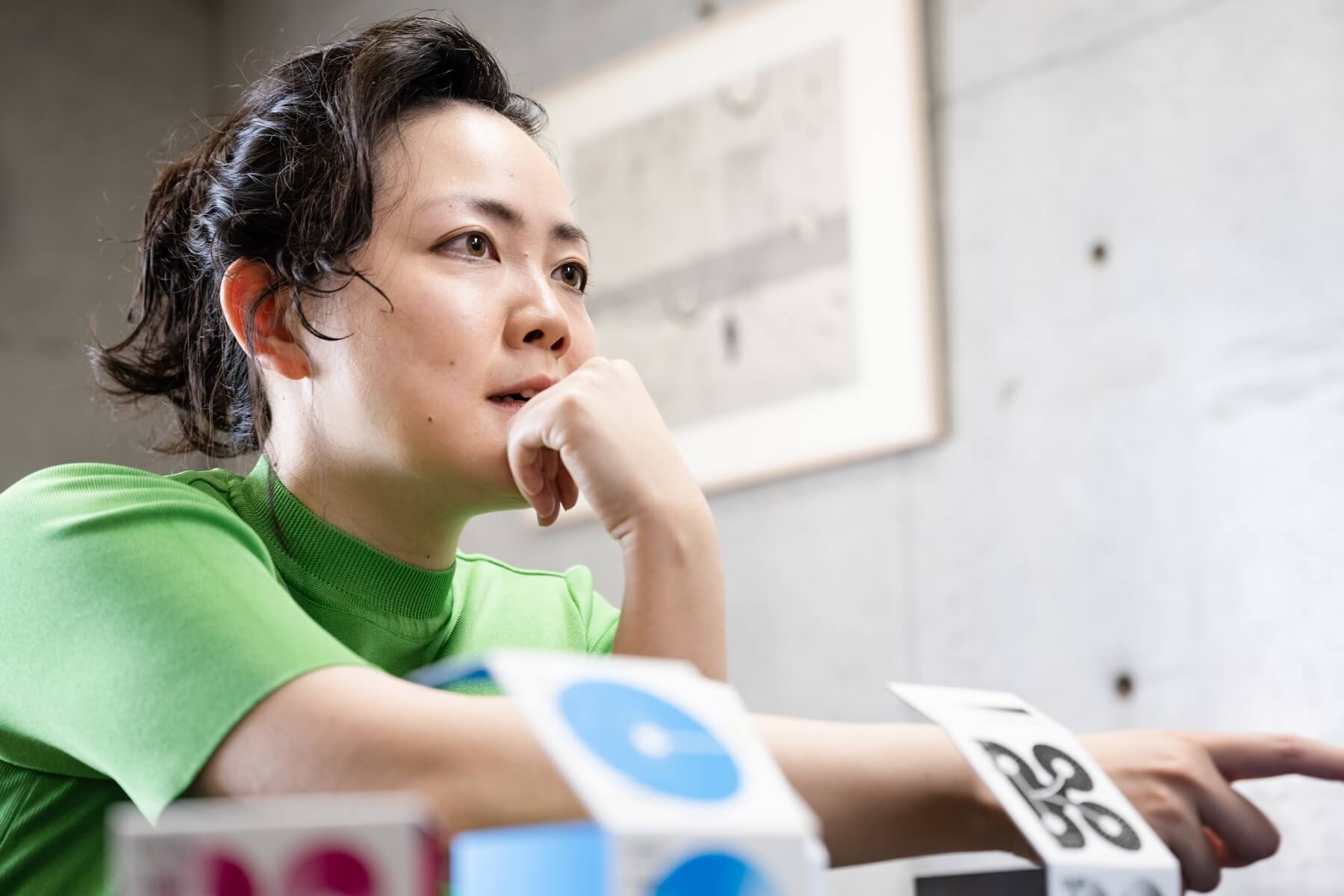 Preliminary meeting at Kodama's office