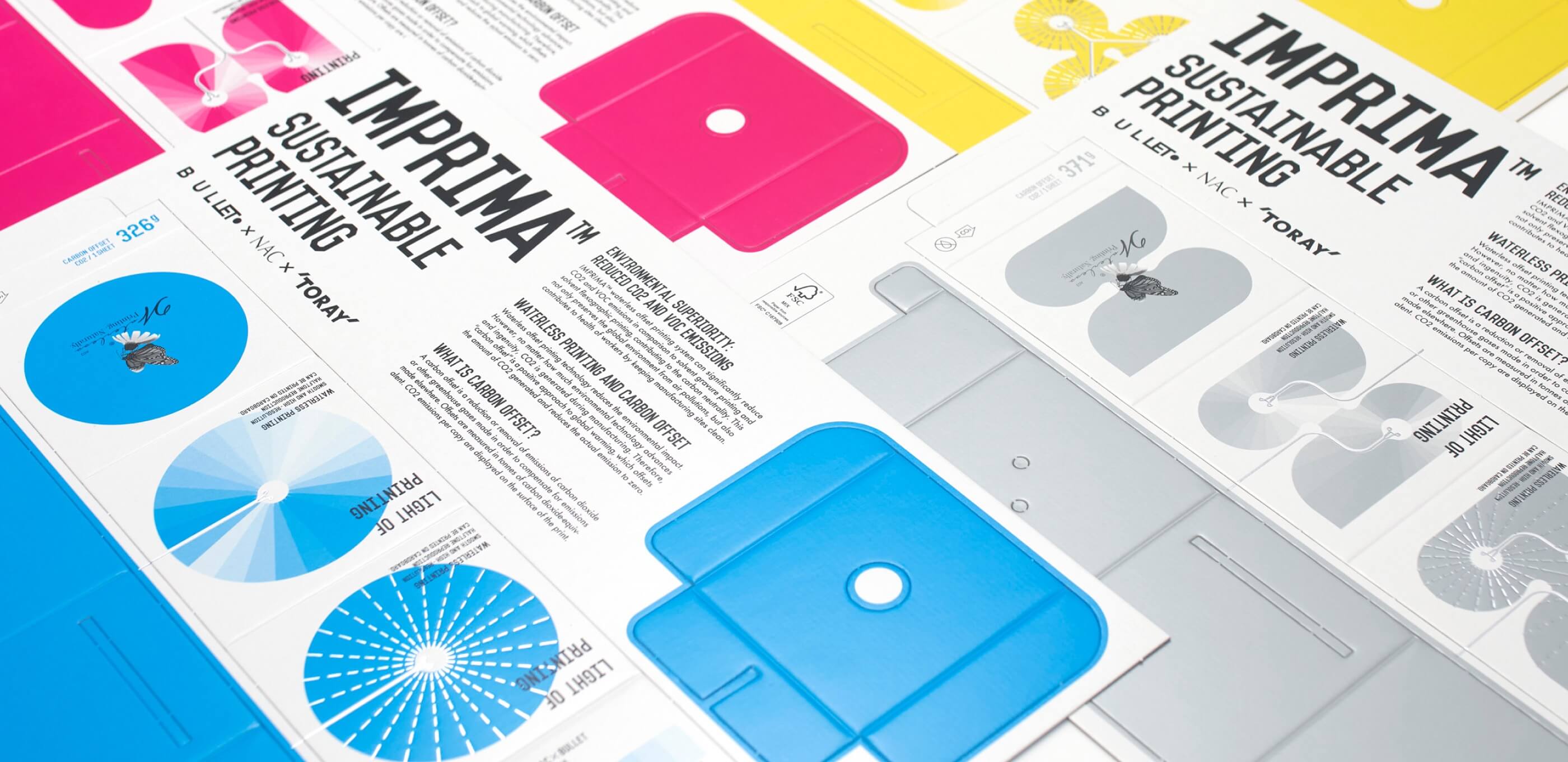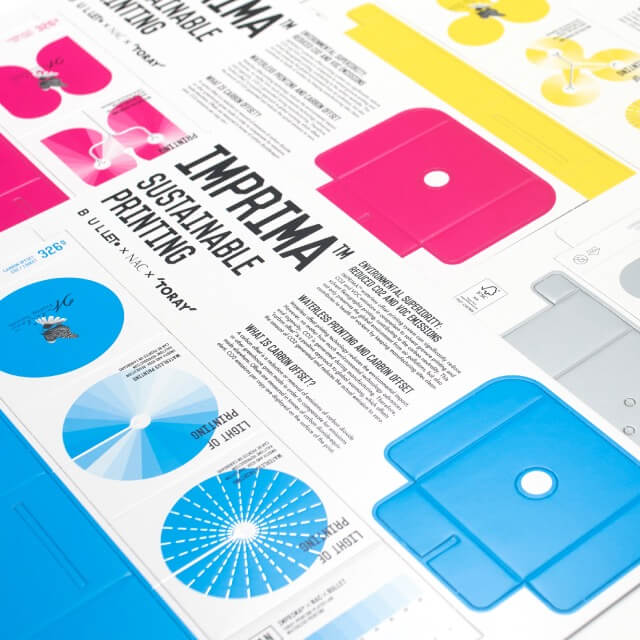 Designer Aya Kodama × NAC Co., Ltd. × IMPRIMA™
Creating an opportunity for potential-rich IMPRIMA™ to become a new standard in the printing industry
Designer Aya Kodama × NAC Co., Ltd. × IMPRIMA™
Creating an opportunity for potential-rich IMPRIMA™ to become a new standard in the printing industry
IMPRIMA™ Story 3Printing
"TORAY PRINTING PLATES Lab." is an experimental initiative to explore the possibilities of expression through TORAY's printing plates and lead to new creations. This series of articles will tell the story of how leading creators and partner companies met through TORAY's printing plates, stimulated each other, and worked as one team to reach their goals.
Participating Creator:

Aya Kodama

Established BULLET Co., Ltd. in 2013. She designs a wide range of products including packages. A world-renowned award-winning designer whose intricate and daring paper container shapes are unrivaled in the industry. She is an assistant professor at Tokyo Zokei University.
Awards received include the Good Design Award, Japan Package Design Grand Prize (Gold), One Show (gold), Pentawards (platinum), Cannes Lions, D&AD (graphite), and Red Dot, iF Design Award.

Partner Company:

NAC Co., Ltd.

Paper packaging printing company based in Mishima City, Shizuoka Prefecture. Uses environmentally friendly waterless printing to print specially processed high quality paper packages in the city where Mt. Fuji provides abundant groundwater as a water source.

Printing plate:

IMPRIMA™ (waterless offset printing system)

Printing plates with high quality, easy control of printing quality and high-density stability of patterns by high-definition dot reproduction. In terms of environmental performance, CO2 emissions are reduced, contributing to the realization of carbon neutrality. VOC emissions can be also dramatically reduced, serving as a countermeasure for air pollution while improving the cleanliness of manufacturing sites and the health of those involved in the work.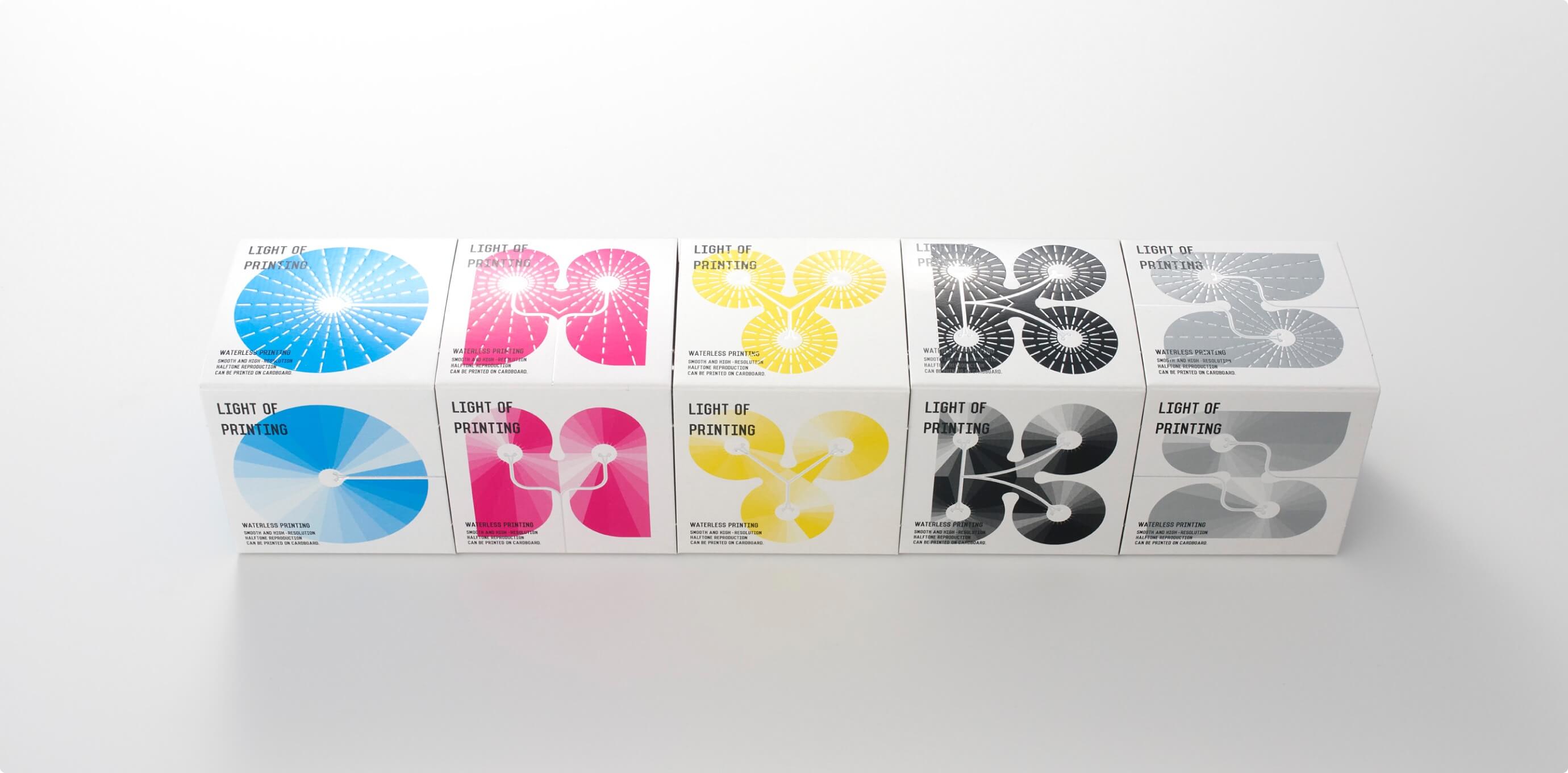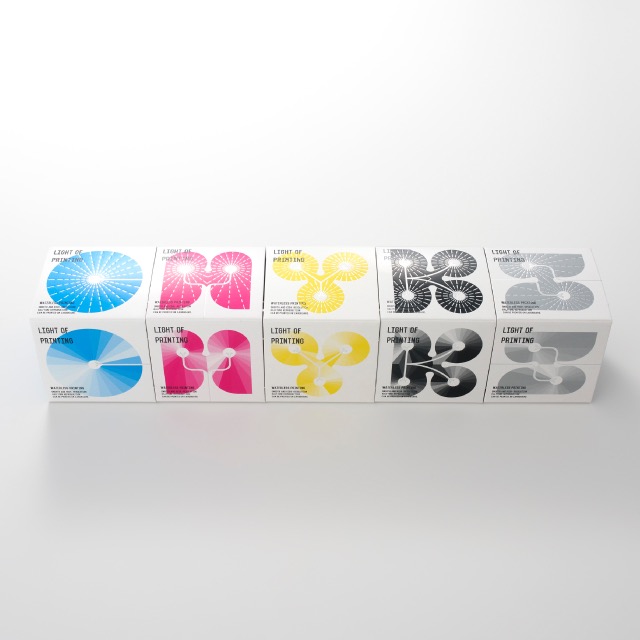 Packaging highlighting the many benefits of
waterless printing now complete
― A January day brimming with the crisp air of the new year. Ms. Kodama, a designer, is in an online meeting. After a presentation of the design, there followed in-depth discussions with various sections, including checking the paper container design and printing finish, and then the final printing was completed. All involved parties gathered online to review the project. ―
―First of all, please give us an overview of your work.
Designer Kodama (hereinafter Kodama): When NAC briefed me on waterless printing, I was amazed to find no disadvantages over regular offset printing. This gave us the idea of creating a package (in sheet form for distribution) that would incorporate all the advantages of waterless printing and showcase its appeal, and that is how the design process began. Being able to print directly on corrugated cardboard (micro-flute) is very appealing to graphic designers because it reduces costs and broadens the range of expression. Common knowledge says that printing on corrugated cardboard usually results in lower printing quality. However, to show how beautifully graphics with delicate gradations can be printed, we produced a graphic design featuring a gradient of fine dots.
―It's waterless printing at its best, isn't it?
Kodama: Exactly! Another key aspect is the beauty of solid surface printing. I'm sure NAC must have made a lot of adjustments for me, but it's wonderful to see how uniformly and evenly it's turned out.
―There also seems to be great attention paid to the percentages of the reticulation scale.
Kodama: You mean the ultra-fine halftone dots scale ranging from 10% to 1%! You can see here that even a 1% reticulation unit can be achieved very clearly. This time around, we have produced five types of packages: C (cyan), M (magenta), Y (yellow), K (black), and S (silver), as well as a CMYK blended designs to show how it looks when two or more colors are combined. We have now completed design samples that enable customers who are considering waterless printing to experience the wide appeal of IMPRIMA™.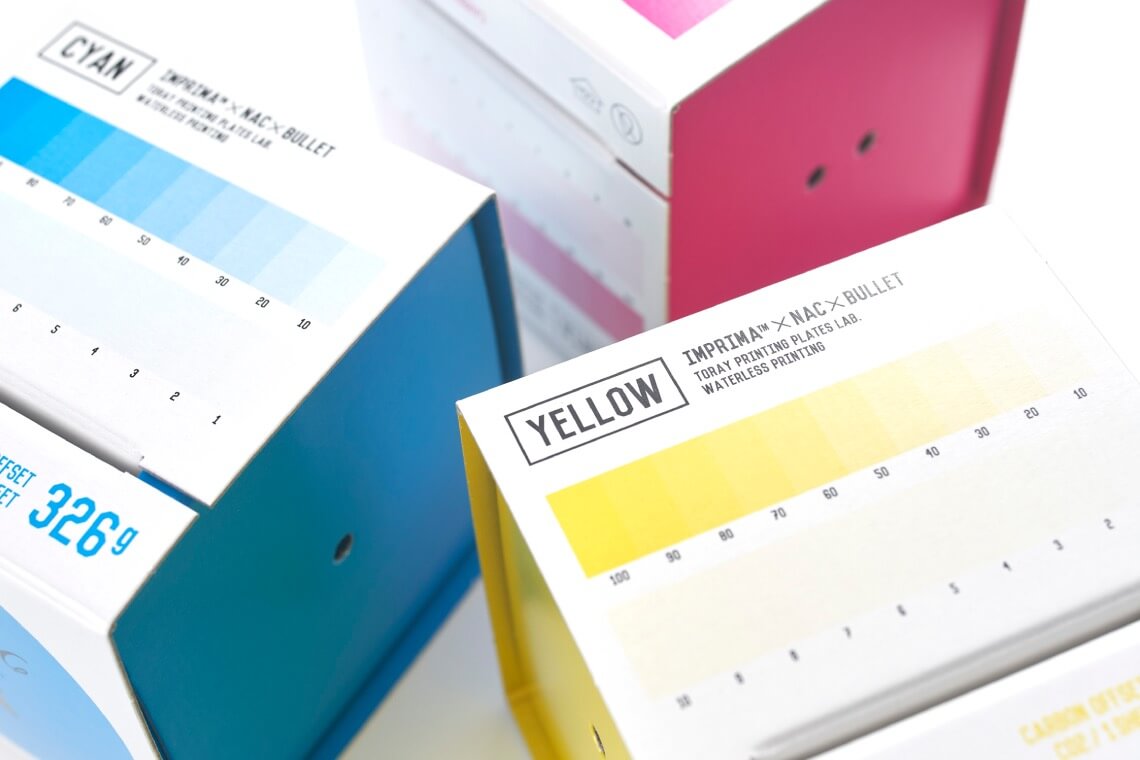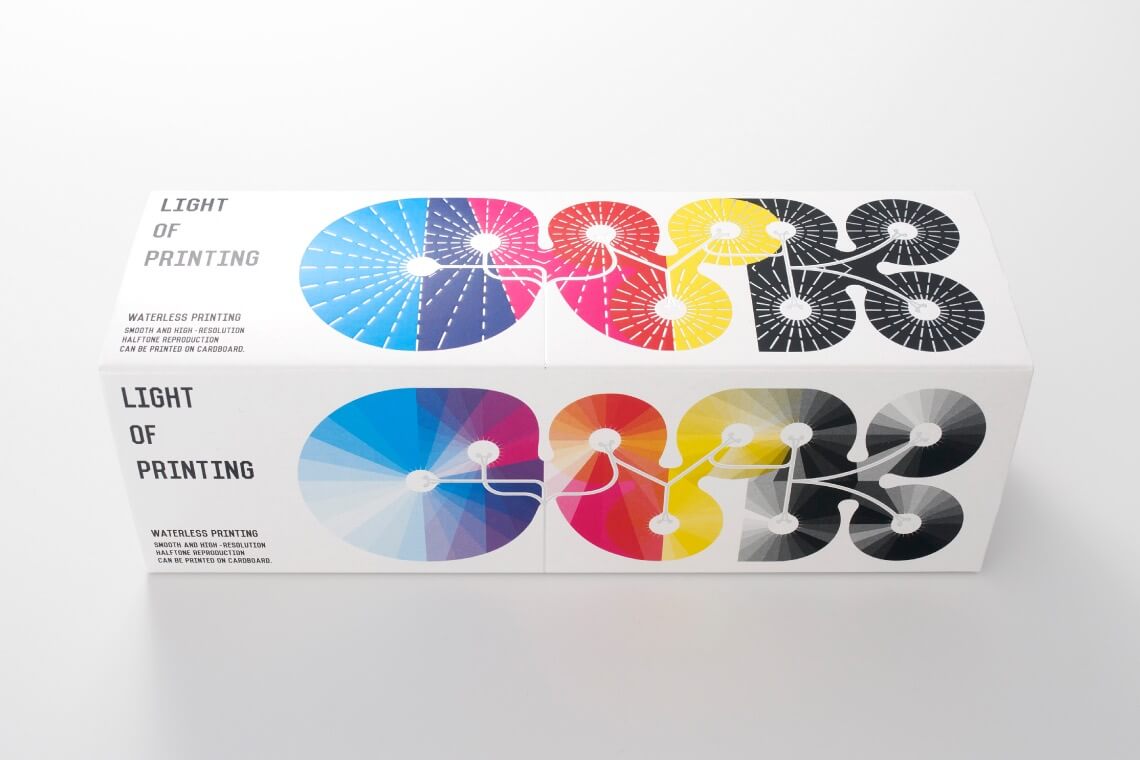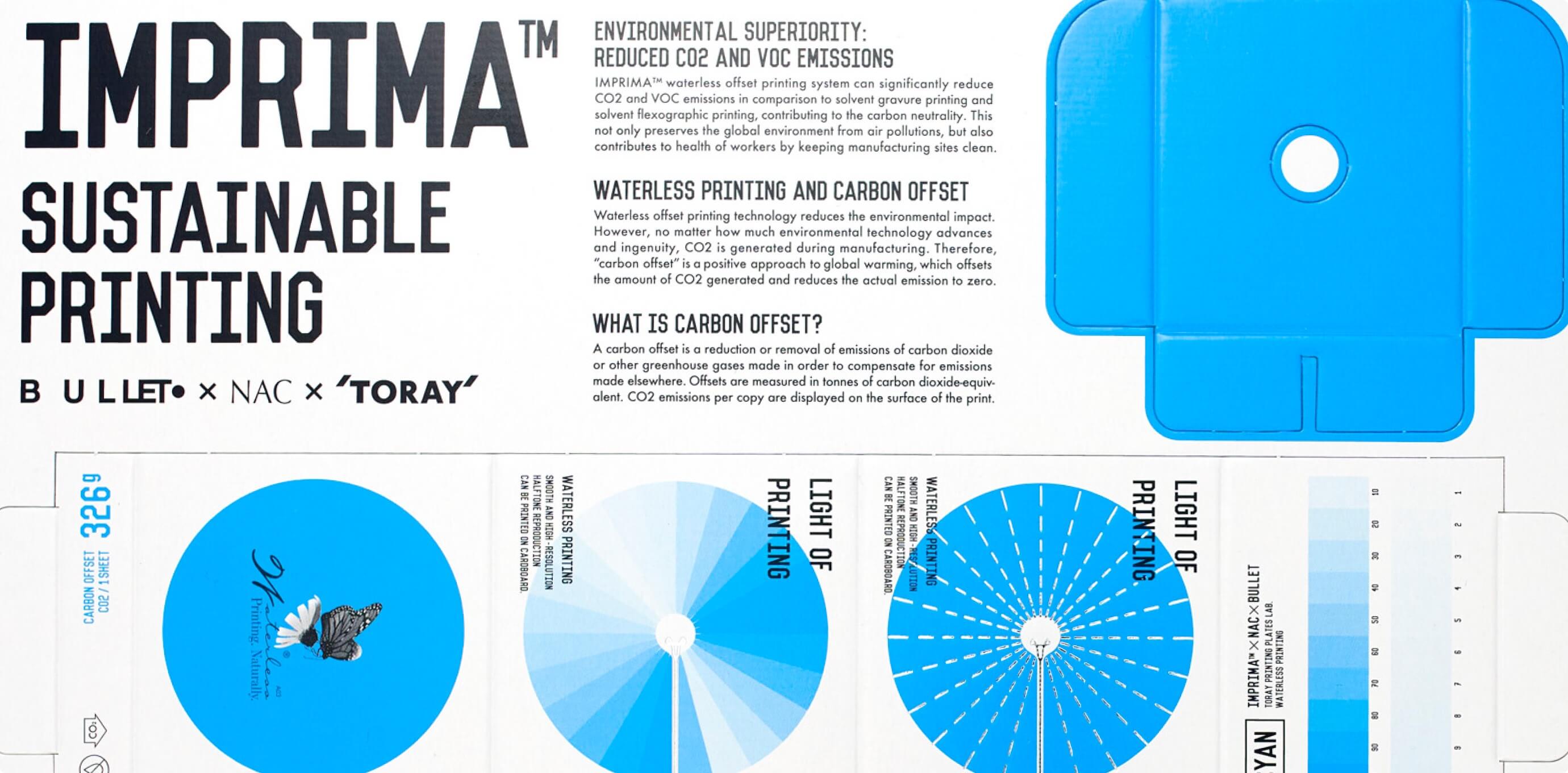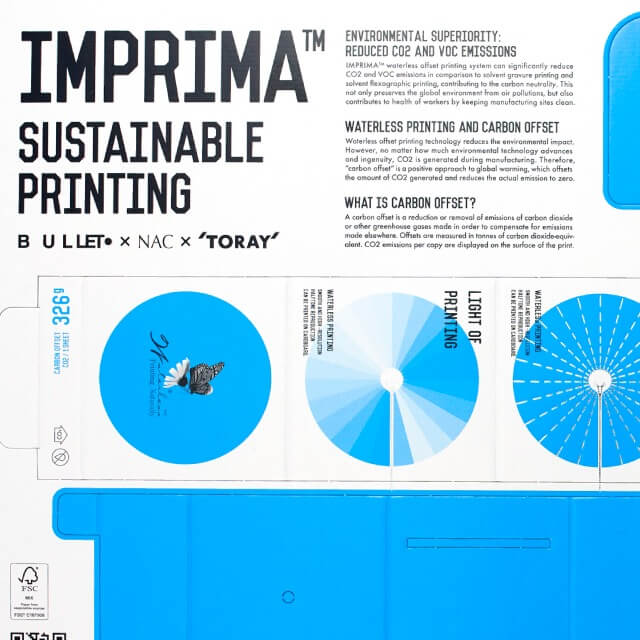 "Waterless printing is the new light shining on the future of printing!"
Aya Kodama's vision for the light bulb package
―I understand that after the test printing, the actual printing took place.
Kodama: Yes, there was some ink smearing near the cyan area during the test printing. However, in the final printing, the issue was solved and the finished product was perfect. I imagine it must have been quite a complex adjustment process.
Employees of the Creative and Production divisions (hereafter, NAC employees): This was a very challenging project, including the smearing issue. We had the opportunity to try something new, something we had never done before. In addition to the solid area, there were concerns about the 1% halftone dots. You thought they would print, but what would they look like? After repeated tests, we finally came up with a good final product. The printing operators encountered a lot of small difficulties but worked very hard to get the job done.
―What are some important considerations when designing paper containers?
NAC employees: We were especially mindful of following Ms. Kodama's design as much as possible. In particular, we thought a lot about where to place the slot.
Kodama: I selected this shape from among the four types proposed. The inner parts for inserting the light bulb and the slot are designed in a simple and rational way. Also, two sides of the inner box are slightly tucked in, which looks cute! You can see a glimpse of the solid color printed on the back side of the box, which is important.
―Was foil stamping a problematic process for this piece?
NAC employees: Yes, it was very challenging. Even the staff actually doing the work weren't sure if they would be able to do it. Several companies do foil stamping, and we asked the company we trust the most to do it for us. We thought it would be impossible if they couldn't do it, but they did a great job.
Kodama: We created a light bulb package based on the concept that "waterless printing will be a new light shining on the future of printing ." Therefore, we thought the foil stamping process would allow us to express light and shine effectively. We also proved that foil stamping can be executed beautifully on micro-flute.
―Tell us about the work that was done after the design presentation.
Kodama: One of the major changes after the last proposal was the box design. In the first design proposal, I used white tape to fasten the box, but from the perspective of sustainability and recycling, I wondered if there was a better shape that could be easily disassembled and did not require tape. I consulted with NAC, which has a professional paper container designer, and they proposed four patterns. I selected the simplest, most aesthetically pleasing, and easiest to assemble.
―What is interesting is that the box is distributed as a sheet, and you can assemble it yourself.
Kodama: Considering that we wanted something easy to use and take home as a sales tool to promote waterless printing, we thought it would be good to distribute the product in sheet form. The back of the sheet contains information on waterless printing.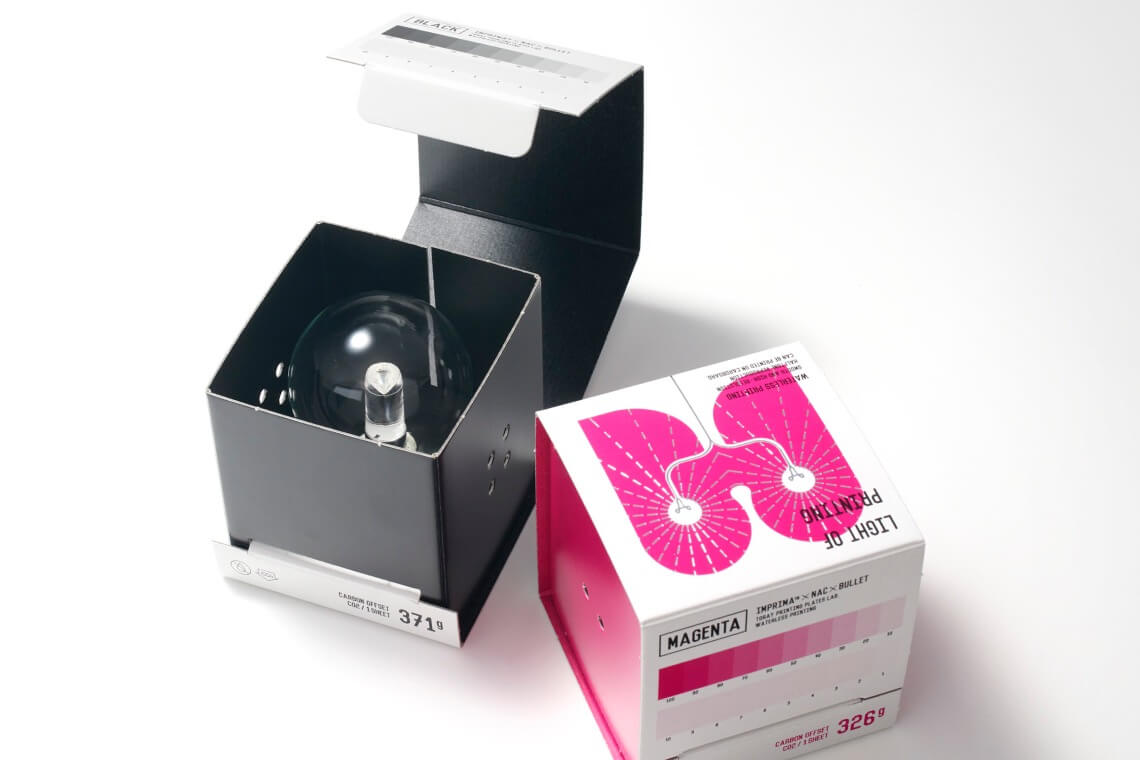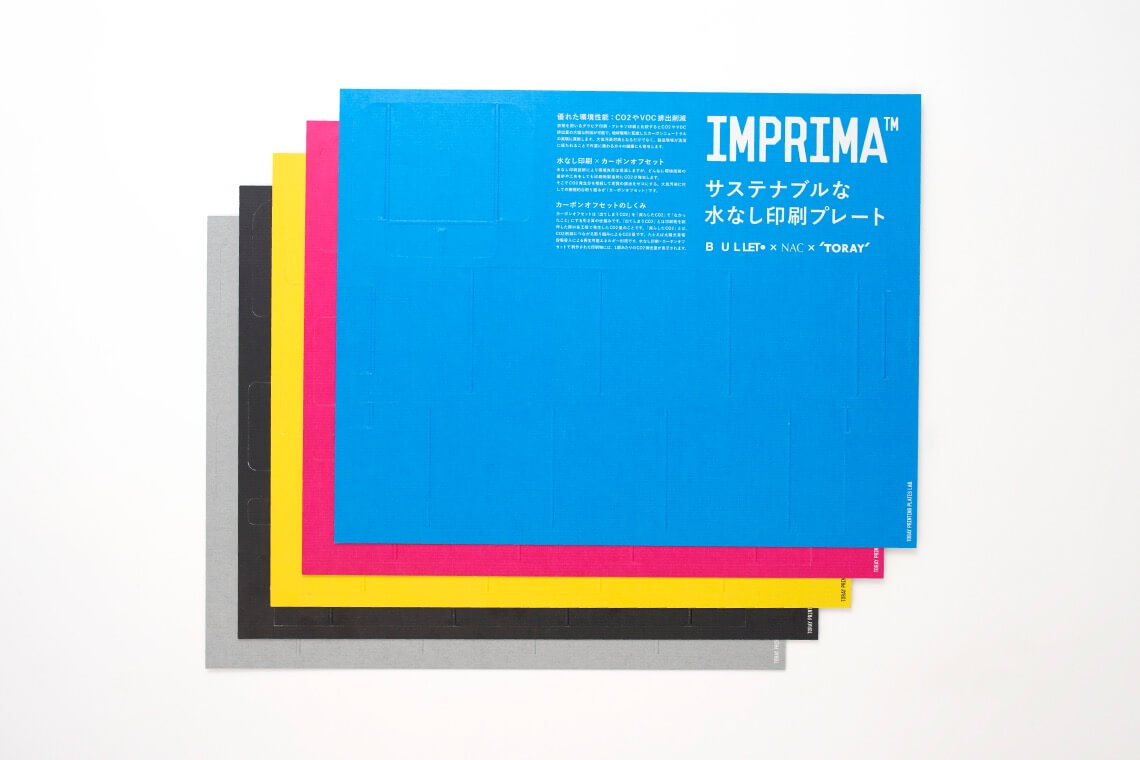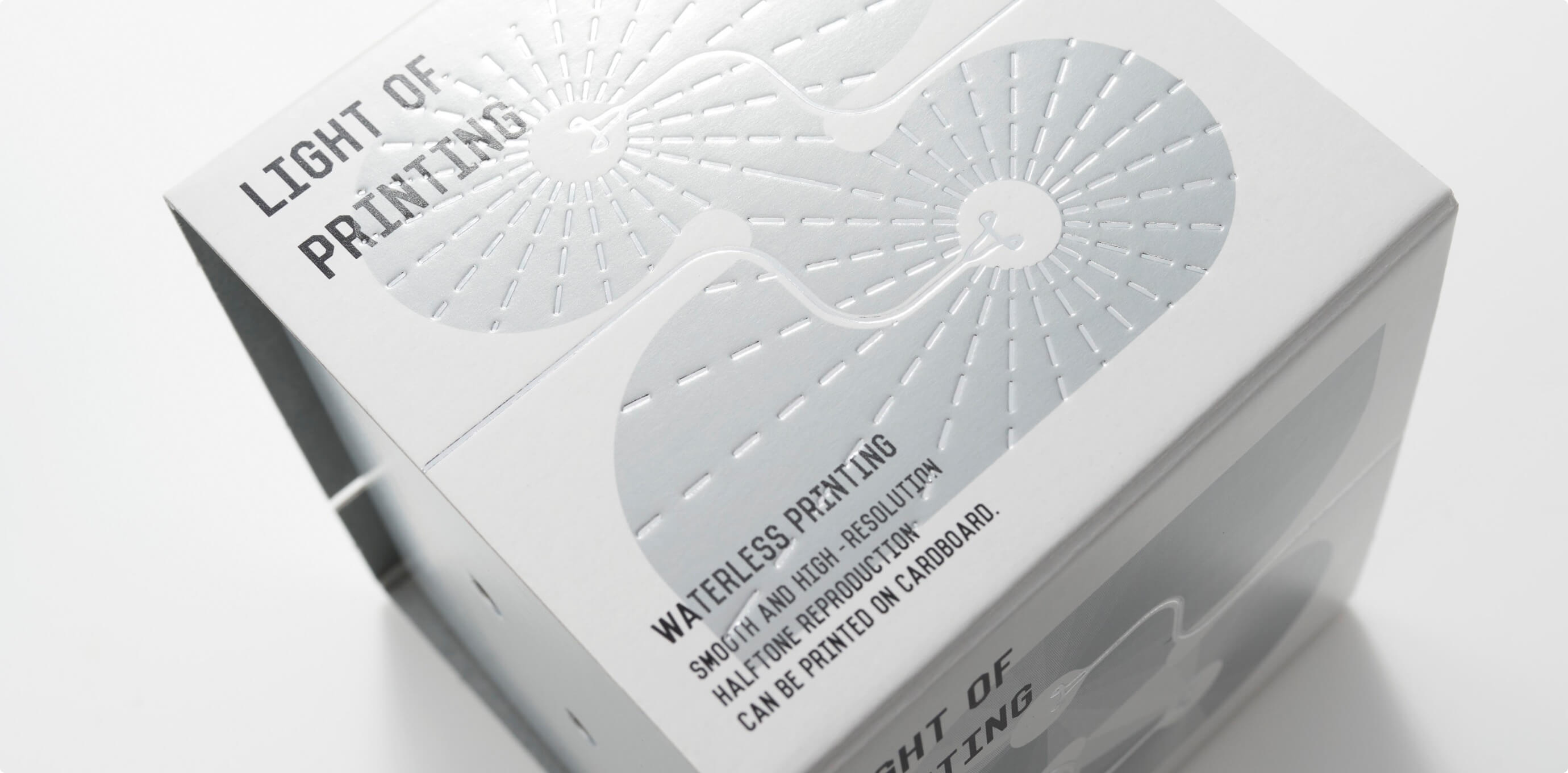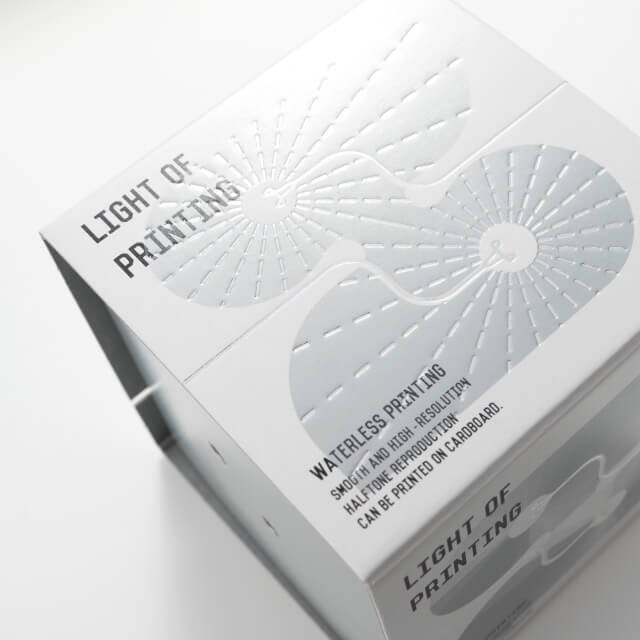 Summary: Whether I consider the printing, foil stamping, or folding carton design,
the finished product exceeded my expectations on all counts
NAC employees: Even considering our long history of waterless printing with TORAY, this was a truly challenging project. Temperature control is critical in waterless printing, but with the improved inks and plates, it was effortless. We were also greatly impressed with Ms. Kodama's design, and being able to give it shape was a good experience. In particular, being able to print 1% halftone dots on micro-flute gave us a lot of confidence. We are grateful for this opportunity and we are ready to move on to the next step in a positive way.
Kodama: My impression is that whether I consider the printing, foil stamping, or folding carton design, the finished product exceeded my expectations on all counts. For this project, rather than creating my own work of art, I approached the design with the idea of creating an opportunity for waterless printing, which has huge potential, to become the new standard for the printing industry in the future. I believe that we have created something that will make people realize the level of expression that can be achieved with waterless printing. The designer can point to the destination of the finished product, but it is the skill of the on-site craftsmen at the printing company that makes it into an object. They exceeded all my expectations. I would be happy to work with them again in the future.