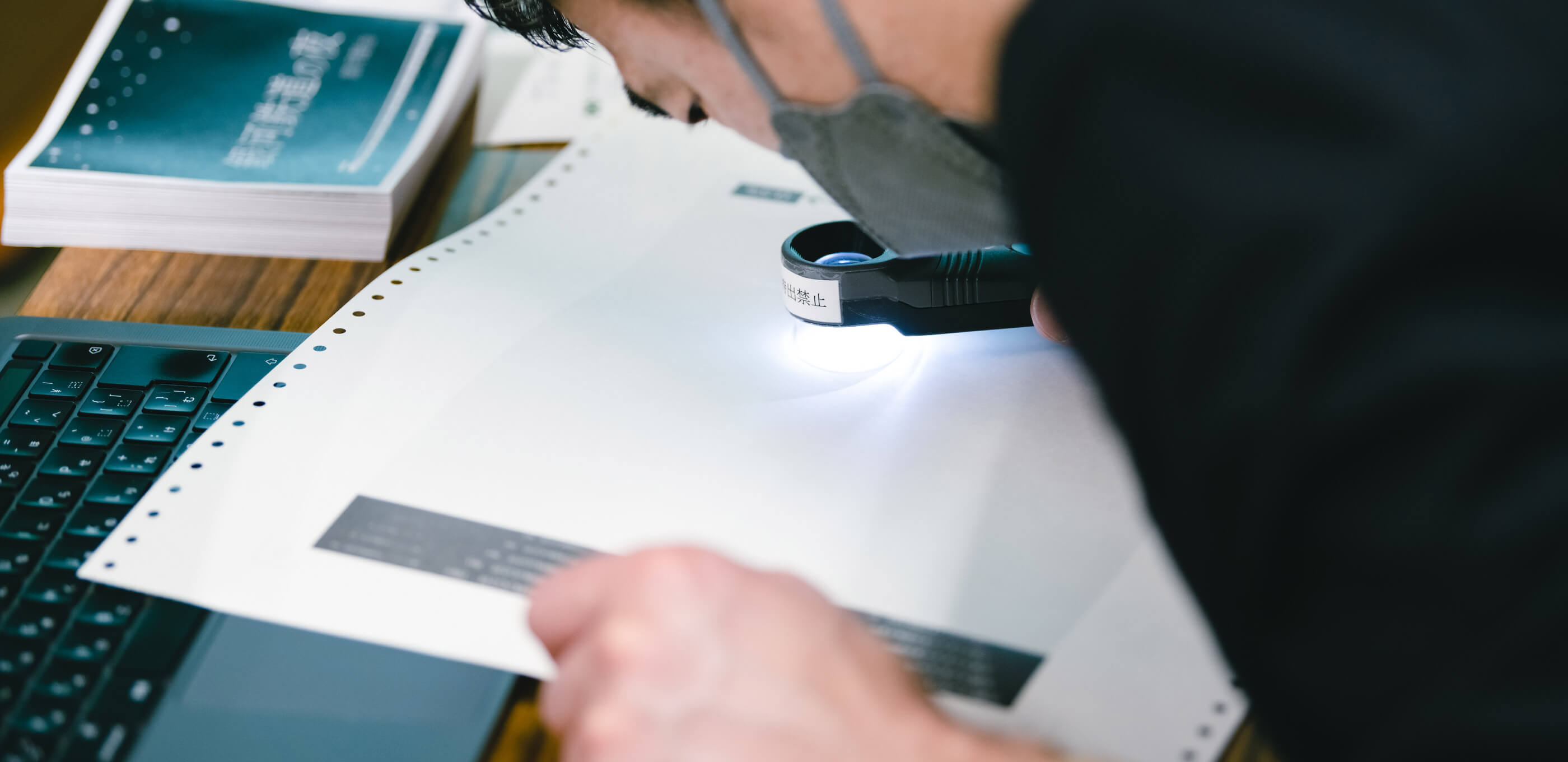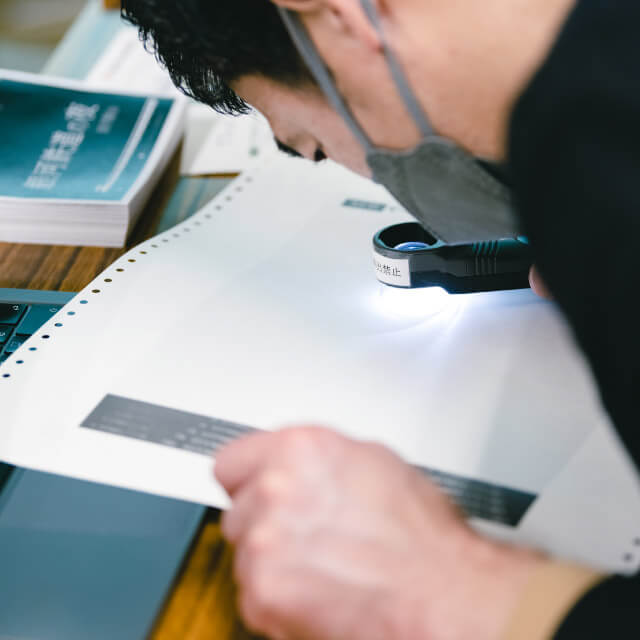 Design company P.K.G. Tokyo × Misato Computer Holdings Co., Ltd. × TORELIEF™
With photopolymer letterpress long-form printing, 0.5% halftone dot and 0.4 point characters can be reproduced. Exploring Design Techniques That Take Advantage of World-Class Technology
Design company P.K.G. Tokyo × Misato Computer Holdings Co., Ltd. × TORELIEF™
With photopolymer letterpress long-form printing, 0.5% halftone dot and 0.4 point characters can be reproduced. Exploring Design Techniques That Take Advantage of World-Class Technology
TORELIEF™ Story 1Research
"TORAY PRINTING PLATES Lab." is an experimental initiative to explore the possibilities of expression through TORAY's printing plates and lead to new creations. This series of articles will tell the story of how leading creators and partner companies met through TORAY's printing plates, stimulated each other, and worked as one team to reach their goals.
Participating Creator:

P.K.G.Tokyo

A brand management agency established in 2017, with a strength in design. They have worked on a wide range of branding projects: from corporate to product and service branding, including research, strategic planning, product development, and web planning.
In addition, through the P.K.G. Lab, the company is actively attempting to learn and explore a sustainable future together with companies.

Partner companies:

Misato Computer Holdings Co., Ltd.
/ MCP Co., Ltd.

They are printing companies that mainly handle business form printing, with a manufacturing base in Misato City, Saitama Prefecture, not far from central Tokyo via the Tsukuba Express.
They are highly regarded for their high-definition printing quality that takes advantage of "Superform," a proprietary long-form printing technology arrived at as a result of years of research. They possess many domestic and foreign patents.

Printing plate:

TORELIEF™ (Photopolymer Letterpress Printing Plate)

Printing plates with such high resolution printing quality that they are used for security printing (banknotes) and are capable of reproducing fine characters and ruled lines.
The good ink transfer onto form paper and the high durability to maintain printing quality even with long-form printing runs ensure both high quality and high volume production.
Our greatest strength is the world's only breakthrough technology called "Superform," which enables long, seamless printing.
Mr. Amano, Designer, P.K.G.Tokyo (referred to as Amano below): On behalf of P.K.G.Tokyo, I am here today looking forward to hearing from you, Misato Computer Holdings. I would like to bring back to the team a lot of feedback from the field, so I appreciate your cooperation.
Mr. Fukuda, Chairman of Misato Computer Holdings Corporation (hereinafter referred to as "Fukuda"): We have a long relationship with TORELIEF and are familiar with both the good and the bad. We have printed a variety of things, for example, highway tickets. About 1.2 billion sheets per year.
We are also taking on the challenge of manufacturing anti-counterfeiting sheets. Printed with numbers between 0.6 and 0.8pt that are not reproducible by inkjet printers. If five editions of two digits each (10 digits in total) are printed in shifts of 00-99, 00-98, 00-97, 00-96, and 00-95, respectively, more than 9 billion different sheets will be printed.
When the number in the upper right changes, the design number changes according to the sequence of the numbers. We use numbers because it is easier to understand the change in numbers.
Amano: Micro letters, that's amazing. (Looking into the scope) It comes out so beautifully, doesn't it?
Fukuda: By the way, there is no clear definition of micro letters. At our company, we place great importance on being able to read Chinese characters properly without having them crushed. Roman characters are simple, but Chinese characters are difficult.
The other major factor is that it is photopolymer letterpress plate, which I believe is the most beautiful printing method. Even small details come out with precision. Micro characters can be printed in Chinese characters up to 0.4 point.
Amano: So this is unique to photopolymer letterpress plate. I understand that one of the features of your company is long-form printing.
Fukuda: Yes, "Superform" is a revolutionary technology that we have patented and is the only one of its kind in the world, which enables long printing with no breaks. Campaign receipts, long calendars, picture books, sutra books, and other long connected items can be printed. Let me explain why we decided to try long-form printing.
Our company was established in 1977, but that year we had a large amount of non-payments. We were contemplating that we could not recover under normal circumstances and that we had to take a new approach to somehow recover. In the midst of all this, we heard from many printers about the challenges of long-form repeat runs and delivery times for long print runs, and we decided, "This is what we need to work on to differentiate ourselves!" I came up with "Superform" to solve this problem.
In conventional rotary printing, it was common sense that printing dimensions are determined by cylinder size. However, "Superform" enables multi-color printing of various sizes with one cylinder size. Our company has experience with multi-color up to 8 colors, printing speeds of 150-180 m/min in general, and up to 46 m for single color.
Amano: That's amazing! Is the ability to print a large number of copies at once the main reason for using long print runs?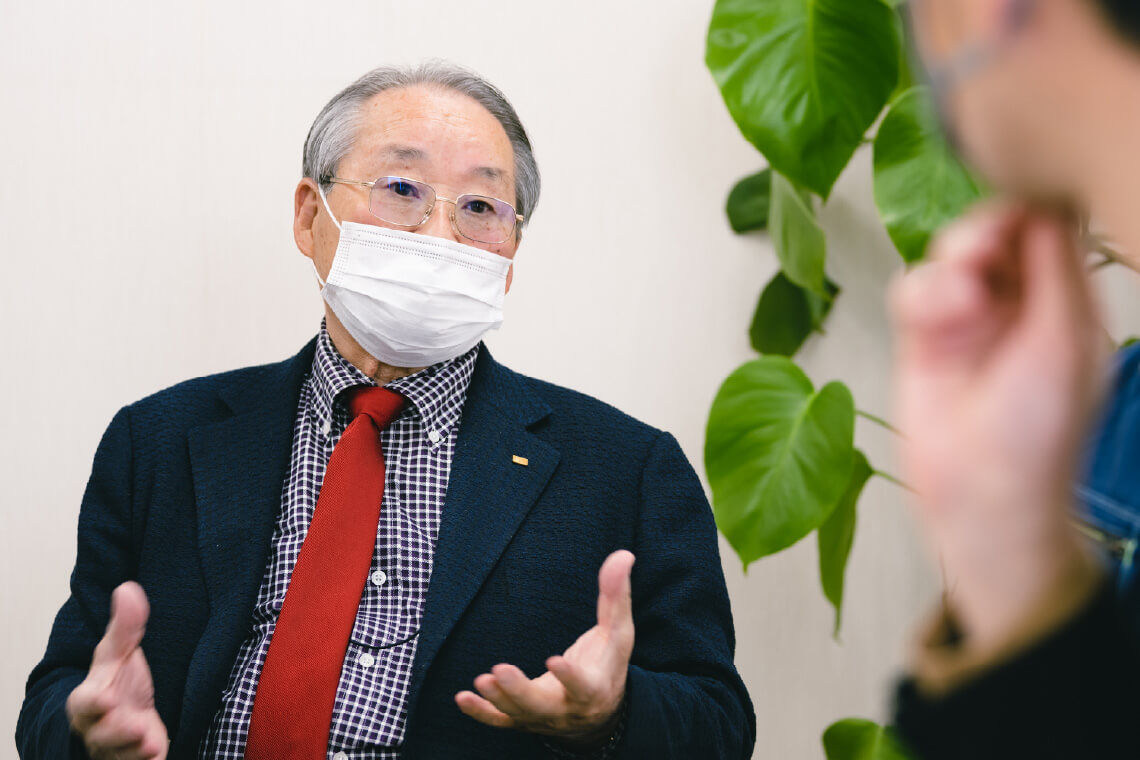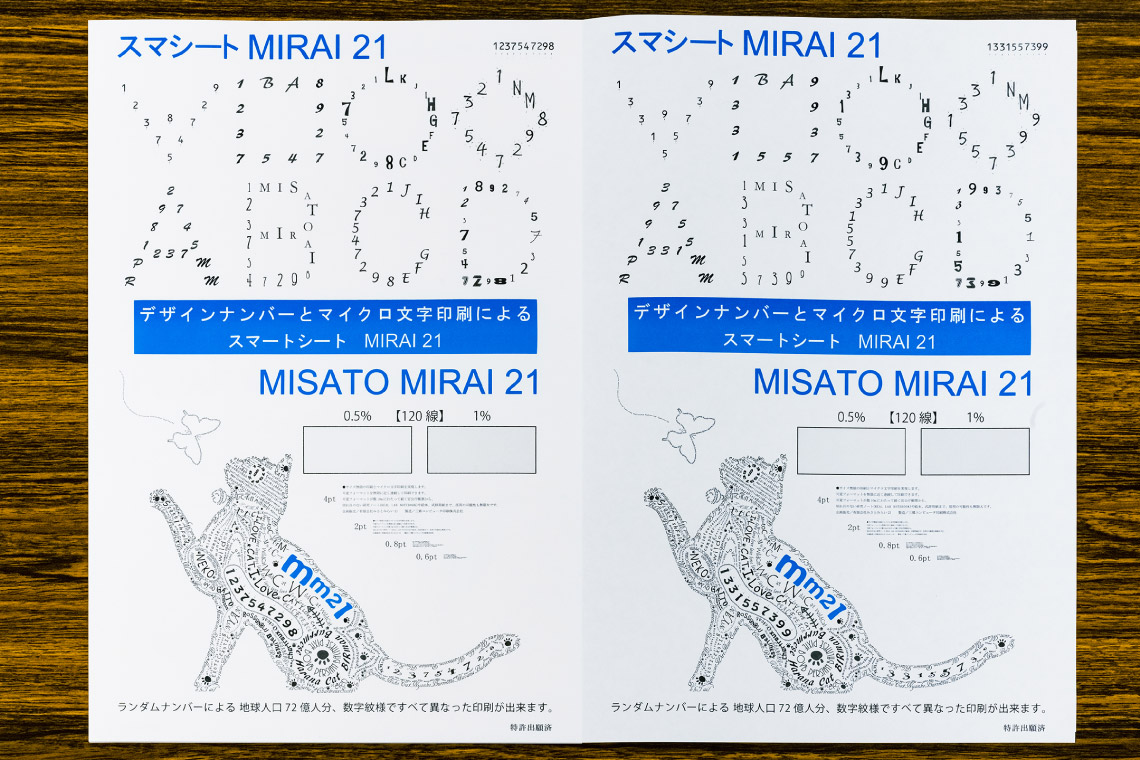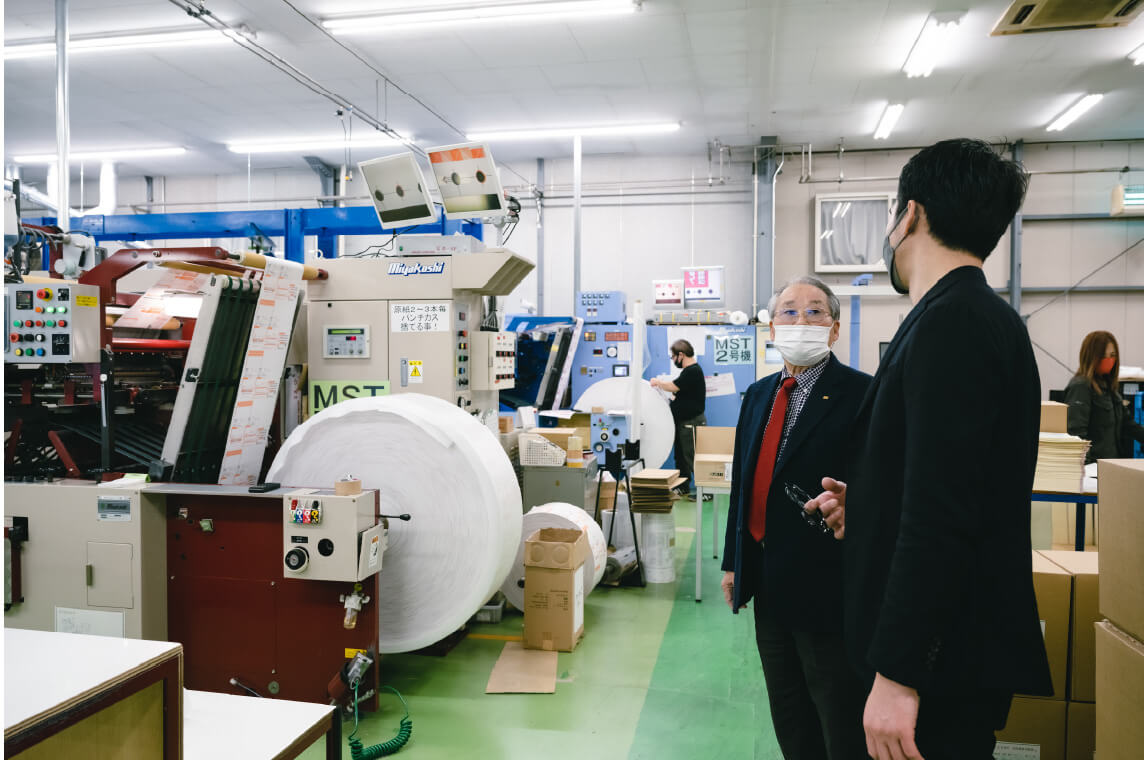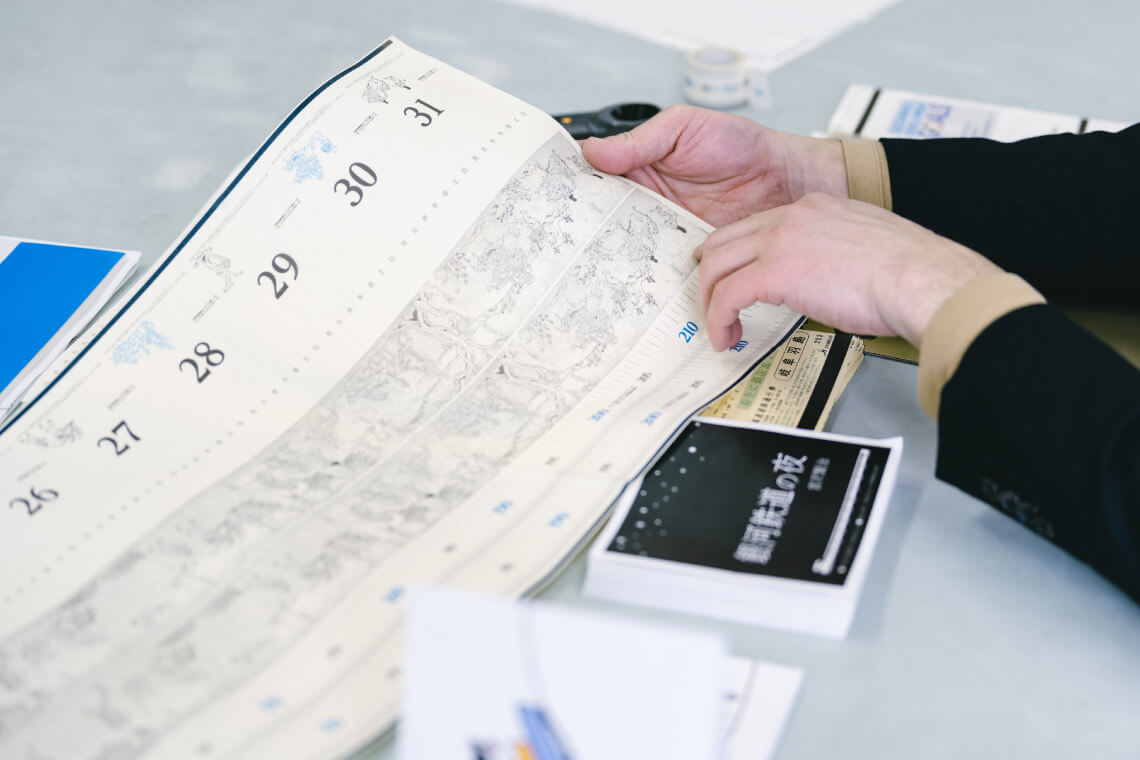 Fukuda: The good thing about long-form printing is that, for example, in conventional printing, each tax form is printed separately and data is inserted into the form and then the forms are reconciled, but there is a risk of mixing up other people's forms in the process.
Inversely, the good thing about long-form printing is that it is possible to print a long series of different forms of the same person in sequence.
Amano: It means that you can print very quickly and in large quantities. Have you always used TORELIEF for your plates?
Fukuda: Before TORELIEF, we were using another manufacturer's product, but it was in liquid form, so the thickness accuracy was not good. This is critical when printing. Misregistration occurred, printing was not clean, and sometimes the product was not finished even after a whole night of trial and error. It was at this time that the solid version of TORELIEF was launched for sale.
Well, was I happy! I immediately contacted TORAY and asked them to do whatever it takes to make a long special size of the plate. This was the beginning of our company's long-form printing.
Amano: I see, so that's the background for your company.
Fukuda: Unlike general offset printing, sharp and high-density printing is possible, and solid printing can be done beautifully. TORELIEF is a wonderful product that can achieve thickness accuracy of 10 microns with almost no thickness irregularity, even over long lengths.
The factory is kept clean because there is no ink mist, and the ceiling and floor are clean even in a factory that has been in use for 20 years. The machine itself is almost completely free of ink stains, too. It's very healthy.
Amano: This is an important point, since VOC countermeasures are required at printing sites these days.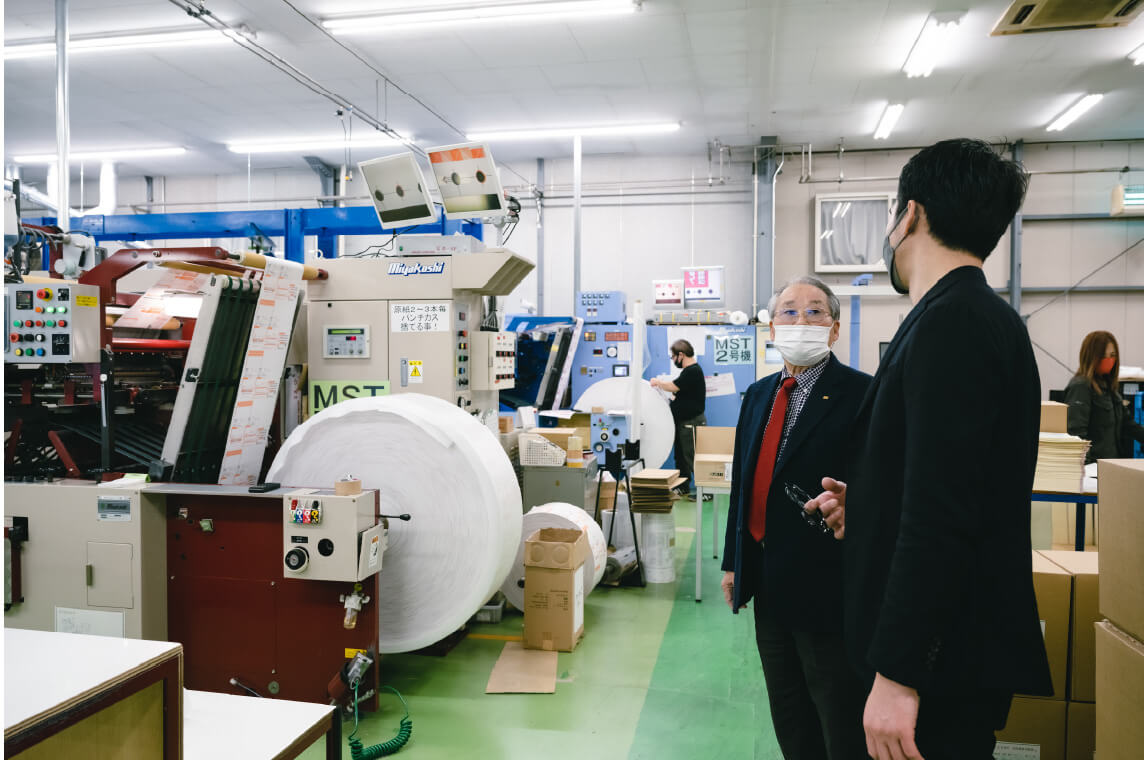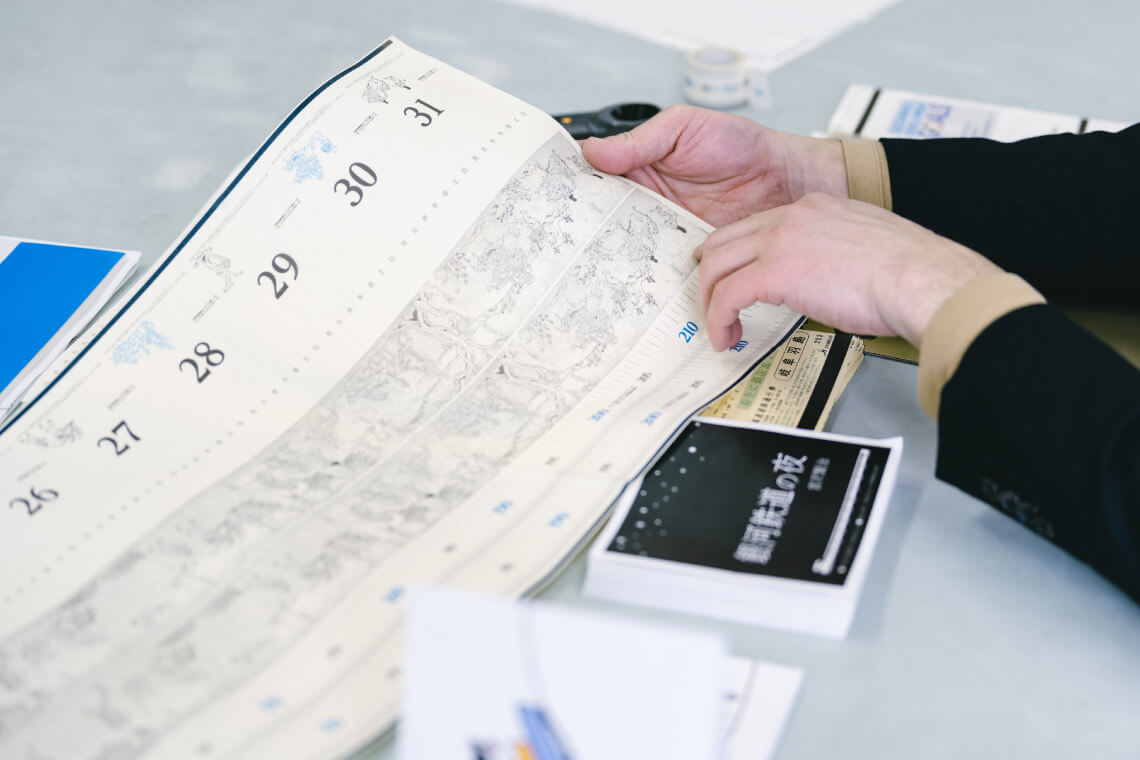 We have responded to any request with our ability to think outside the box. I would like to continue to come up with ideas that can only be done through printing.
Amano: Have you always loved machines and printing?
Fukuda: Yes, I have. I'm often asked, "Which department of science and engineering did you graduate from? " but I graduated from the Faculty of Economics. Moreover, I graduated from a night school while working at a printing company.
I think the reason we can do unusual things without being bound by common sense is because we have learned about printing independently without being taught by others.
Amano: So it's the result of curiosity.
Fukuda: You cannot think things within the bounds of common sense. You have to overcome common sense to do a good job.
Amano: I see. Do you use only photopolymer letterpress plate for printing?
Fukuda: Our company only uses photopolymer letterpress plate. Concerning long-form printing in letterpress, the common sense is changing rapidly within our company, but we are not transmitting it to others. I thought this would be a good opportunity to be interviewed.
Amano: Thank you for this precious opportunity. The history of Misato Computer Holdings is also the history of walking down the path with TORAY.
Fukuda: TORAY is like a god. "They were really attentive to technical support, and TORAY was able to do things that other companies would not do.
I am 83 years old this year. My dream for the future is to develop further anti-counterfeiting printing with micro letters. I would like to propose something that can only be printed with photopolymer letterpress plate.
Amano: I respect your insatiable spirit of inquiry. What is the maximum number of lines that can be handled?
Fukuda: I originally started working with micro letters when a customer asked me, "Can you do 300 lines?" however I think that 120 lines is just right for strong photopolymer letterpress plate. There is almost no clogging. And photopolymer letterpress plate simply has a beautiful finish.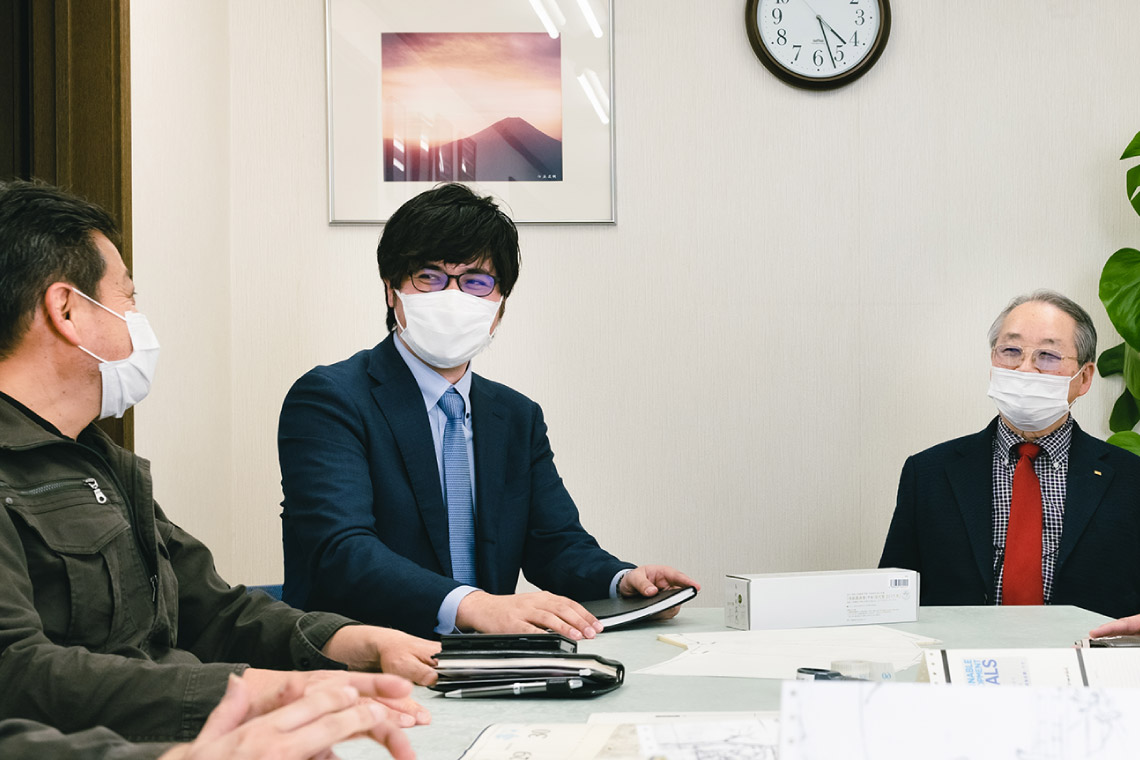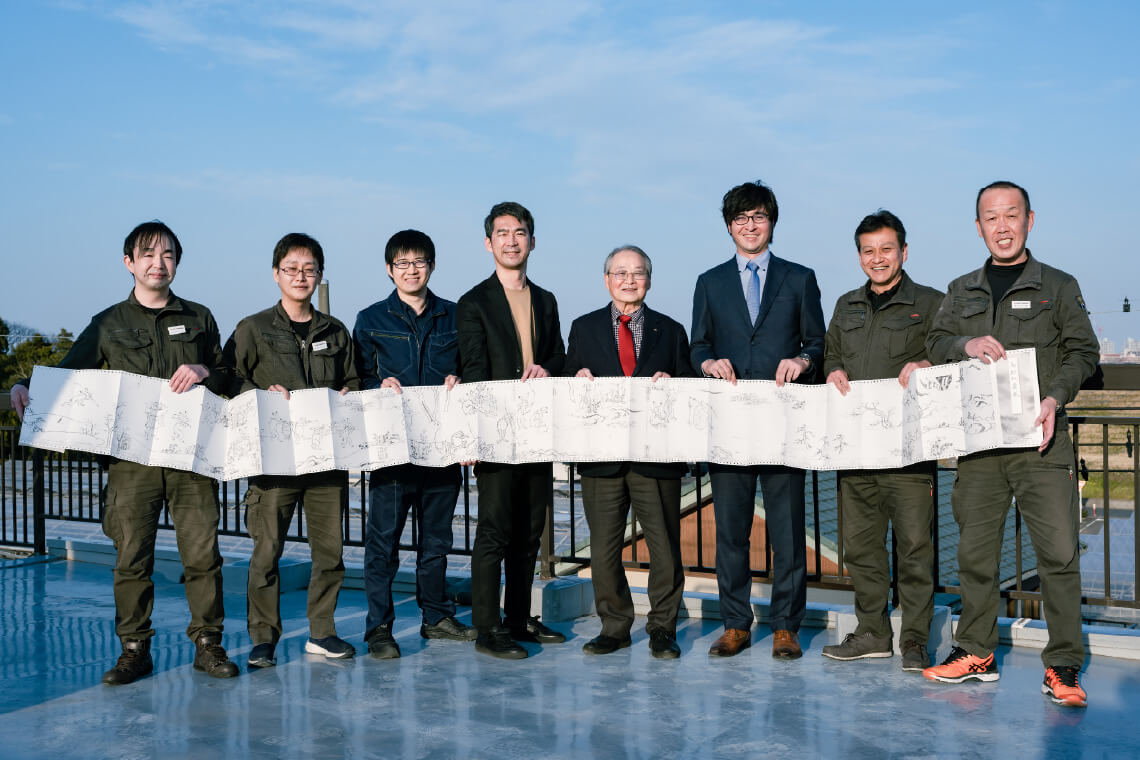 Amano: I see. Are the plate-making machines custom-made?
Members of the Production Department (hereafter MCP employees): It is custom-made, or rather, mostly invented by the Chairman of the Board.
Fukuda: I have done many kinds of printed materials, but I have never refused a client's request to print something. We all like things, or rather, we all like printing.
Amano: You would like many people to know the high level of your technology. I know there are plate making issues regarding this design, but what length would be best?
MCP employee: If you want to do it without a break in the pattern, it would be about 2.2 meters.
Amano: That's plenty of length. What kind of design is desired to bring out the best in the plate and printing?
MCP employee: We would be happy if you could create a design that incorporates the advantages of photopolymer letterpress plate and our high plate-making technology. The rest can be folded and rolled in terms of finishing.
Amano: You would like to draw out the appeal of printing by reproducing features such as long length and high-definition printing in a unique form.
I would also like to successfully incorporate the fact that 0.5% reticules and 0.4 point letters can be reproduced, and I hope that the finished product will have an interesting design applied just to decorate it. I'd like to consider how to incorporate what we've heard from you today into the design with the P.K.G.Tokyo team.
Thank you for taking time out of your busy schedule today!
Summary: The team shared the value of long and high resolution letterpress printing, which has been kept under lock and key until now. We want to bring out the best output that will amaze everyone.
Amano: At the request of Chairman Fukuda, we revisited the company the week after our first research, and he generously shared with us the technologies that had previously been undisclosed.He invented the machine on his own to achieve his biggest goal, "to eliminate all the shortcomings of rotary presses," and after meeting TORELIEF, he has been working with TORAY to improve plate-making plates.
The micro letters and long-form printing reproduced by a special printing press that does not allow even the slightest misregistration, which is beyond the common knowledge of rotary presses, are also supported by plate-making technology that can reproduce 0.5% flat screens by a unique method.
I would like to accept Chairman Fukuda's wish to spread such an out-of-the-box technology to the world, and I hope that the P.K.G.Tokyo team will realize an output that will surprise everyone.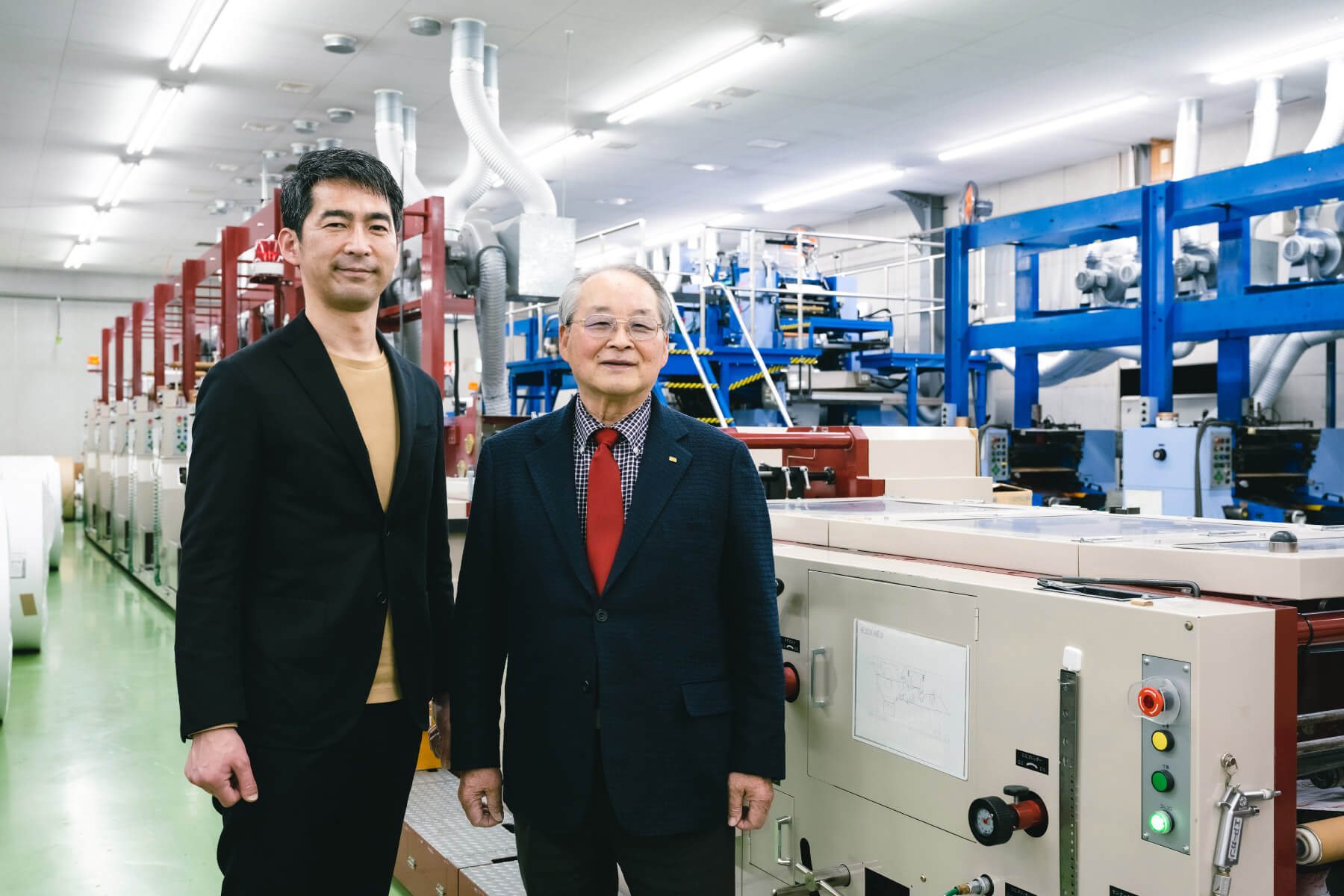 The long-form printing machine, the fruit of many years of effort, is a masterpiece.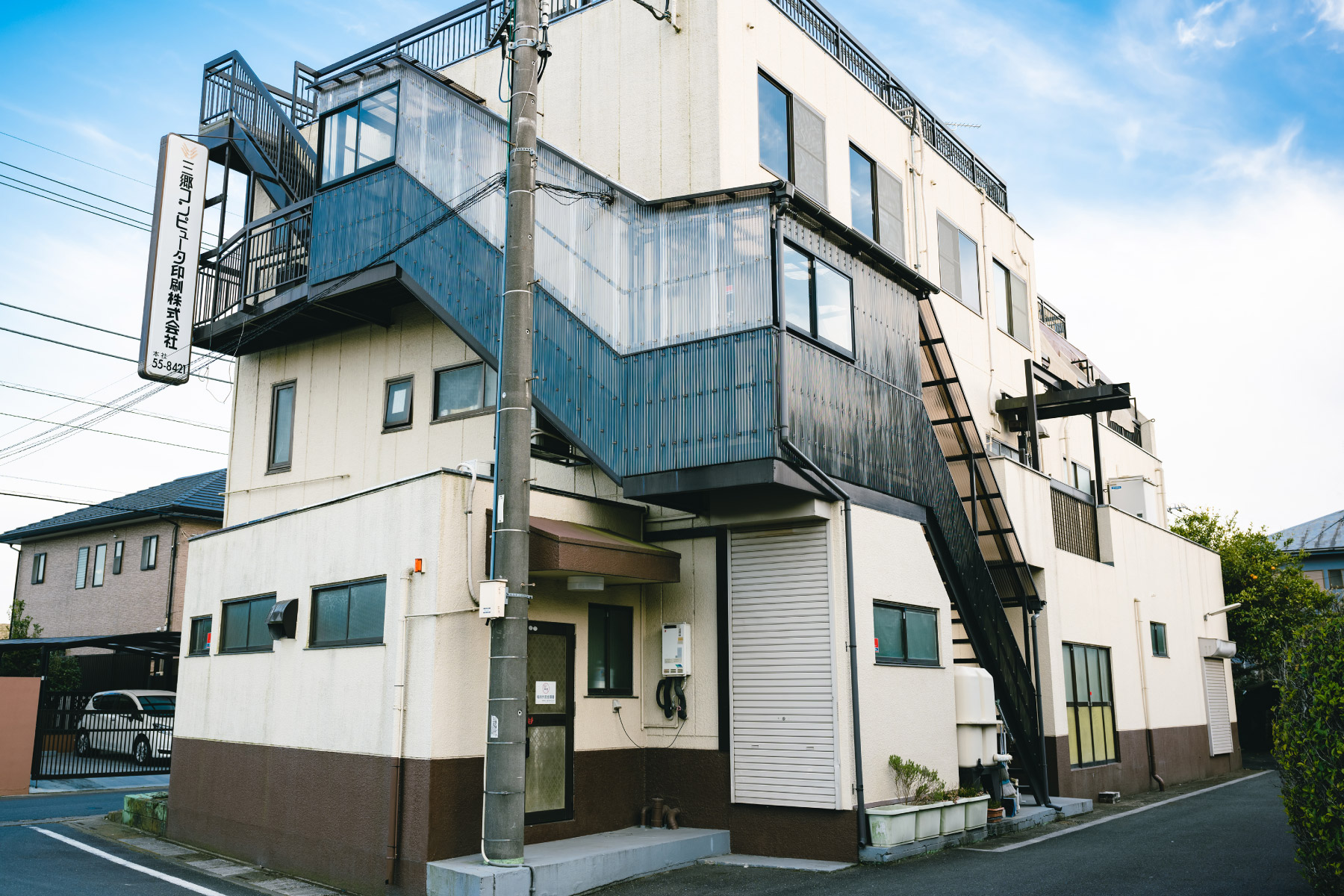 Misato Computer Holdings Corporation, based in Misato City, Saitama, Japan.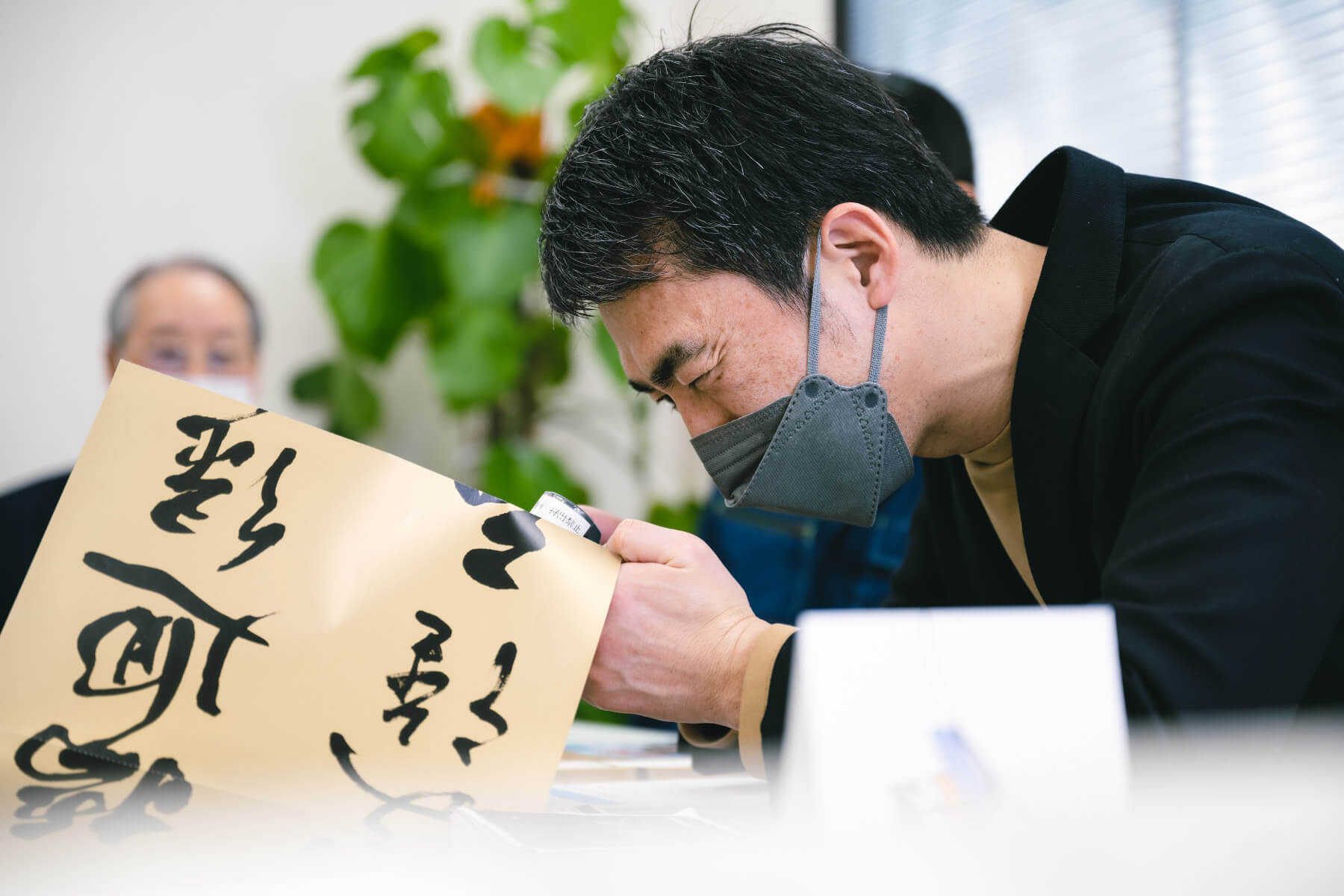 Mr. Amano gazes at a high-resolution printout.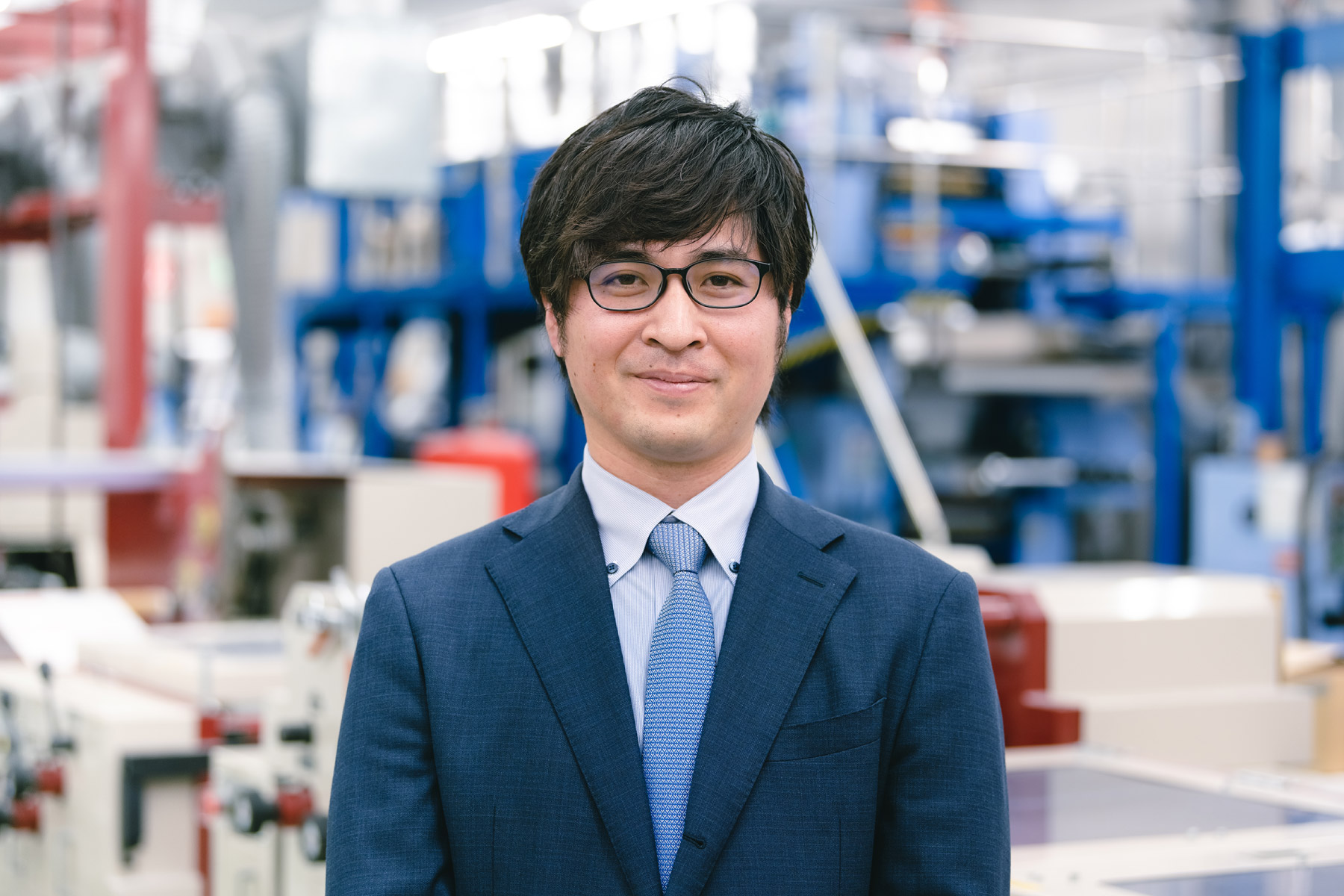 Yudai Nakano, Representative Director.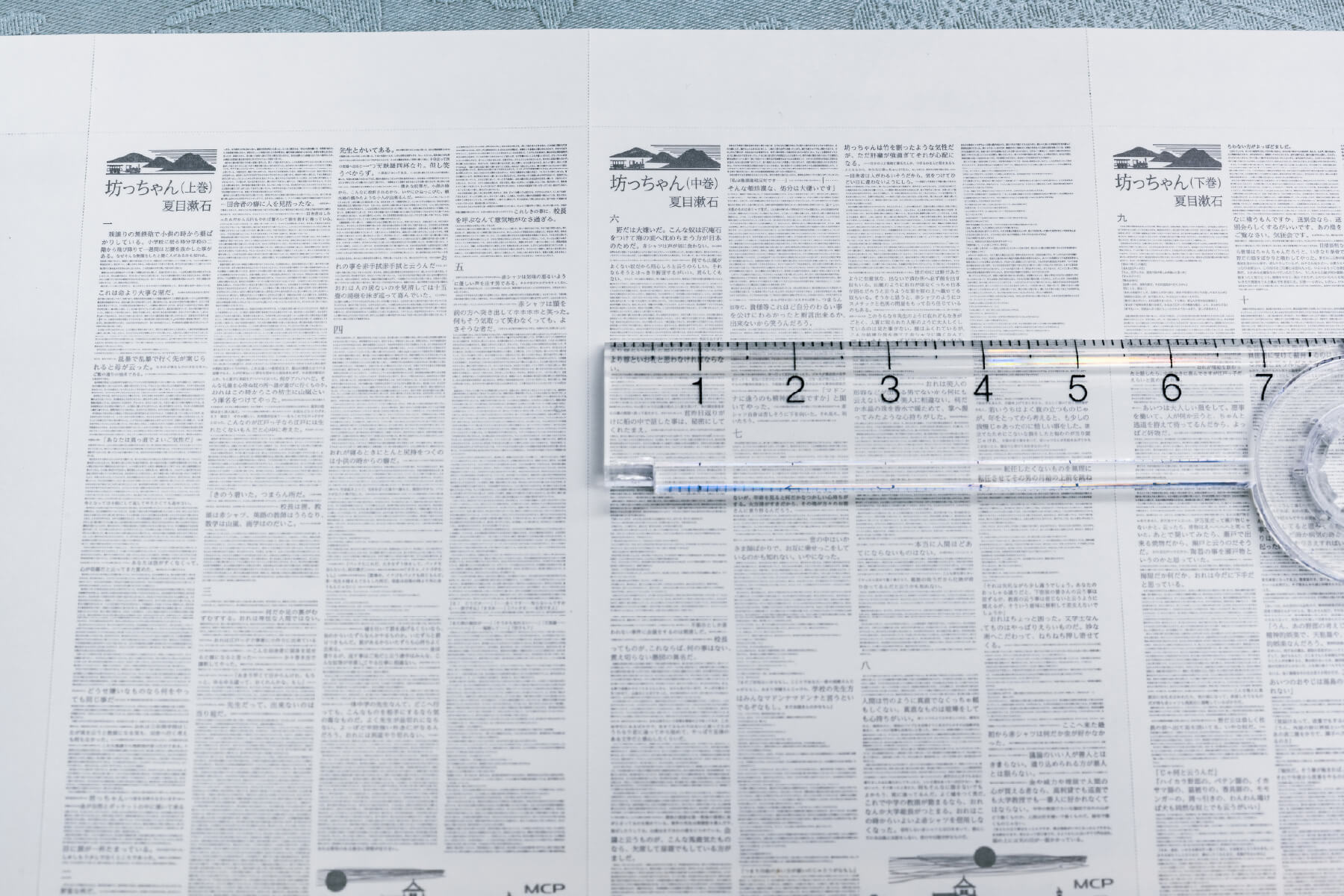 "Bo-chan", a popular Japanese novel written by Soseki Natsume, printed in micro characters.