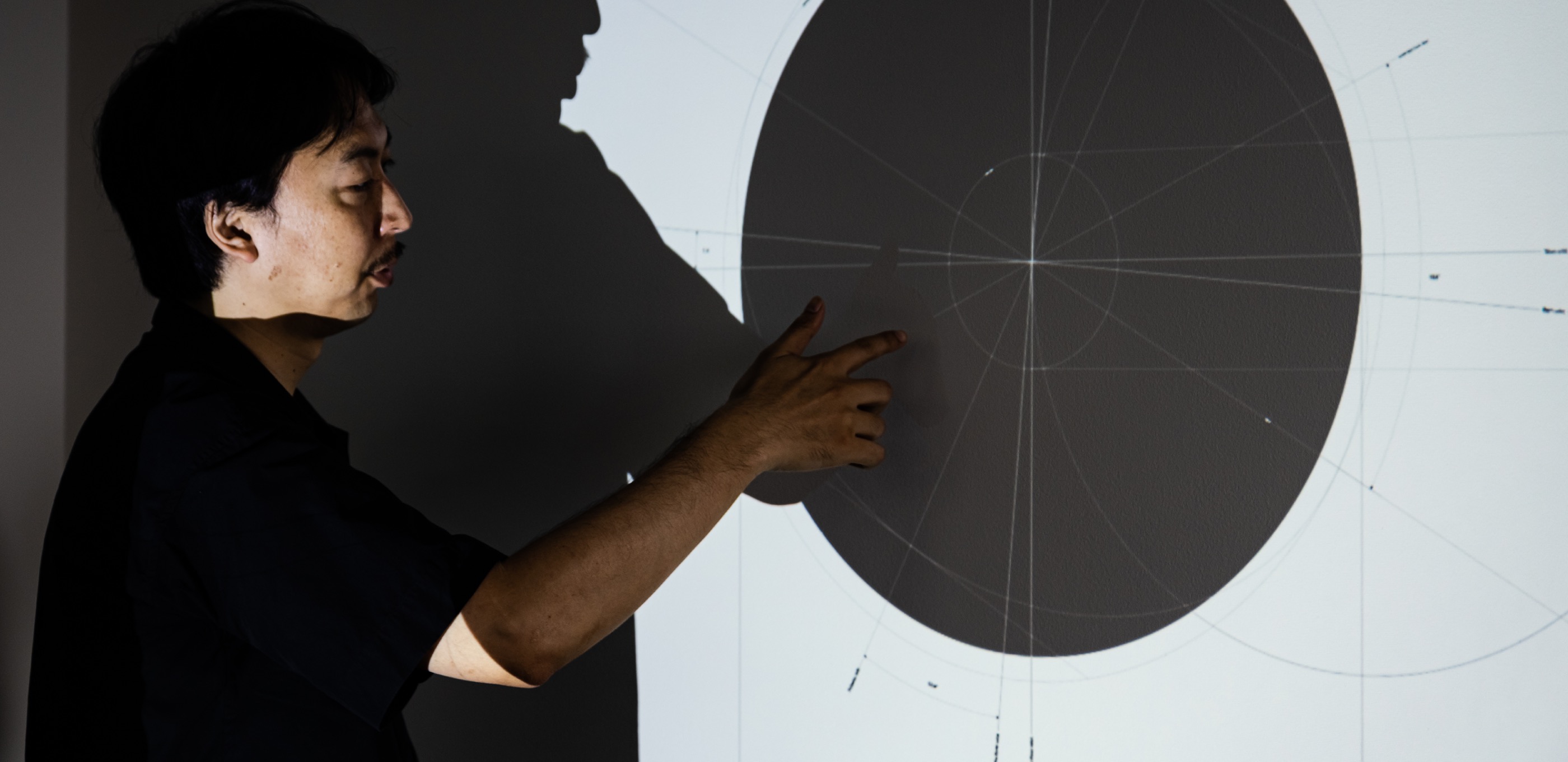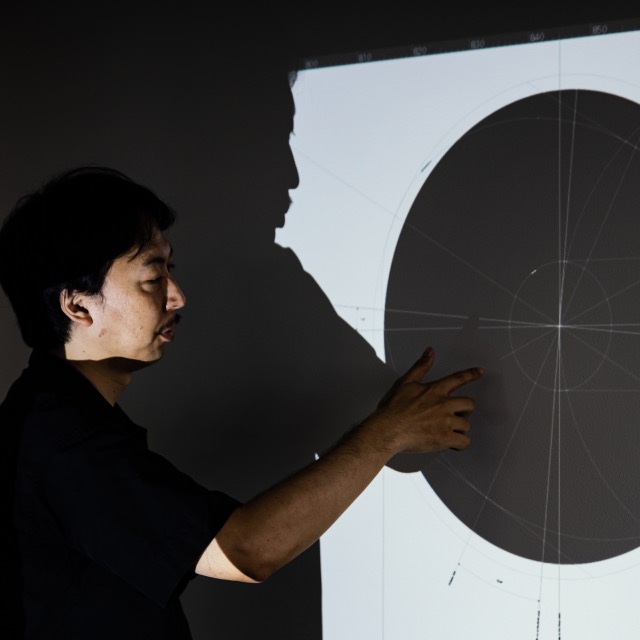 Design company P.K.G. Tokyo × Misato Computer Holdings Co., Ltd. × TORELIEF™
Express what is achievable only with long form printing, as an outcome of many years' research, with simple artistic works
Design company P.K.G. Tokyo × Misato Computer Holdings Co., Ltd. × TORELIEF™
Express what is achievable only with long form printing, as an outcome of many years' research, with simple artistic works
TORELIEF™ Story 2Design
"TORAY PRINTING PLATES Lab." is an experimental initiative to explore the possibilities of expression through TORAY's printing plates and lead to new creations. This series of articles will tell the story of how leading creators and partner companies met through TORAY's printing plates, stimulated each other, and worked as one team to reach their goals.
Participating Creator:

P.K.G.Tokyo Teppei Yuyama

President of YUYAMA DESIGN INC.. and Chief Creative Officer of P.K.G.Tokyo. He founded Yuyama Design Inc. in 2009 and P.K.G.Tokyo in 2017 with other founding members. His work ranges seamlessly from brand consulting, product planning, art direction to design. At P.K.G.Tokyo, he is involved in branding and package design for various manufacturer's flagship products.

Partner companies:

Misato Computer Holdings Co., Ltd.
/ MCP Co., Ltd.

They are printing companies that mainly handle business form printing, with a manufacturing base in Misato City, Saitama Prefecture, not far from central Tokyo via the Tsukuba Express.
They are highly regarded for their high-definition printing quality that takes advantage of "Superform," a proprietary long-form printing technology arrived at as a result of years of research. They possess many domestic and foreign patents.

Printing plate:

TORELIEF™ (Photopolymer Letterpress Printing Plate)

Printing plates with such high resolution printing quality that they are used for security printing (banknotes) and are capable of reproducing fine characters and ruled lines.
The good ink transfer onto form paper and the high durability to maintain printing quality even with long-form printing runs ensure both high quality and high volume production.
As universal or unchangeable
We want to convey our high technological capabilities.
― The new office of P.K.G. Tokyo is located in the quiet front roadway area in front of Jingumae, where is a little inside from Aoyama-dori. Though it was a rainy day, the space of the full-face window overflowing with light and a feeling of opening is a free address which employees can choose their own living place. With the anticipation that new things will be born, Laboratory plan this time proceeded, and Mr. Yuyama was selected as a creator, one of the founding members of P.K.G.Tokyo. ―
P.K.G. Tokyo Designer Amano (hereinafter referred to as Amano): Thank you for telling us many valuable stories last time. I would like to introduce it again, but P.K.G. Tokyo is a company engaged in product branding design, focusing on packaging. In doing so, Mr. Yuyama, the founding member, will be in charge of the creator of this project, so I would appreciate your cooperation.
P.K.G. Tokyo Designer Yuyama (hereafter referred to as Yuyama): Thank you very much for your time today. While working at two companies, P.K.G. Tokyo and YUYAMA DESIGN INC.., I'm engaged in the whole field of graphic design, focusing on packaging design and branding, including corporate logo marks.
P.K.G. Tokyo handles many three-dimensional designs including packaging design, while YUYAMA DESIGN INC. also handles many pure flat-face works. In this plan with Misato Computer Holdings, we have prepared a long flat work. We hope to make use of your company's strengths in long-form printing and high-definition printing quality in your works.
Mr. Fukuda, Chairman of Misato Computer Holdings Co., Ltd. (hereinafter referred to as Fukuda): That's right, I think TORAY's high-definition quality and long-length printing will surely make this story exciting.
Yuyama: I'm suggesting if you could print such a 2 meter work this time. This figure may seem to be what it is, but if this 6 cm black circle is the size of the Earth, the small circle on the opposite side will be the size of the moon. In other words, the two circles faithfully represent the size and distance of the Earth and the Moon at the same ratio.
One characteristic of your company is long printing, but even if you paint an illustration of a dragon or a snake, you can adjust it long or short at the discretion of the painter. However, the relationship between the earth and the moon has remained unchanged since long ago, when mankind was born, and cannot be changed in length due to the convenience of the painter. And if we attempt to faithfully express ratios that are invariant to the temporal scale of mankind, we need such lengths. We thought it would be impossible to express this in printing without the technology of long printing.
Fukuda: Indeed.. Are these lines solid lines?
Yuyama: It's a solid line, isn't it? I heard a discussion on high definition, but when I look at the lines on the part of the Earth, for example, there are small letters that cannot be read by naked eyes.
Manufacturing Department employees (MCP employees): We suppose there is something around, that's what it's all about, isn't it?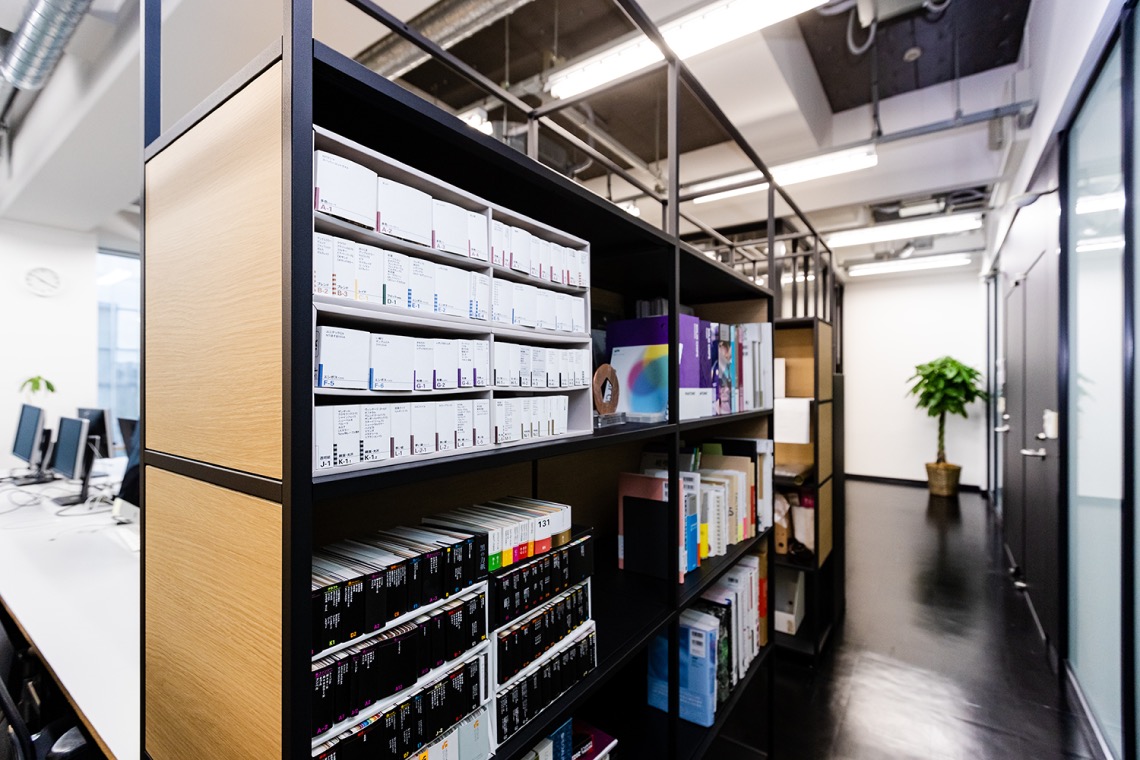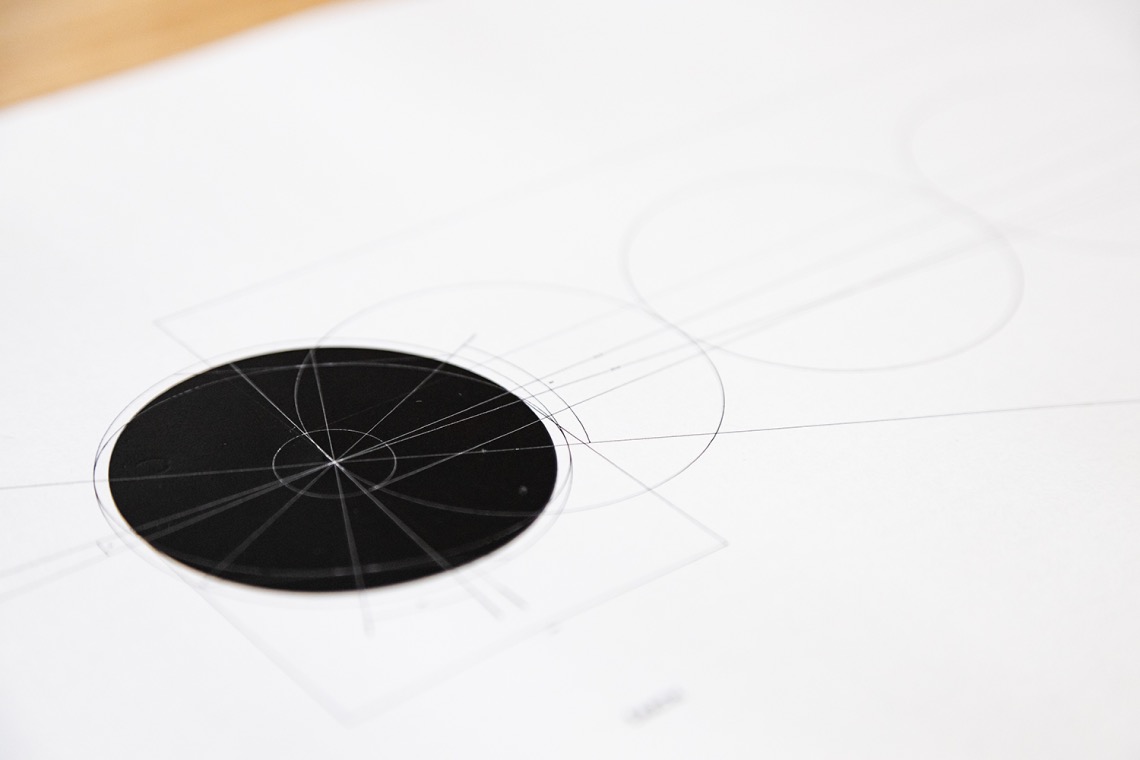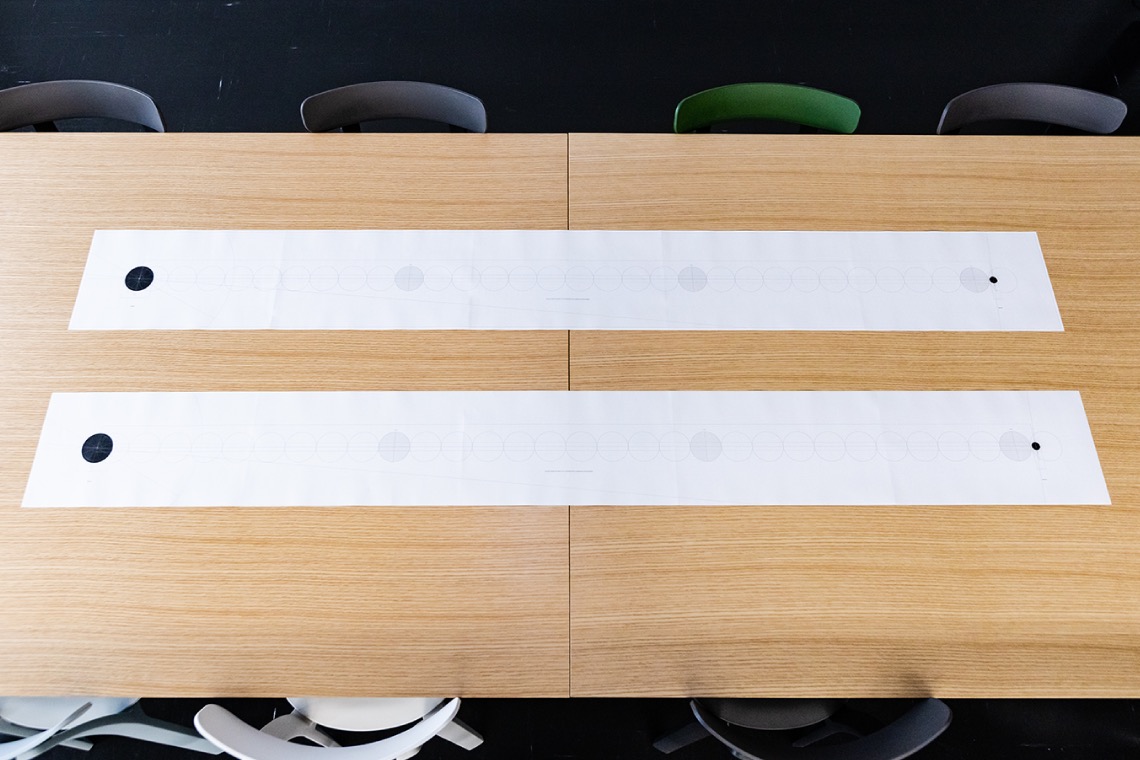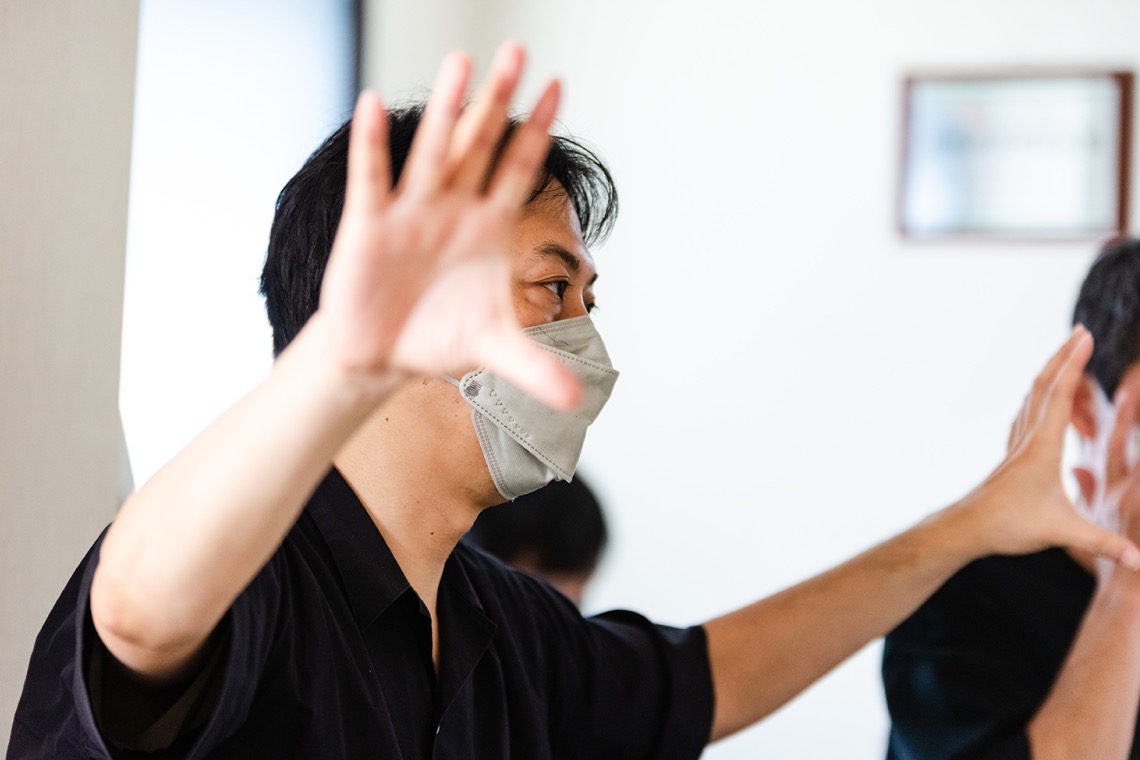 Yuyama: Actually, this work has implications for all lines. The thinnest line around the earth represents the orbit of the ISS (International Space Station), orbiting at an altitude of approximately 400 kilometers. We made all the lines meaningful, such as the equator, being orthogonal to the orbit of the moon, and the ground axis being inclined 23.44 degrees from the orbital axis of the Earth. And when I thought about what to do in this project, there was a choice to focus only on these delicate expressions, but I would like to express the unchanging length as a work of art. Even if we reduce the Earth to 6 centimeters in this way, we need a length of about 2 meters to faithfully represent the relationship.
Fukuda: If it's this length, we can print it with CTP plate. I'm glad that the distance between the moon and the earth is within this range. Then, I'm asking if it is a solid line or not, to see if we shall print a solid line or micro-letter.
Yuyama: I'm thinking to apply a solid line this time. Isn't there a reverse line inside the earth? I think this is also a very difficult part of printing. Also, we are trying to mix thick and thin things in the line, so I think it will be important to know how far we can express such things. Also, when I did this, I had an image that I wanted to make it into a woodblock print-like work. So I also want to stick to the ink density. This time, I thought it would be possible to know if we could print black twice or print the same plate in the same place without mis-registration if we do not expect plate mis-registration.
Fukuda: We are making machines that are capable of doing so, but there may be some gaps this time. I've tried a lot of things that I've never done before, but I don't think I can do it in one shot, can't I? It feels like doing it through trial and error.
Yuyama: That's right, I can't make it easy. This graphic art is composed of very simple elements, making it a delicate yet bold and clean work. They are basically only planes and lines. And it's simple enough that it can't be misled in many ways.
Fukuda: In fact, printing is as difficult as it is simple, isn't it?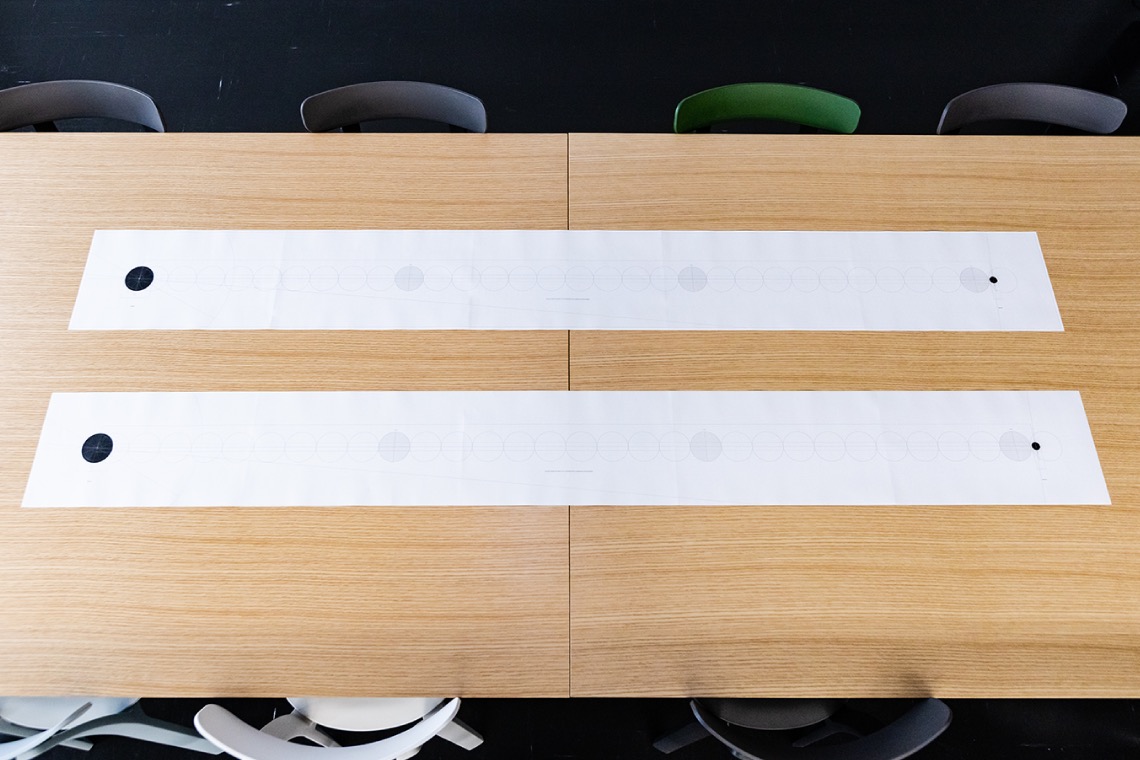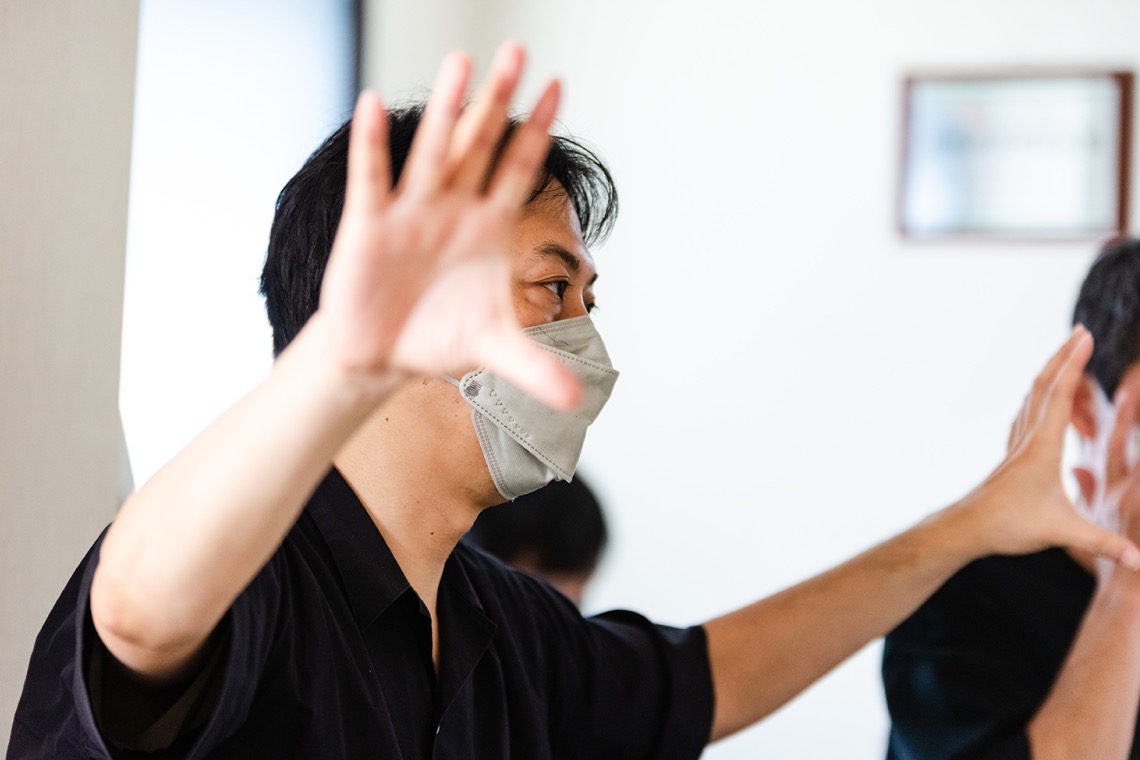 In addition to business forms
I want to expect spreading possibilities in of printing artistic works
Yuyama: It's a very simple piece, but ultimately it's the goal to be framed and finished as a painting-like shape. It may mean that the frame has a connection even though the printing is one piece (lol). I think that expressing the length that humans can't change on their own will suit the plan this time.
MCP employee: Is this one ink color? Is there any color on the back?
Yuyama: I'm thinking of one ink color, and I think it's good that the background is blank. If you can make paper and have a good texture, you'll get a more print-like finish.
MCP employee: Paper has various types, so I think it's okay.
Yuyama: In the future, I would like to investigate which thickness line to choose by experimenting with how much paper can be chosen or the line of 0.1 mm or less can be expressed. Also, it is necessary to repeat the trial and error, for example, how the combination of the line and the solid line in the void can be seen to be the same line width with the naked eye. How much more can you express black?
Fukuda: If you put ink on it, the reversals may be filled in, so it's a difficult place, isn't it?
Yuyama: True black like printing ink is ideal if possible.
Fukuda: We have only been doing business forms so far, so we have almost no experience in printing art works, so I think we should test them in a variety of ways.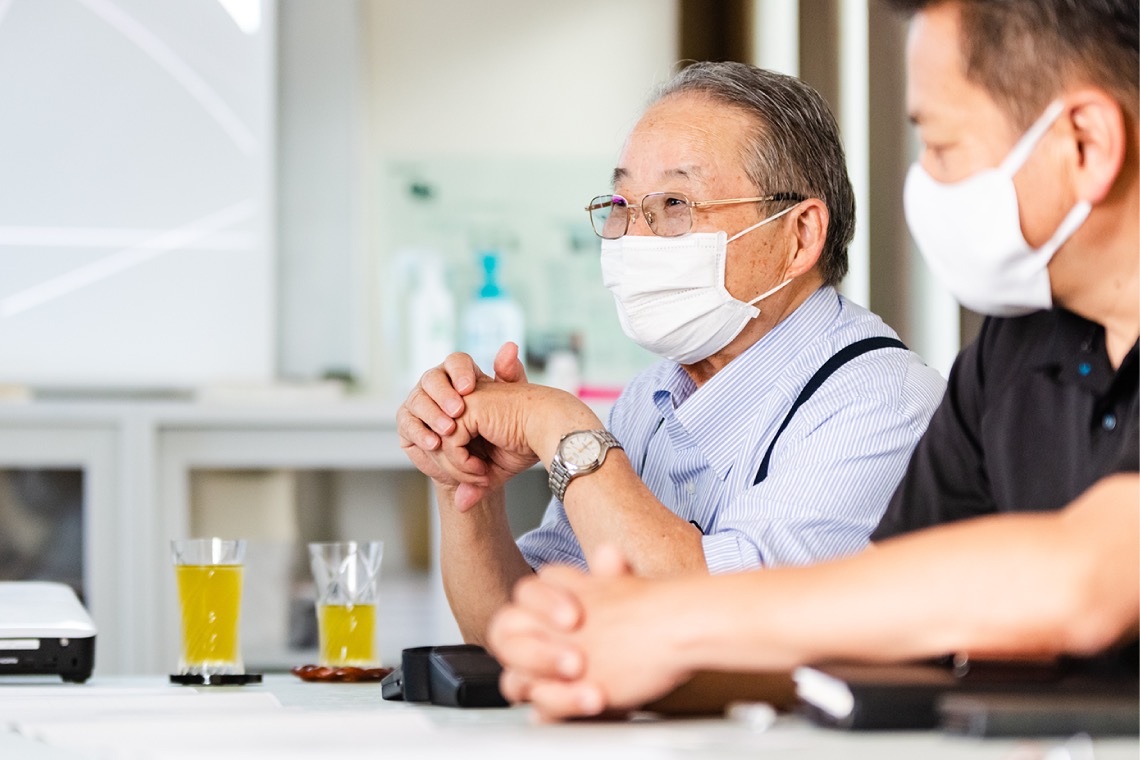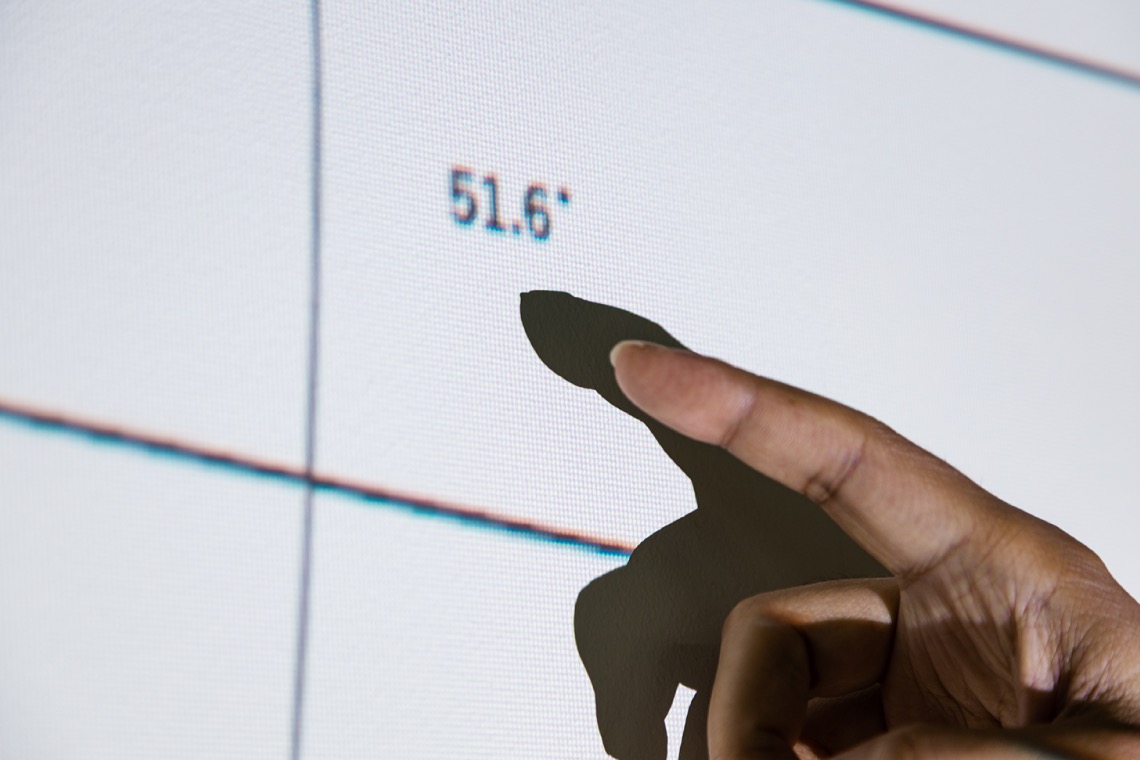 Yuyama: It is still a part where we are not sure whether or not to use halftone dots. At any rate, your printing technology is wonderful and makes me want to appeal in many ways, but in this piece, it is clean and still an option to express only with dots and lines. Please consult us in the future.
MCP employee: Well, I would like to deal with this in any way.
Yuyama: Thank you. I would like to make this work possible only with your company's printing press. In terms of high definition, I think it will also be an appeal for the quality of plate making and TORELIEF.
Fukuda: Well, it's something I haven't done so far, so I'm going to research it. Since we have been printing slips for decades.
Yuyama: If high-definition reverse images can be achieved with excellent ink density, the graphic designers will also find this amazing, and I think that your company will continue to expand in the future as well.
Fukuda: I'd love to explore such possibilities. We look forward to receiving your ideas and your cooperation in the future.
Summary: A creator and a printing company work together to challenge to difficult and delicate artistic works
Fukuda: Simple, as simple, is the hardest, and doesn't benefit from falsification. I think it is very good that we try to achieve our objectives in such a way, so I would like to do my best as well.
Yuyama: Honestly, I finished this very simple piece, so I had the idea of what to do if it was different from what everyone expected. Still, I created this work with confidence, so I was happy to receive a good response. I hope we can work together with everyone to create a better work.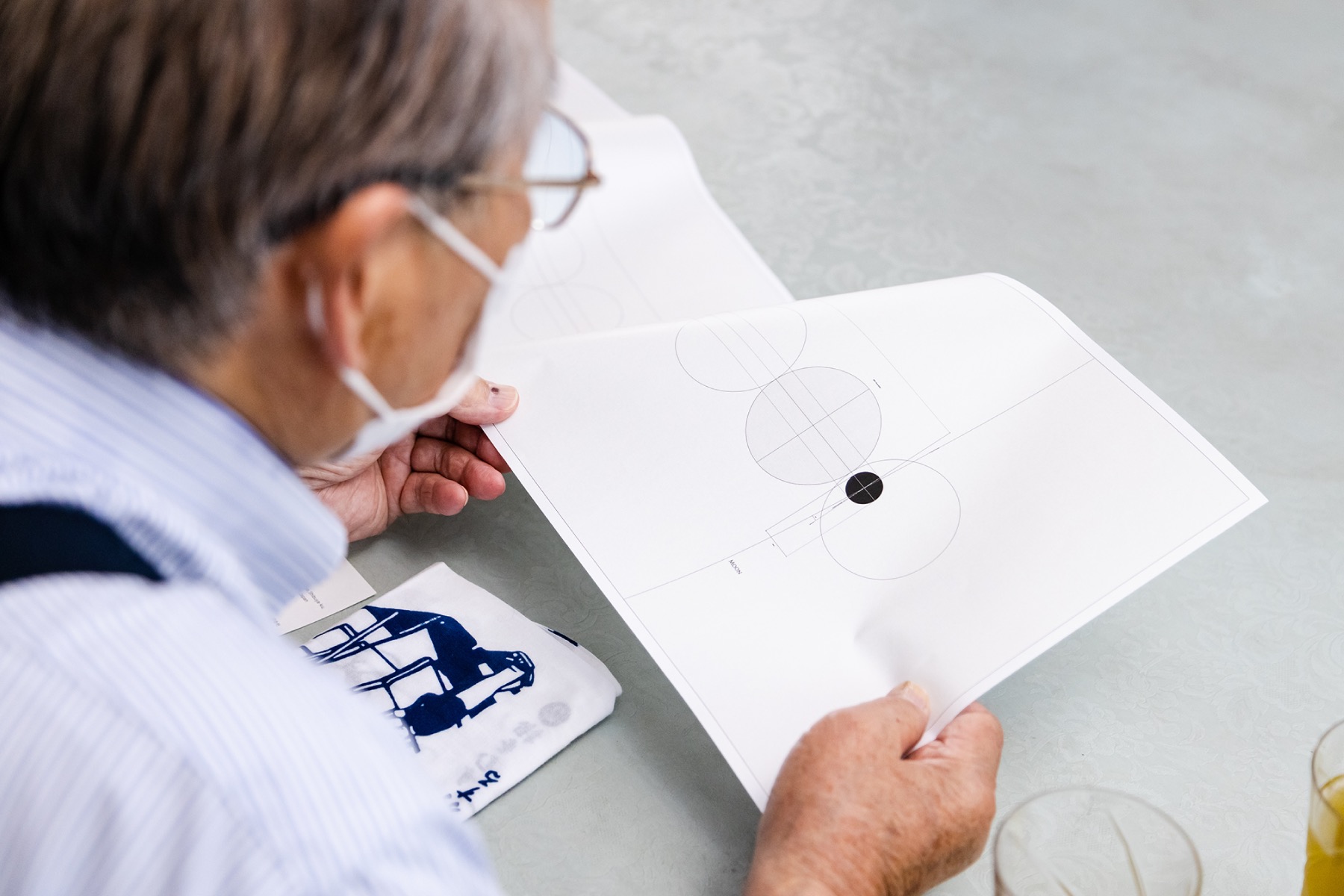 Mr. Fukuda, the chairman, watching enthusiastically with a sample in his hand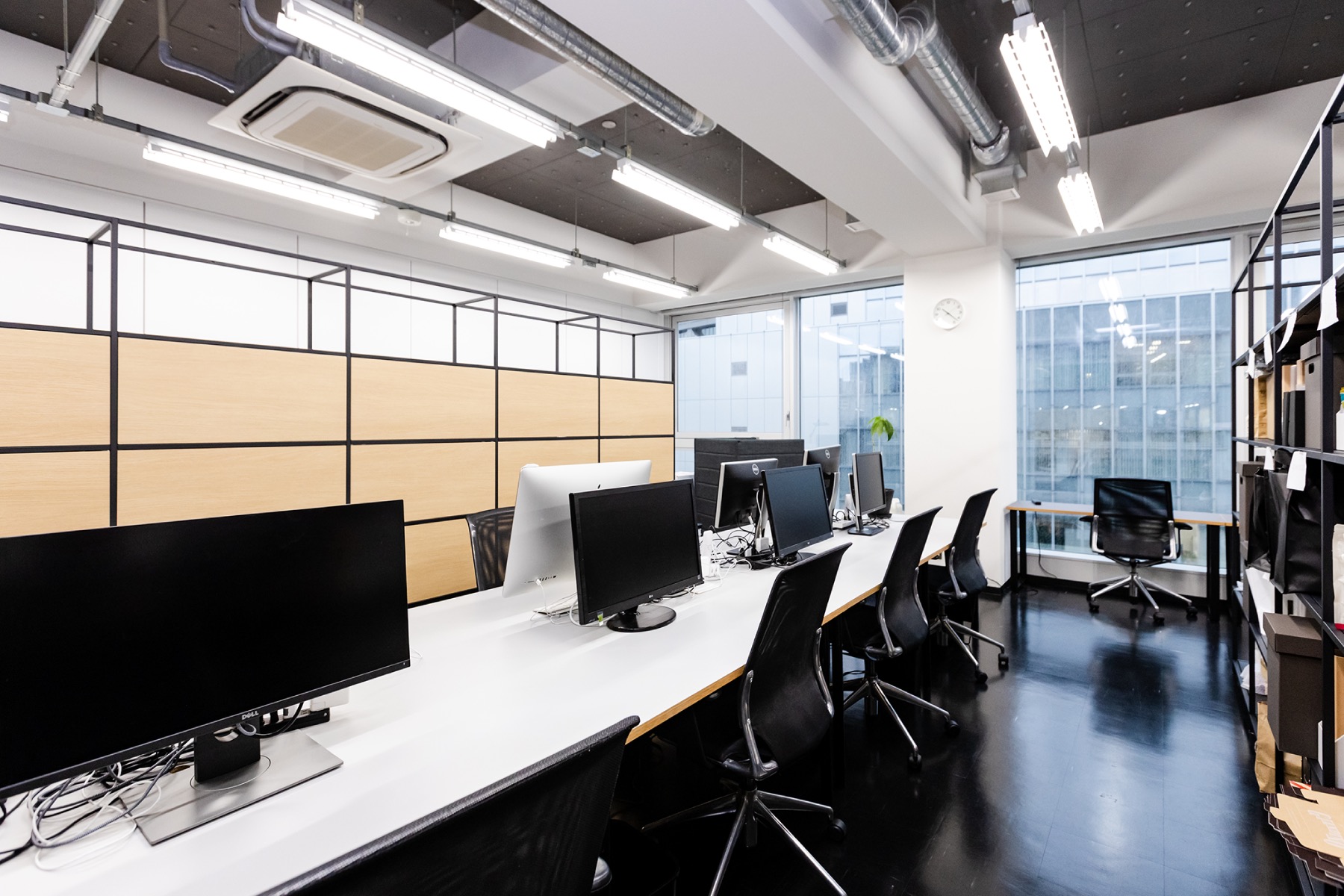 P.K.G. Tokyo design rooms with orderly equipment and furniture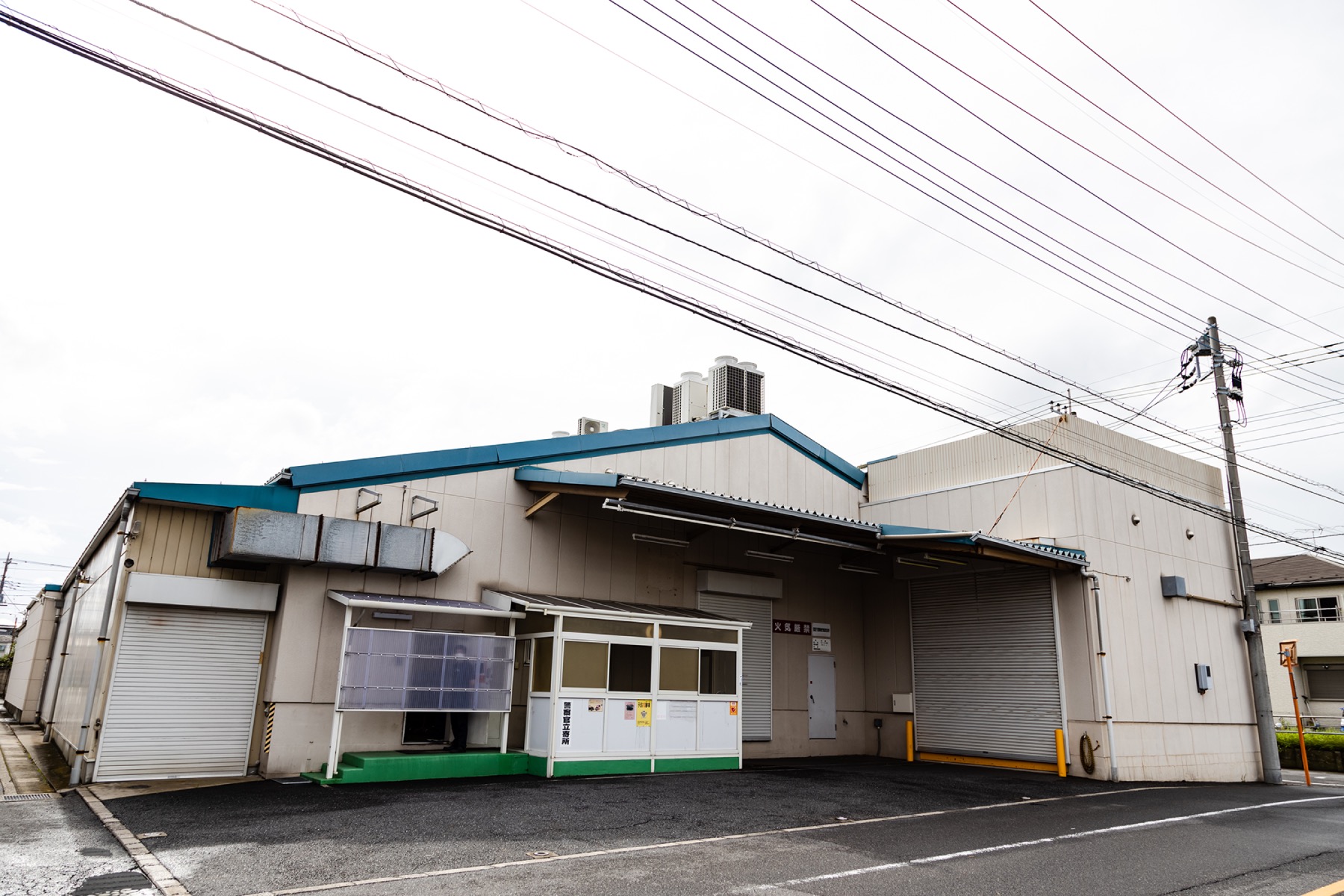 Printing plant of MCP Corporation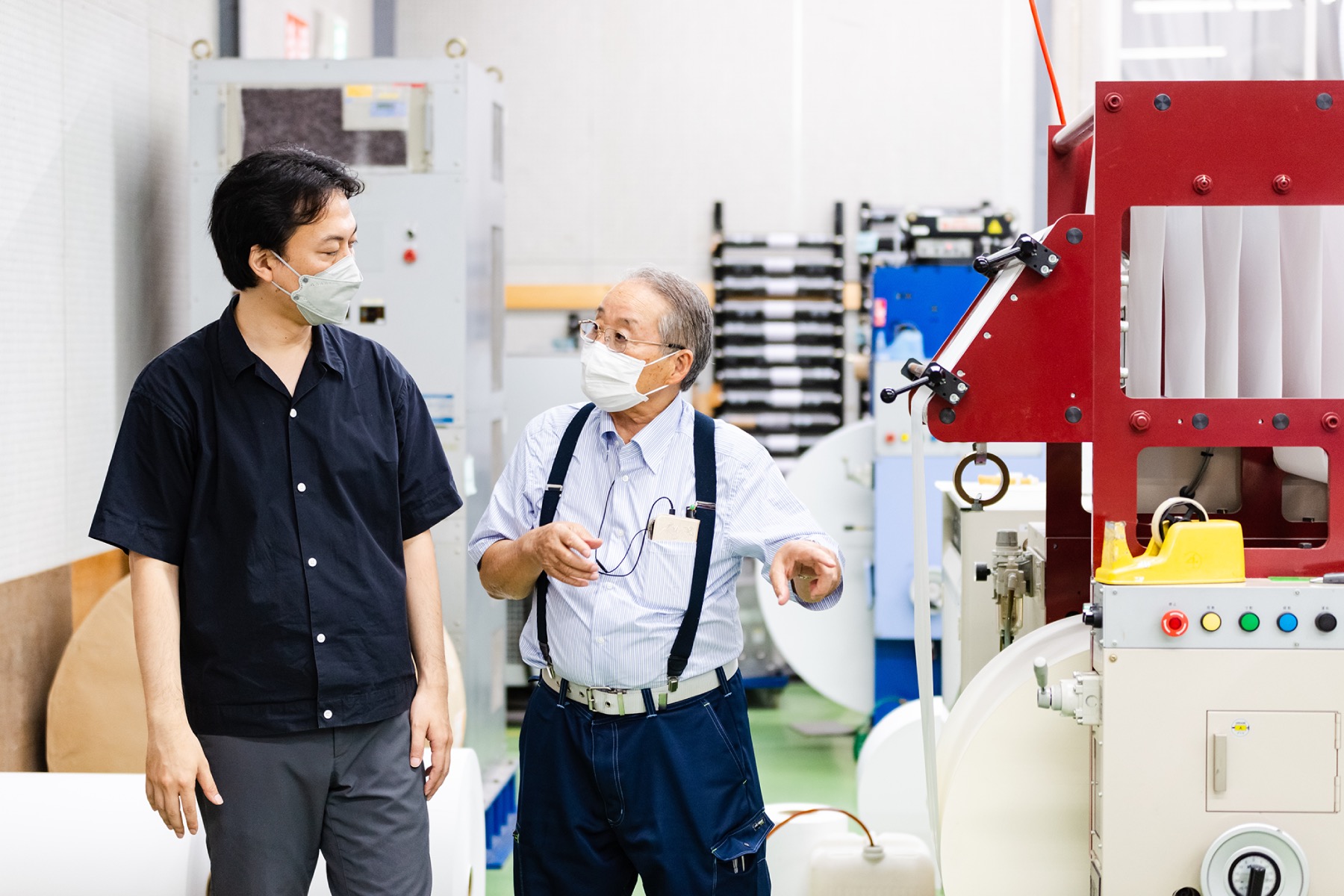 Mr. Yuyama receives an explanation from Mr. Fukuda regarding the printing process.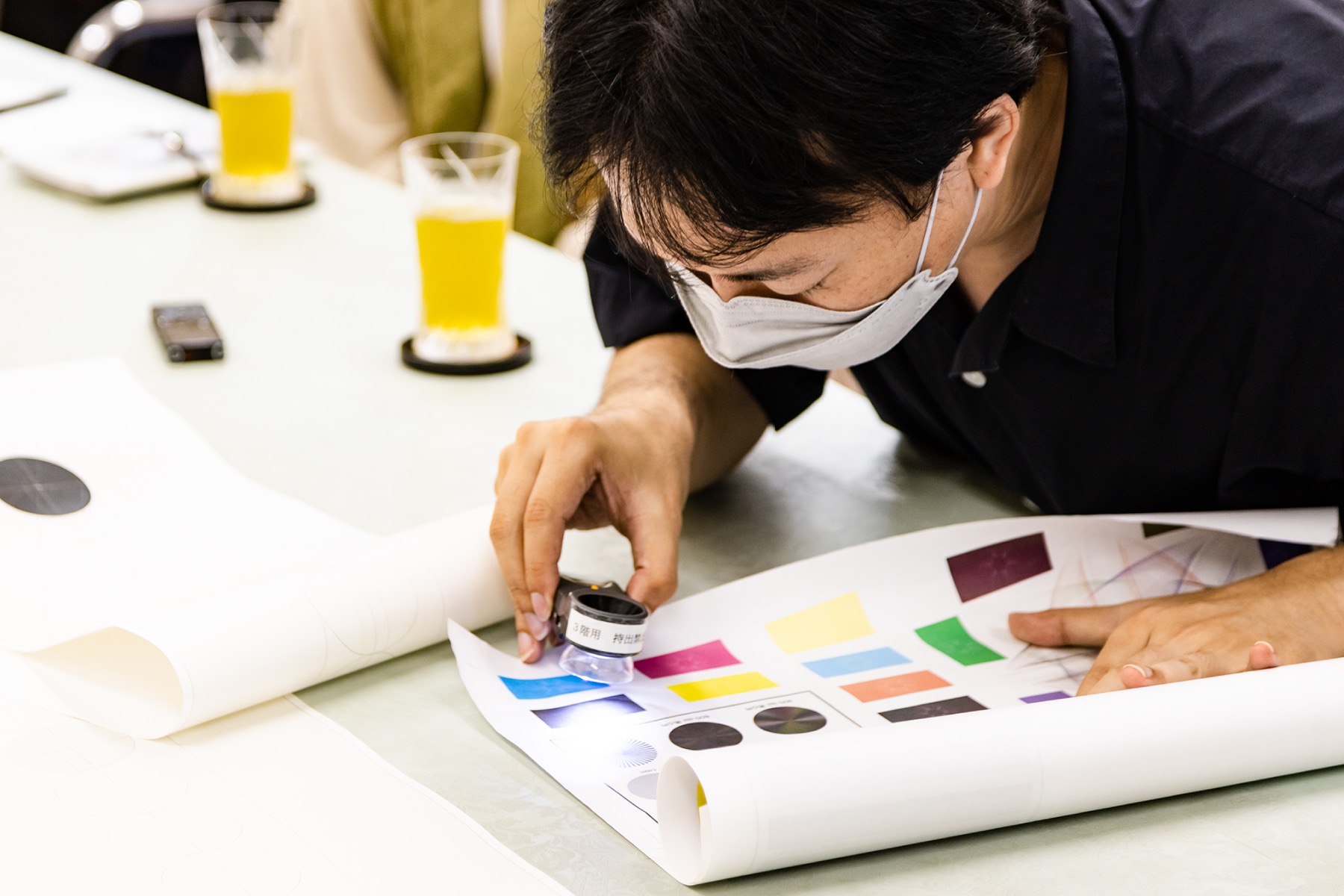 Loupe, which is indispensable for checking delicate printing technologies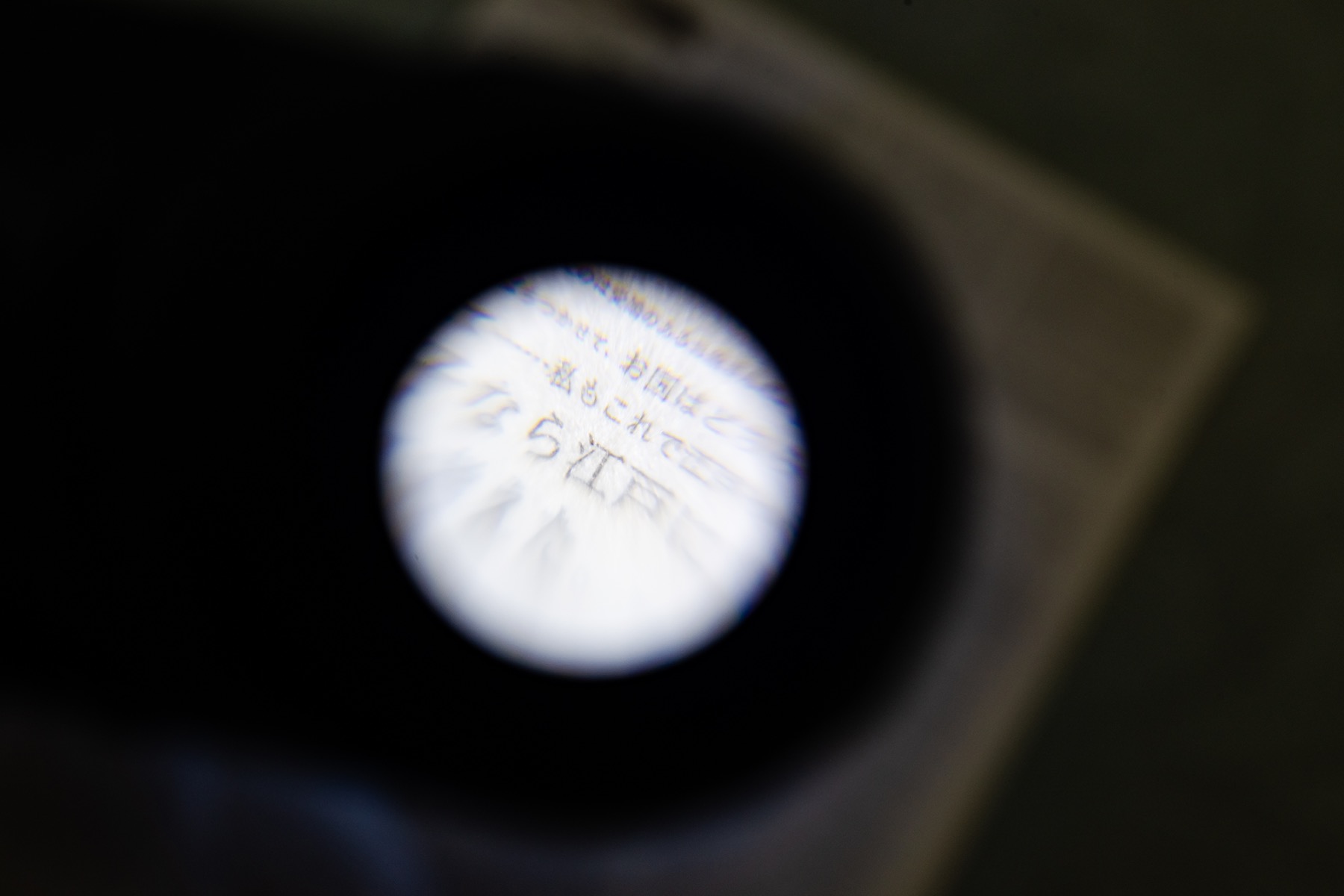 Can be clearly read by micro-characters that fall below 1pt